When the news came out that the Department of Defense ordered 80,000 BlackBerry (NASDAQ:BBRY) devices, I was naturally pleased by such a development, but under no circumstance did I believe that the recent rally in BlackBerry had anything to do with such an order. BlackBerry's stock had already rallied by over 50% before the DOD news came out.
But the question is, even if there was such an order, does a contract with the DOD for 80,000 devices mean anything for BlackBerry? Of course it would have meant something, but not much. A U.S. government order for 80,000 devices would only have made a dent in BlackBerry's revenue. Not that an order for 80,000 devices is small change, but the importance of BlackBerry's involvement with military contracts lies elsewhere.
The importance is the simple fact that BlackBerry is the main provider of devices for the DOD. If you are a foreign government agency, or the CIO of a foreign military service, or a company that wants the highest level of security, and you know that BlackBerry is good enough for the U.S. DOD, then it's good enough for you.
For the record, the total amount of devices that the DOD will eventually order, when their new secure MDM platform is fully operational, will be north of 500,000 devices. And while the DOD is currently only using about 80,000 BlackBerry devices form it current inventory, eventually I expect the DOD to order most of their devices for its new MDM network from BlackBerry anyway. And the number will not be 80,000 but much bigger than that.
So as I see, the DOD news had nothing to do with BlackBerry's correction. Why did the stock correct then?
The reason is simple. BlackBerry has been one of the best performing stocks in North America this year, and is the best performing tech stock by far in 2014 (look at CNN's Tech 30). When any stock goes on a rollercoaster ride and almost doubles in a very short period of time, it is only natural it will correct and give some of its profits back.
When you combine that with the overall market correction we have witnessed the past several days, then there is no use looking to the DOD news incident to see why BlackBerry corrected the past several days. But even so, the so called "correction" is only by about 10%. No big deal if you ask me, given the performance of the stock so far this year.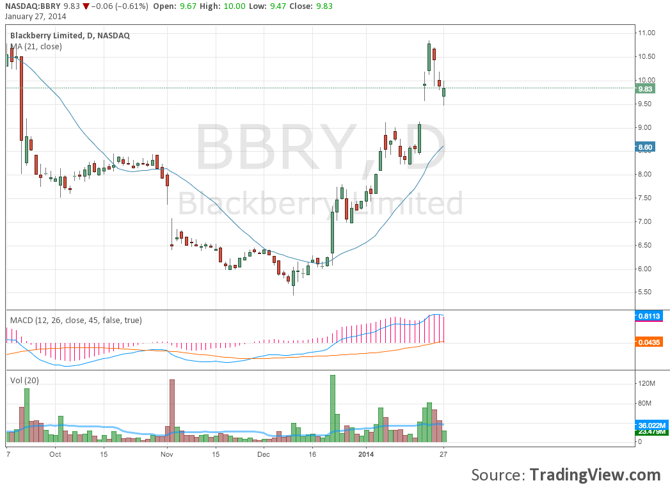 Click to enlarge
Bottom line
The fact that the DOD did not purchase any BlackBerry devices does not mean much, because it would not have made a big difference to BlackBerry's revenues anyway. Eventually I think BlackBerry will receive a purchase order for a lot more devices than that.
The correction in BlackBerry's stock (if you even want to call it that) is a natural short-term correction that any stock would have done, given the extraordinary returns BlackBerry has given this year.
My target for $18 a share this year still stands. So with the exception that you are a good trader and are able to buy and sell BlackBerry with success, I recommend doing nothing and stay long.
Disclosure: I have no positions in any stocks mentioned, and no plans to initiate any positions within the next 72 hours. I wrote this article myself, and it expresses my own opinions. I am not receiving compensation for it (other than from Seeking Alpha). I have no business relationship with any company whose stock is mentioned in this article.