While I usually prefer to focus on dividend growth a lot more than current yield, for today's article I have decided to look at a few stocks that will reward their investors with dividend yields of over 4%. A high current yield will increase the amount of money I have available to reinvest. To minimize risk, I will be looking for companies that follow a simple set of rules:
Rule #1: Payout ratio must be under 100%, meaning earnings per share have to be higher than dividends.
Rule #2: A strong balance sheet: I'd like to see at least 4 quarters worth of dividend payments in cash, and a current ratio of more than 1.0.
Rule #3: No dividend cuts in recent history.
Rule #4: Current yield must be over 4%.
Reynolds American (NYSE:RAI)
No list of high yielding stocks could ever be complete without a tobacco stock. I was planning to put Altria Group (NYSE:MO) in this spot but its current ratio is too low to comply with rule #2. Furthermore, Reynolds American's payout ratio for the first 3 quarters of the current fiscal year stands at only 71.2%. Still, it currently yields a very respectable 5.13%. The company reported $2.69 billion in cash in its most recent quarterly report. At 545.5 million shares, that means the company has $4.98 per share in cash. This means even if Reynolds American wouldn't make a penny in profit, they could still maintain their high dividend for the next 2 years.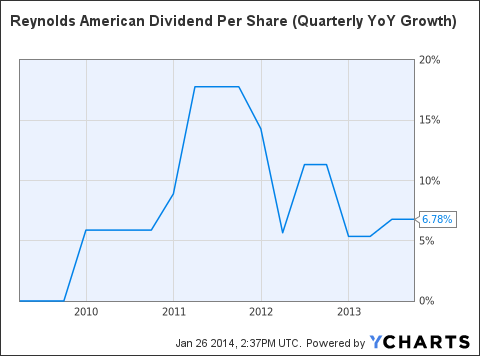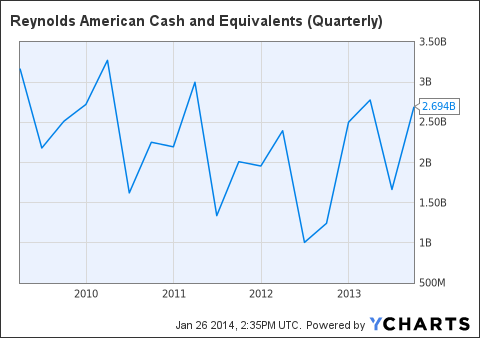 Entergy Corporation (NYSE:ETR)
Entergy delivers electricity to 2.8 million utility customers in Arkansas, Louisiana, Mississippi and Texas. The company pays a dividend of $0.83 per quarter, giving it a current yield of 5.42%. Its current ratio stands at 1.01. The company has only $2.05 per share in cash, which is lower than the 4 quarters worth of dividend payments I'm looking for. However, a low payout ratio gives the dividend some level of safety.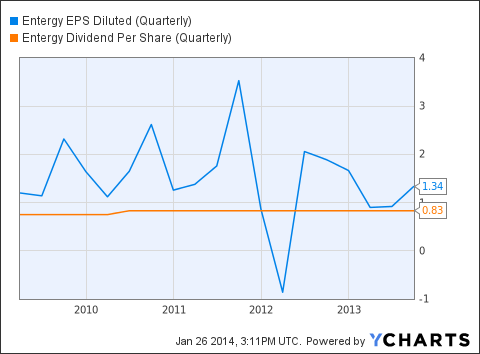 Kraft Foods Group Inc. (KRFT)
At the current price per share of $52.89, Kraft doesn't meet my criteria of 4% current yield. However, the stock occasionally dips below $52, giving investors a shot at a 4+% yield. The company has $2.06 per share in cash, which is almost enough to pay the dividend for 4 consecutive quarters. At a current ratio of 1.67, the company has a rock-solid balance sheet. Kraft in its current form has only existed since 2012 so it doesn't really have a divided track record yet.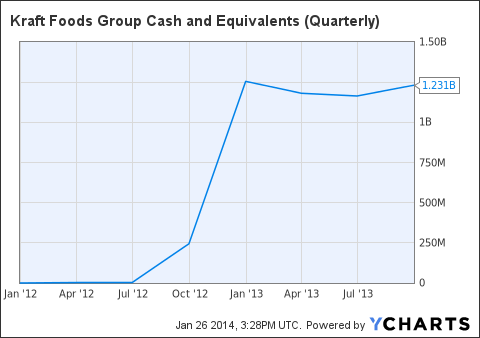 Scorechart:
| | | | |
| --- | --- | --- | --- |
| | Reynolds American | Entergy Corporation | Kraft Foods Group |
| 4+% yield | PASS | PASS | FAIL |
| More than 4 quarters worth of dividends in cash | PASS | FAIL | FAIL |
| Current ratio >1 | FAIL | PASS | PASS |
| Payout ratio <100% | PASS | PASS | PASS |
| No dividend cuts in recent history | PASS | PASS | PASS |
| Total score | 4/5 | 4/5 | 3/5 |
Out of the companies I have investigated today, Reynolds American seems to be the most suitable candidate to boost my current yield. I also really like Energy Corporation, as it offers the highest yield of the 3 companies in this article. Kraft Foods Group currently yields less than the 4% I have set as a minimum today, but it might be a great stock to buy on a pullback.
Disclaimer: I am not a registered investment advisor and do not provide specific investment advice. The information contained herein is for informational purposes only. Nothing in this article should be taken as a solicitation to purchase or sell securities. Before buying or selling any stock you should do your own research and reach your own conclusion. It is up to investors to make the correct decision after necessary research. Investing includes risks, including loss of principal.
Disclosure: I have no positions in any stocks mentioned, and no plans to initiate any positions within the next 72 hours. I wrote this article myself, and it expresses my own opinions. I am not receiving compensation for it (other than from Seeking Alpha). I have no business relationship with any company whose stock is mentioned in this article.