By Dee Gill

Fortunes in mall fashion can turn quickly, as anyone who bought shares of Aeropostale (NYSE:ARO) or American Eagle (NYSE:AEO) in recent years knows only too well. One minute all the popular kids are slapping down big bucks to plaster the corporate logo across their chests. Then suddenly, the stores can hardly give away t-shirts. It's a common scenario that long-term investors should consider as the chatter over Abercrombie & Fitch (NYSE:ANF) grows more positive.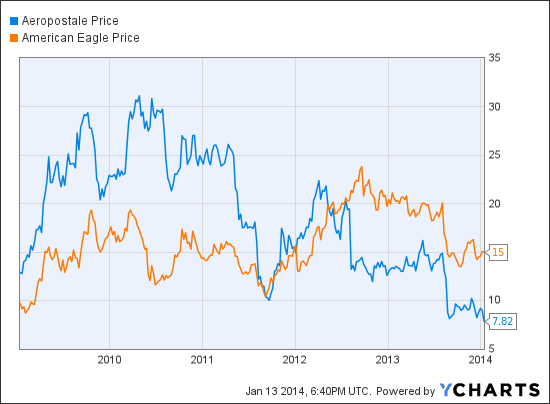 ARO data by YCharts
Abercrombie's story is a lot like those of Aeropostale and American Eagle. For years, Abercrombie's casual styles and sexy marketing attracted teens and young adults into Abercrombie & Fitch stores. The company's Hollister stores - scent-filled caves where tight, thin t-shirts sporting the brand were all the rage - helped bring in the next generation. Revenues grew fast, and its shareholders nearly tripled their returns between 2009 and late 2011.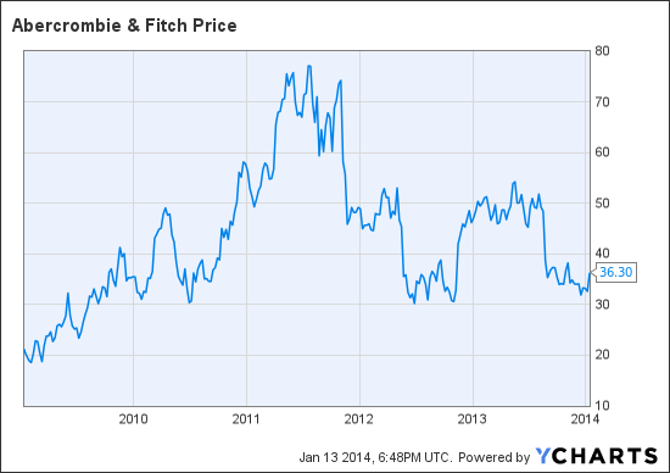 ANF data by YCharts
Both Abercrombie stores were among the biggest draws in the mall. Until they weren't. You still see the clothes on plenty of bodies, but the cache behind them has waned. Profit margins started slipping a couple of years ago as the stores were forced into sales to move product. YCharts discussed the danger of this margins-for-sales strategy back in July 2012.
As sales weakened, the company lost its ability to produce accurate earnings forecasts for investors, a problem we described in an October 2013 piece. Investors called for the head of CEO Michael Jeffries, which they didn't get.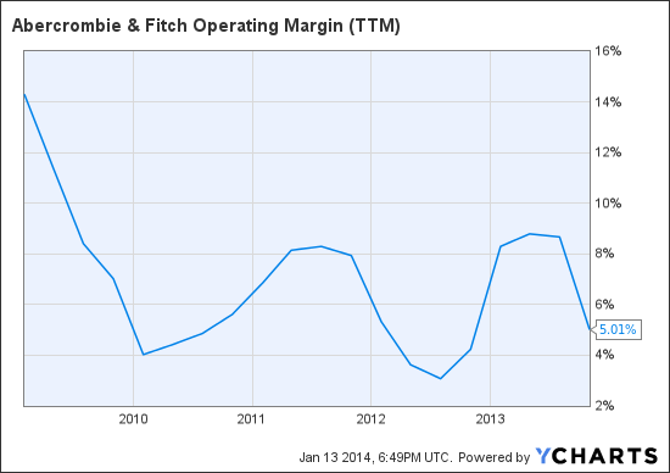 ANF Operating Margin (NYSE:TTM) data by YCharts
Today, however, there's a mini-surge of support for Abercrombie. The company raised its fiscal year earnings estimate last week based on better-than-expected holiday results. The share price jumped 9%. A Janney analyst upgraded the shares to a buy, and William Blair analysts talked of an impending turnaround. (Overall, there are about twice as many analysts with hold or sell recommendations on the shares as buyers.)
The actual holiday results, however, were hardly worth cheering. Same store sales fell 4% domestically and 10% internationally, or 6% overall. Those figures were helped by a 25% increase in online sales, although e-commerce is a small fraction of the business. The company was able to raise its adjusted per share, which doesn't include restructuring costs, because those sales declines were not as harsh as it earlier predicted.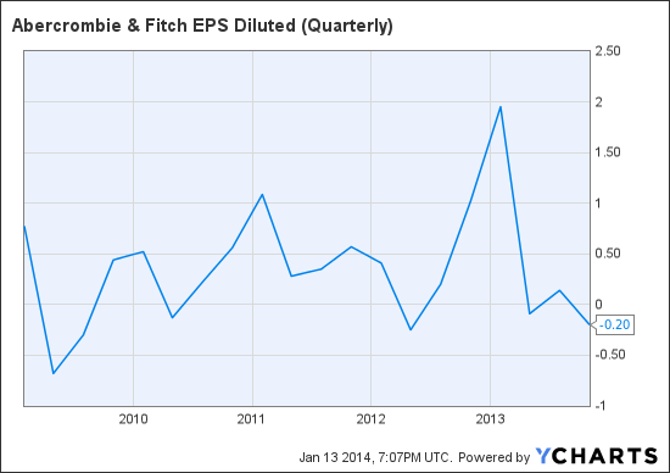 ANF EPS Diluted (Quarterly) data by YCharts
Abercrombie has a turnaround plan underway, which it outlined last November in its first analyst meeting in more than two years. The company is cutting costs and closing stand-alone Gilly Hicks stores, a small group of lingerie shops that have dragged earnings. It is adding larger sizes to A&F and Hollister fashion online, although skinny people will still be more than welcome in the stores.
But it is difficult for a teen brand to recapture stature once the cool kids have moved on, and Abercrombie has shown little talent for the work so far. Although most teen-focused retailers reported poor holiday selling, a few competitors look well set to take away Abercrombie's customers. Urban Outfitters' (NASDAQ:URBN) Free People brand, for example, reported a whopping 21% rise in comparable sales during the holidays. Gap (NYSE:GPS) stores sales were up 1%; a decent result given the difficulties of this particular season. Fast fashion stores like Sweden-based H&M, with its cheaper lines, also are believed to be eating into Abercrombie business.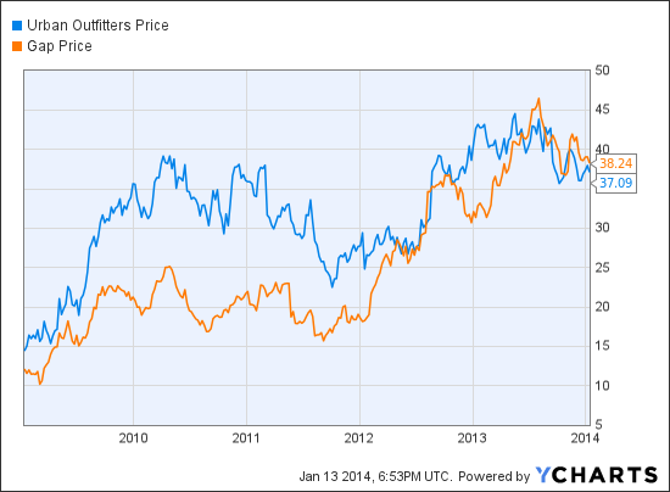 URBN data by YCharts
Abercrombie's forward PE ratio gives value investors no reason to bet on the shares. Most of the big names in the sector are cheaper, including the more sought-after shares of Urban Outfitters and Gap. YCharts Pro's Abercrombie & Fitch Rating calls the company strong on fundamentals but average for value.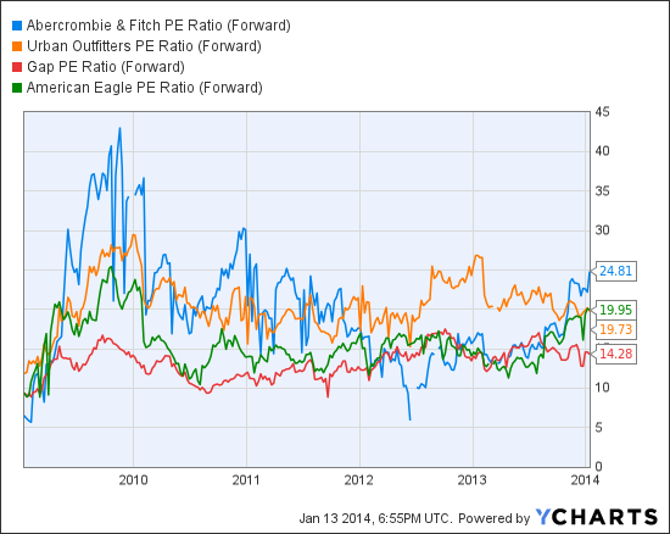 ANF PE Ratio (Forward) data by YCharts
Of course, turnarounds in this business do happen. Gap pulled off a great one recently, returning to popularity after suffering years of rejection by the customer base that had previously made the chain great. Although Abercrombie has a shot at accomplishing a similar feat, there's little incentive for long-term investors to take such a leap of faith. Conservative investors might be happier in a sector less dependent on the ever-changing, often illusive definition of cool.
Disclosure: None.