This is the conclusion of a series on Core and Satellite holdings, a strategy to add diversification and increased yield to the Dividend Growth Investor's core portfolio. I believe that this information will be very useful to those approaching retirement or currently in retirement.
Core Holdings 2014 is a selection of high quality Dividend Growth companies. They are regular C type corporations, not specially legislated tax advantaged entities like REITs, BDCs or MLPs, or heavily regulated firms like public utilities. Satellite REIT investments were the topic of my last article. A series of three articles covered utilities. Part I: National Grid (NGG) is the first and it also has links to Part II: Southern Company (NYSE:SO) and Part III: PPL Corporation (NYSE:PPL). This article:
presents the portfolio goals,
lists the Core Holdings 2014, with data,
provides a summary of the total portfolio for 2014,
discusses risks of different types of firms,
reviews REITs and Utilities,
focuses on Business Development Corporations, BDCs
focuses on Master Limited Partnerships, MLPs
The Goal
The primary goal of this portfolio is to generate retirement income. I have been retired for 8 years and am in the distribution phase of investing. My objective is to be able to withdraw 4% of portfolio value annually, based on dividends received. Considering an average market value of about $300,000 that should give me $1,000/month in income. At the time of this writing, the market value is $315,000 and the current yield is 4.6%. This gives me somewhat of a cushion and should allow me to make my goals in good times and bad. I believe that this income will outpace the rate of inflation, as the total five-year dividend growth rate is almost 8%, twice that of any anticipated inflation.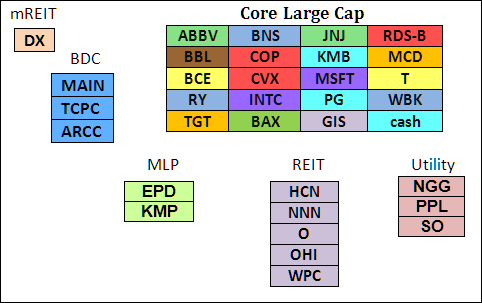 Core Holdings 2014
The core of the portfolio contains some of the strongest corporations in the world such as Johnson & Johnson (NYSE:JNJ), Procter & Gamble (NYSE:PG), Microsoft (NASDAQ:MSFT) and Royal Dutch Shell (NYSE:RDS.A) (NYSE:RDS.B). Year after year, these powerful engines of capitalism pay high and increasing dividends, providing current income and protection against inflation. The core is 60% of the portfolio and is the part I am counting on to keep the whole portfolio producing income greater than the rate of inflation.
While I own all of these stocks, though not exactly in the amounts shown, I do not suggest that this particular selection is the best for someone else. About 30% of the stocks are non-US based, registered in Canada, the UK or Australia. That subjects the portfolio to currency risk, and in 2013 the Canadian dollar fell to about 91 cents on the US Dollar. However, I believe it will swing back to par or above the USD. The core is entirely large cap stocks, and some might feel better served with some small and mid-cap stocks in the mix. On the other hand, some might prefer a more conservative portfolio.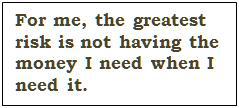 I suggest that if that is the case, that you consider the portfolio I presented in A Bulletproof Dividend Growth Portfolio For 2014. You will quickly note the attributes of the more conservative selection. These US firms have been paying increasing dividends for an average of 40 consecutive years. They have weathered all kinds of economic conditions without faltering in their dividend payments. The companies' debt levels and payout ratios are a bit lower than the Core Holdings 2014 presented here. However, the yield of the Bulletproof portfolio is 2.83%, 90 basis points lower than the Core Holdings 2014 portfolio at 3.73% as displayed in the table below. I believe that this is a case of slightly higher risks and much higher rewards with the Core Holdings 2014. I choose to opt for the additional 1% yield. For me, the greatest risk is not having the money I need when I need it.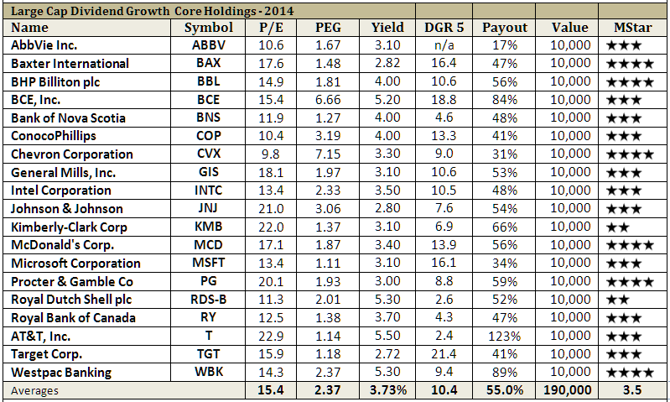 For your convenience, the summary table of the Bulletproof Portfolio is below.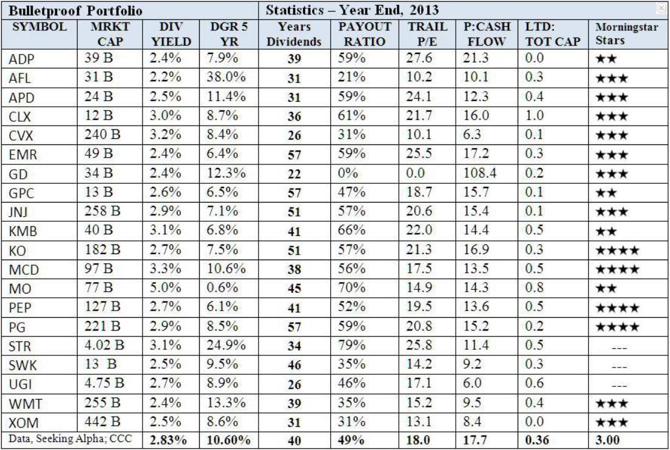 The Satellites
Before we go into detail about the holdings of each satellite, let us look and how the whole portfolio works. The satellite holdings increase the yield of the total portfolio. They are 40% of the holdings but contribute nearly 50% of the income. Their weighted average yield is almost 6%, boosting the yield of the total portfolio to 4.62%. While the DGR of the satellite holdings is slightly under 6%, the healthy 10.4% DGR of the core brings the weighted average up to nearly 8%.

The Least Risky of the Riskier Categories
While the satellite holdings are additions to the core primarily to enhance yield, they also add diversity to the total portfolio. Each of these asset classes will perform slightly differently in relation to interest rates, the business cycle, news events, and other situations that add fear and volatility to the market. With the exception of the utilities, all of the asset classes are considered somewhat riskier than the core holdings. It is important to understand that the addition of several different asset classes often reduces the aggregate risk of the portfolio. In addition, care has been taken to choose those firms that are among the least risky in each class, notably so in the case of BDCs and MLPs, which we cover in more detail below.
First, however, let us review the categories of satellite holdings we have written about previously. In the order of the size of positions, we start with REITs.
Real Estate Investment Trusts

I choose these REITs in large part because of their very good yields, an average of 5.62%. Because of the nature of Real Estate Investment Trusts, the firms have very high depreciation expenses and high and reliable cash flows. It is more appropriate to use Price/Funds From Operations, P/FFO than the more conventional Price/Earnings, P/E, as a valuation measurement. Related to the high depreciation expenses, which are non-cash accounting charges, are the seemingly impossible payout ratios. The accounting charges reduce reportable income but not the cash flow from operations; the cash is available for distribution. In addition, due to the tax-advantaged nature of REITs, the company pays no income tax, but income passes to the unit holder (shareholder) who is responsible for any taxes.
Three of the firms, National Retail Properties (NYSE:NNN), Reality Income Company (NYSE:O), and W.P. Carey (NYSE:WPC) are triple net leasing companies. That is, they usually lease stand-alone buildings exclusive of routine operating costs, insurance and taxes, which are the responsibility of the tenant. The lessees are typically firms like restaurants, drug stores and day care centers, with terms of 20 years or more. The other two REITs are in the healthcare industry, Health Care REIT (NYSE:HCN) and Omega Healthcare Investors (NYSE:OHI). These two categories of REITs produce among the highest and most reliable yields in the industry.
Seeking Alpha's go-to-guy on REITs is Brad Thomas. Three of the above REITs are featured in his article Intelligent REIT Picks for 2014. Brad has more than 25 years of experience in the commercial real estate brokerage, development, finance and investment analysis, and has written over 400 articles for Seeking Alpha. In addition to the many articles, Brad publishes a blog, the intelligent REIT investor.
Mortgage REITs

Mortgage REITs, or mREITs, are a different kind of entity. Unlike conventional REITs, they own mortgages, not buildings, and use sophisticated hedging techniques to lower their risks and enhance profits. Great yield producers in the past, their share value has plummeted in the past year leading to total returns of zero or below.

Here are the 52-week results of three popular mREITs. It might be best to avoid this speculative area.
Utilities

Utilities are traditionally known as "widows and orphans" stocks for their safe and steady yields. As noted above, I have written separate articles on each of these utilities and suggest that those articles will give you insights into the strengths and weaknesses of each. The universe of utilities contains many good firms. Here, from my F.A.S.T. Graphs Portfolio of 21 utilities is a ranking of the top 10 by total return. Below this table, please see the top ten sorted by yield. Again, my choices meet my goal of high current income. In addition, these large firms do well in the area of total return.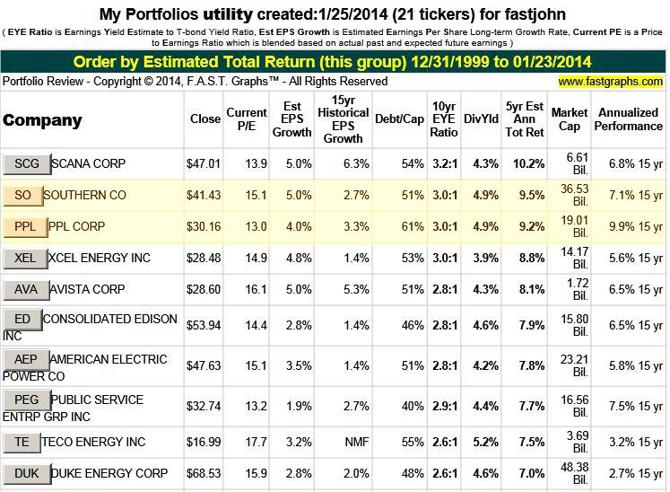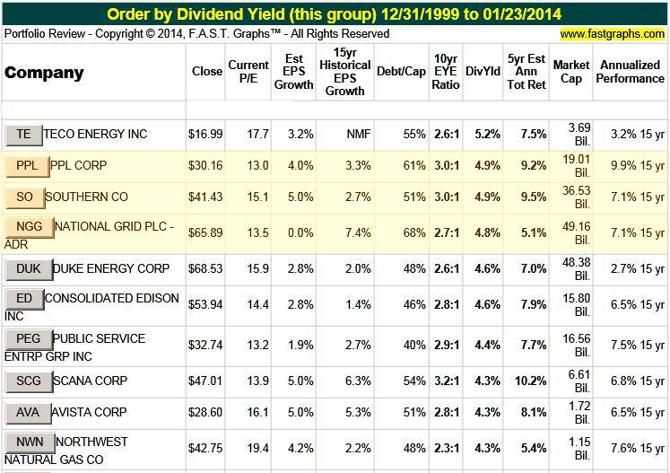 Long term, the environment in which the electric utilities operate is changing. There is continual pressure to be more energy efficient and to transition to clean and renewable energy sources. This is a double blow for the industry, which typically gets paid per kilowatt-hour. However, I see no risk to the dividends of these firms in the near or intermediate term.
Business Development Companies

This is the most recent class of assets that I added to my portfolio. It is a challenging area and the rewards can be high. Like REITs and MLPs it is a tax advantaged investment in this case with the requirement that 90% of the profits be paid out to shareholders.
From a Investopedia we quote,
"When a giant corporation like Johnson & Johnson needs to raise capital, it can go to any investment bank and offer bonds to the investing public. Likewise, when your local neighborhood coffee shop needs to buy a new espresso machine, it can walk into a bank branch and get a loan. However, for those companies in the middle-market, finding credit for expansion can be difficult. That is where business development companies come in. BDCs invest in or lend to small- to midsized companies and provide managerial assistance in hopes of profiting as these businesses grow. Acting like publicly traded private equity or venture capital, these firms allow retail investors to participate in that process with greater liquidity, more transparency and without the necessary multi-million dollar minimum investments."
In another sense, a BDC acts like a Closed-End Fund in that it bundles the loans from a diverse number of firms into its one listing. Individual BDCs may specialize in certain kinds of debt such as senior notes or floating rate loans, for example, or may address only certain sectors of the economy, or certain sizes of firms. Is it complicated to select the best investments? In a word, yes.
However, there is a tremendous resource on Seeking Alpha named BDC Buzz. He says,
"My goal is to bring much needed exposure to the BDC industry that finances small and medium sized businesses overlooked by typical banks. BDCs are a way that investors can earn healthy dividends by avoiding taxes at the corporate level allowing income to flow directly to each shareholder."
The link above will also provide the email address of his newsletter. From his recent Seeking Alpha article, BDC Rankings: January 2014, I have reproduced the below table. The exceptional articles and newsletter, the comprehensive ratings tables, along with detailed analytical reports, have demystified the profitable area for me. I hope to increase my holdings from 3 to 5 BDCs in the coming year. BDC Buzz suggests several Model BDC Portfolios to suit different investors' goals and risk tolerance.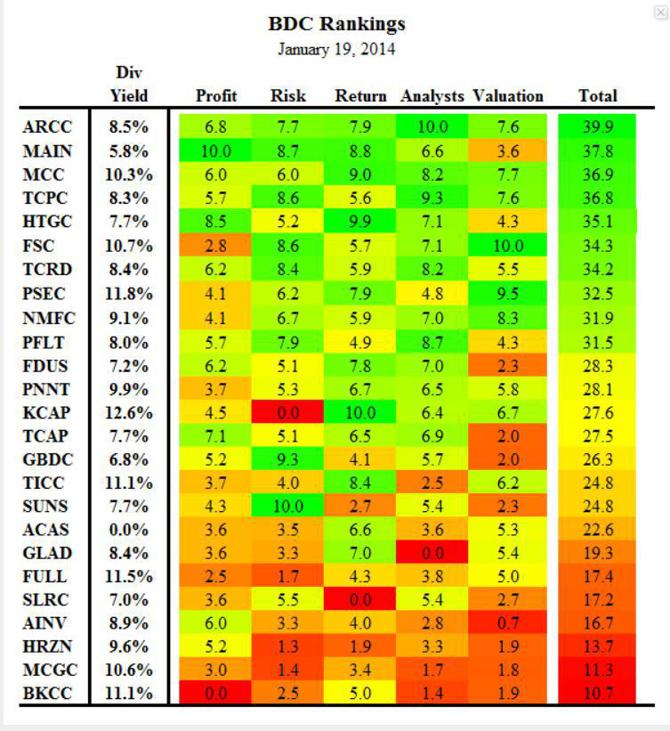 MLPs - Master Limited Partnerships

MLPs are almost exclusively companies operating in the energy sector, primarily in oil and gas. The exploration and production companies are known as upstream companies. Those in refining, marketing and distribution are known as downstream companies. In between are the midstream companies, those firms that move millions of cubic feet of gas and barrels of liquid petroleum products across the nation in pipelines. This is the area that offers the steadiest income for dividend income investors. These firms are not dependent on the luck or skill of exploration companies or market changes in the price of commodities that put refiners and distributors at risk. Rather, they own pipelines that function like toll roads. They collect a fee for every unit of material that passes through them, regardless of its current cost.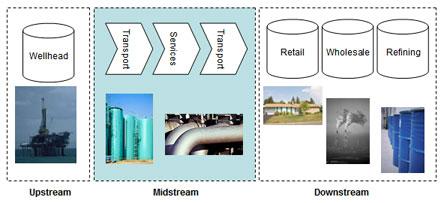 Two of the largest and arguably two of the best midstream operators are Kinder Morgan Partners (NYSE:KMP) and Enterprise Products Partners (NYSE:EPD). Currently, each of these firms is priced at about $10 less per share than fair market value, and has a 4 Star Morningstar rating. KMP, a $36 billion company, has a beta of 0.47. EPD, a $58 billion company, also has a low beta at 0.67. In addition, EPD has a analyst consensus rating of 1.6, a buy. I sleep well at night as the pipelines generate profits.
If there is a downside to owning MLPs it is in dealing with the K-1 tax form at tax time, instead of the usual 1099. If you have any concerns with this your tax advisor is the person who can best address them.
Summary
I hope this article has given you much food for thought in how your equity income portfolio might be structured with a core of reliable dividend growth corporations and satellites consisting of other classes of equity assets. I believe the high yield, over 4.6% as presented, will help many investors meet their goals without taking on undue risks. For others, perhaps this will open the doors to an opportunity in an additional asset class. Whatever your takeaway, I urge you to do your own due diligence and to take care to buy shares that are fairly valued.
I wish you every success in 2014.
Disclosure: I am long ABBV, BAX, BBL, BCE, BNS, COP, CVX, GIS, INTC, JNJ, KMB, MCD, MSFT, PG, RDS.B, RY, T, TGT, WBK, HCN, OMI, O, NNN, WPC, DX, SO, PPL, NGG, MAIN, TCPC, ARCC, EPD, KMP. I wrote this article myself, and it expresses my own opinions. I am not receiving compensation for it (other than from Seeking Alpha). I have no business relationship with any company whose stock is mentioned in this article.