Gold exchange traded fund outflows are slowing down as speculators and short-term traders exit their position after a dismal year for precious metals.
Physically backed gold ETFs saw record outflows of $19.6 billion in the second quarter but the bleed slowed to $4.2 billion in the third quarter, reports Myra P. Saefong for MarketWatch.
Nick Brooks, head of global research and investment strategy at ETF Securities, points out that outflows have steadily declined since the April 2013 peak when investors pulled $8.7 billion out of gold exchange traded products.
The "bulk of shorter-term tactical money that went into gold over 2011 and 2012 has now been cleared," and gold ETP holdings are back to 2010 levels, Brooks said.
The SPDR Gold Shares (NYSEARCA:GLD) was the least popular ETF over 2013, with investors pulling $25.1 billion out of the fund, according to ETF.com. GLD saw $11.6 billion in outflows over the second quarter, followed by $2.6 billion in outflows over the third quarter and $4.3 billion in redemptions over the fourth quarter. The ETF has seen $299.1 million in outflows so far this year.
The strong outflows in gold-related ETPs is "an indication of one demand component for gold," Brien Lundin, editor of Gold Newsletter, said in the article. With large players out of the game and the "current level of selling and/or buying, the ETFs are having a minimal influence on the gold price," Lundin added.
Large institutional investors made huge bets in gold ETFs following the financial crisis but began cutting back as gold prices plunged last year.
Looking ahead, we will have to weigh short-term volatility against long-term fundamentals. Rising government debt, weaker U.S. dollar, eventual inflation and even greater demand for the quickly rising middle class in the emerging markets will help bolster gold prices. However, we may see a repeat of last year's U.S. debt drama. Adam Koos, president of Libertas Wealth Management Group, said in the article:
"All the uncertainty in the metals markets with the government shut down, widely expected [quantitative-easing] tapering by the Fed (and then not tapering when push came to shove), distortion in the U.S. dollar, and now the threat of another debt ceiling comedy of errors … has caused further volatility,"
SPDR Gold Shares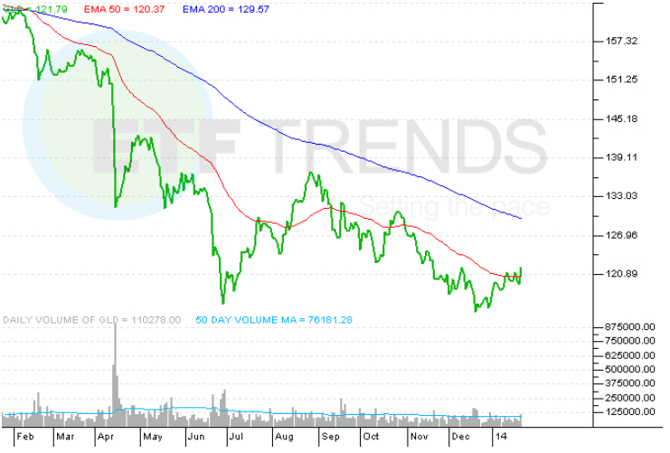 Max Chen contributed to this article.
Full disclosure: Tom Lydon's clients own shares of GLD.
Disclosure: I am long GLD. I wrote this article myself, and it expresses my own opinions. I am not receiving compensation for it. I have no business relationship with any company whose stock is mentioned in this article.