In this article penned last week I showed that leveraged US Treasury bond ETFs exhibited no evidence of volatility drag: underperformance caused by rebalancing the ETF portfolio at the start of each days trading.
Given the weak stock market, a rapidly emerging consensus has emerged; this is at least a correction. Perhaps it is the start of a bear market some talking heads have been forecasting for the last 48 months!
I thought it would be timely to present some new data about how well inverse Index ETFs track the market.
An inverse ETF, if you recall, gains as the market falls. For example if the ETF for the S&P 500 ETF Trust (NYSEARCA:SPY) fell 7%, you would expect
the simple inverse ETF, ProShares Short ETF (NYSEARCA:SH) to rise 7%
the double inverse ETF, Proshares Ultrashort (NYSEARCA:SDS) to rise 14%
and so on.
I thought I would look at the performance of three inverse trackers. In addition to the pair for SPY, mentioned above,
I thought I would also look at the SPDR Dow Industrials ETF (NYSEARCA:DIA), and its ProShares inverse ETF pairs, (NYSEARCA:DOG) and (NYSEARCA:DXD), respectively; and
One interesting twist before we proceed. There really weren't any major corrections in 2013! Instead, there were 3 minor bouts of weakness in late Spring, mid Summer, and October that were large enough to get a reasonable glimpse at how well these inverse/leveraged ETFs do their job.
Three pairs of ETFs for three corrections means I could present 18; but to make this article more succinct and meaningful I will only present a few. Like the rabbits in Richard Adams' book Watership Down, I have difficulty counting past five, anyway.
I can summarize the results/conclusions: The inverse ETFs show a bit of underperformance, probably due to volatility drag. But the amount is not significant and traders should be very satisfied with how the ETFs rose as the broad market fell.
The first period of weakness last year was from May 22nd to June 24th. Over this period the SPY fell by 5.4%. We would expect the simple inverse ETF, SH, to rise by the same amount.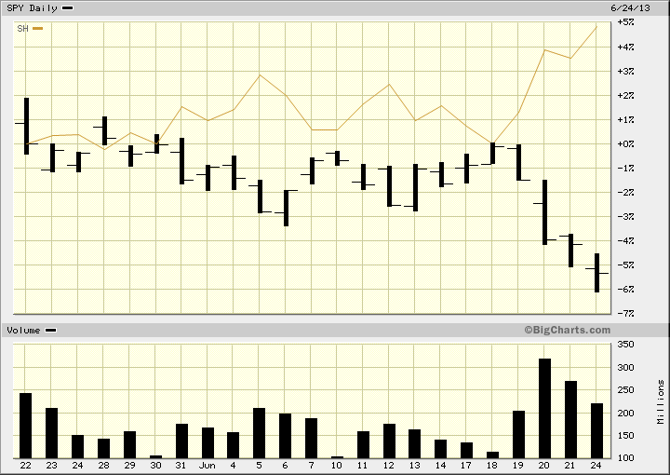 source of all charts: www.bigcharts.com
Not quite. The inverse ETF gained a little bit less than 5%. That could be do the vagaries of closing prices as well. Just a few days before on the 20th, when SPY was down exactly 4%, SH was up that same amount. If there is some drag, it isn't very pronounced. Not may traders will cuss at a portfolio up 4.9% or so when the broad market fell!
What about the double inverse ETF, SDS? We would expect it to be up about 10.8%, twice the broad market loss.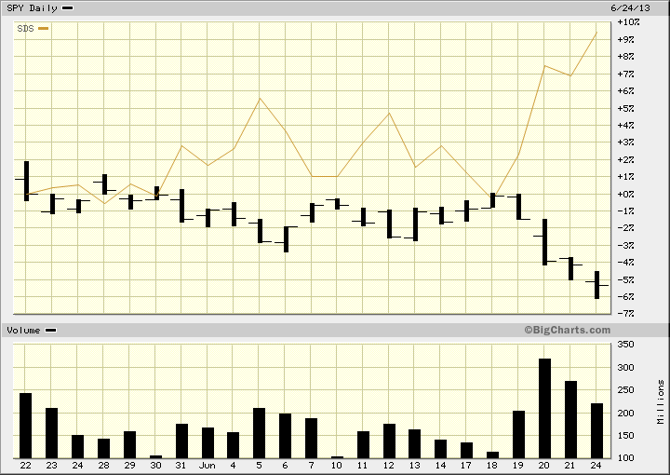 Again, the gain was not that large, 9.5%. Some volatility drag appears here. On the 20th, when it should have been up 8%, it still lagged, so the drag appears to be a consistent problem with the double ETF.
Lets look at the Dow Industrials and their inverse trackers. A second period of weakness was from September 18th to October 9th. During this period the Dow fell by about 5.8%
We would expect the simple inverse ETF, DOG, to rise by that amount and it appears to have done so.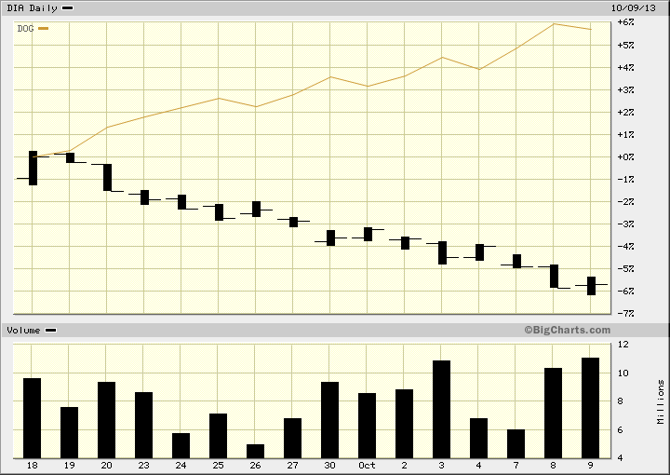 We would expect the double inverse to have risen by 11.6%, and it appears to have done so, as well.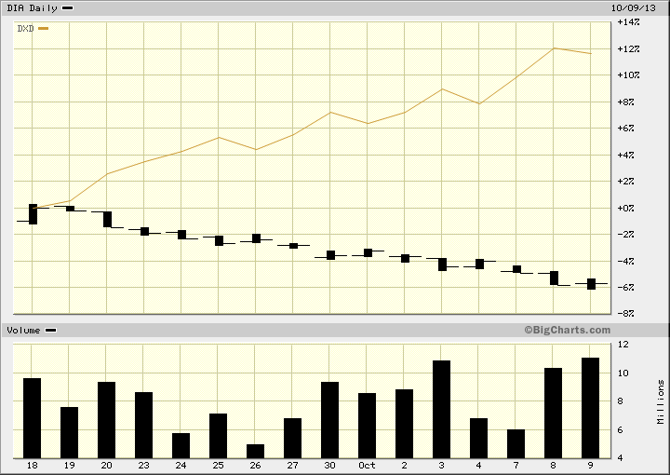 What about the Nasdaq indexes? To be honest the only real period of weakness QQQ had last year was in late Spring. The Q's fell by a bit more than 5%; the simple inverse ETF PSQ, by just less than that.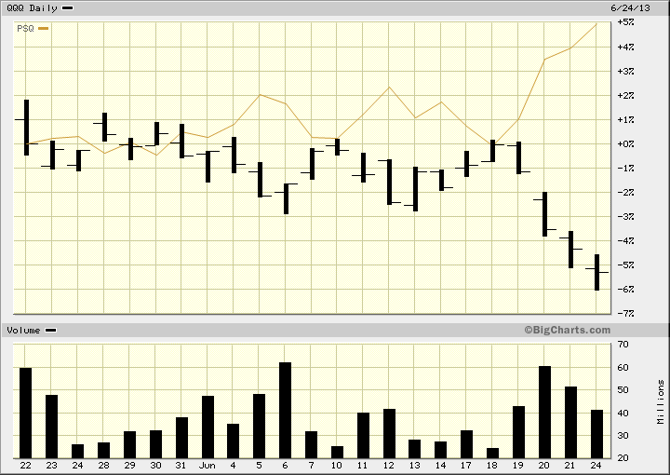 The double ETF, QID, rose by 10%, also a bit less than we would expect. But again, while there appears to be some drag evident, only the most fastidious of traders would be upset by it.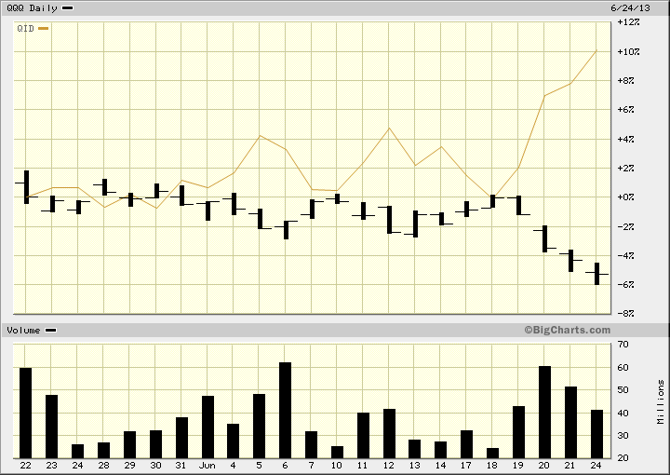 Thus, traders attempting to profit as the market falls by using ETFs need not worry that volatility drag will impair expected performance, even in the correction is a prolonged one. Inverse ETFs also have important advantages over short selling, as I made clear in this article in October of 2012.
Then again, the if the consensus view has indeed so swiftly changed to bearish, maybe this won't be much of a correction, after all.
Disclosure: I am long XLK, IHI, XLV. I wrote this article myself, and it expresses my own opinions. I am not receiving compensation for it (other than from Seeking Alpha). I have no business relationship with any company whose stock is mentioned in this article.
Additional disclosure: Investors: do not confuse DOG, the Dow Industrials Inverse ETF, with Dogs of the Dow Strategies or ETFs based thereon.