With the hope of economic recovery, investors have pushed stock markets to new highs. S&P 500 has risen 5.7% year to date to reach its highest point in the past 18 months. iShares Russell 2000 (NYSEARCA:IWM) has risen even more: 9.6% year to date. The latest labor market news released on Friday would certainly add fuel to the fire.
However, using John Hussman's phrases, the market climate of stock markets has been in a state of strenuous overvaluation, overbought conditions, overbullish sentiment, and hostile yield pressures. In addition to the heightened, overbought state of the stock markets, investors should also stay vigilant on the upcoming mortgage reset tidal wave and the interplay of the undercurrents of sovereign debt markets, inflation pressures and geopolitical forces.
ValidFi's Smart Money indicator, an asset allocation analysis of asset allocation mutual funds managed by top managers, is designed to extract real time asset allocation trends between equities and bonds for these smart money managers. As of last Friday, March 29, 2010, this indicator signaled that these managers have dramatically reduced their stock market exposure recently.
The following two charts clearly illustrate such a trend: (Click to enlarge)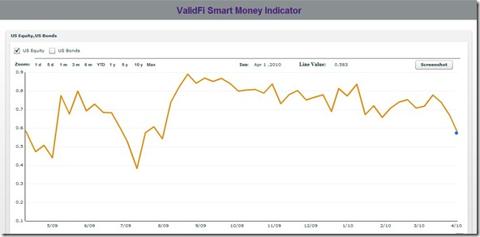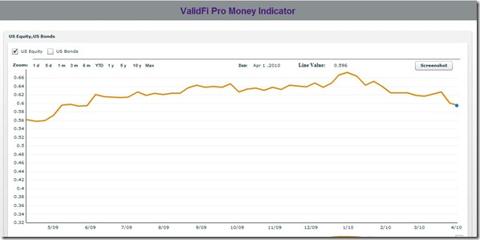 The first chart, ValidFi Smart Money Indicator, shows that the top asset allocation managers reduced US equity exposure from a recent high of 78% on 3/12/2010 to 58% on 4/1/2010, a 20% reduction. This is very significant as S&P 500 ETF SPY rose from 115.46 to a new high of 117.8 during the same period.
The second chart, ValidFi Pro Money Indicator, which measures the aggregate average US equity exposure among 900-plus moderate allocation mutual funds, shows that the pro money allocation managers also reduced their stock market exposure, although on a much smaller scale. It is also interesting to point out that both types of managers now allocate roughly the same capital to stocks.
Though any indicator could suffer from false signals, which is not a surprise statistically, ValidFi's smart money indicator has been proven to be a reliable signal (again, statistically): a model portfolio that is based on the same asset allocation analysis technique to derive its asset allocations among an array of major assets including US Equities (NYSEARCA:SPY), International Equities (NYSEARCA:EFA), Emerging Market Stocks (NYSEARCA:EEM), REIT (NYSEARCA:IYR), Commodities ((NYSEARCA:DBC) and GLD)), US Bonds (NYSEARCA:AGG) has delivered annualized return 11% since 7/30/2001 to 4/1/2010.
If smart money managers and pro fund managers have been cautious, a prudent investor at this moment should at least rebalance portfolios so that the elevated risky asset exposures (equities and REITs, for example) could be reduced and get back to a risk level you are more comfortable with. It pays to take some money off the table to reduce risk.
Disclosure: Author has long positions in SPY, EEM, LQD