Tiger Woods makes his return to the golf links this week at the Masters, a media horde and fan bases that could be deemed as unmannered with the greatest golfer in the world. Many are coining Tiger's Masters' appearance as one of the biggest comebacks of all time. Surely, you jest. As a golfer, Tiger Woods will go down as the best ever, a person who reinvented the game and brought many into the once overly exclusive world of golf. As a human being, despite his personal exploits, Tiger's legacy is not etched in stone yet. He has the rest of life to regain public confidence through continued charitable works and hopefully, a more open and honest approach with the people paying for his golf winnings and endorsements (aka, the global population).
However intriguing this "comeback" story is, it will pale in comparison to the dramatic theater supplied by Robert Rubin, Chuck Prince, and Alan Greenspan at this week's U.S. Financial Crisis Inquiry Commission. I expect the 84-year old former Fed Chairman to strongly defend his legacy by blaming everything but his easy money policy employed since September 11. In his Brookings Institute missive released a few weeks ago (this is a must read for students of the market), Mr. Greenspan opined that the global financial meltdown was the descendant of (1) global savings imbalances; (2) lax lending standards by financial institutions; and (3) overleveraged balance sheets by financial institutions. These were among a host of other factors outlined. I found it interesting that while Mr. Greenspan acknowledged those at the Fed foresaw building of massive risk in the system, blame was largely deflected. As for Mr. Prince and Mr. Rubin, I expect them to be raked over the coals (deservedly). Prince essentially failed to rein in the excess that was popularized by bridge loving Jimmy Cayne, former leader of Bear Stearns. A former leader of Bear Stearns in his own right, Prince was truly sitting on a house of cards, but instead of de-levering, the financial firm decided to keep dancing while the music was playing. Rubin, former Treasury Secretary, former Goldman Sachs (NYSE:GS) alum, former Citigroup (NYSE:C) director, and staunch advocate of financial de-regulation, deserves especially hard questioning by lawmakers.
Economic Data
ISM-Services
The market received a nice shot in the arm following the release of the ISM-Services report, and with good reason. Not only did the report beat consensus expectations, and was up for the third consecutive month, but components of the headline reading were also very encouraging. In particular, business activity (60), new orders (62.3), and new export orders (57.5) were soundly positive. New orders and exports increased a robust 7.5% and 10.5%, respectively month to month. The employment reading was a key area of interest prior to the report and although it remained slightly below the expansionary 50 line (49.8), it improved relative to February. On the negative side, the prices paid component was 62.9, up 2.5% month to month, and up for eight consecutive months. It was the clearest sign that loose monetary policy is re-inflating assets, and yet another plank to support the Fed raising rates.
click to enlarge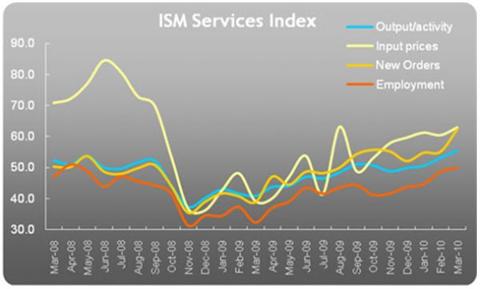 Click to enlarge
Disclosure: None