Focus List Update: as of April 2, 2010
We are entering week 5 of our weekly focus update series. And while it has anticipated a number of sell side ratings changes, the weekly returns have been less than satisfying. While stocks on our long focus list have outperformed the S&P 500, stocks on our short list have appreciated even more.
A recent recurring theme has been a rally in "low-quality" stocks, so we remain hesitant to even mention this list of possible short ideas. In fact, we are increasingly being convinced that our short list of "low-quality" ideas is a good place to focus on generating "contrarian" long ideas.
This is because many of these stocks have turned the corner fundamentally, and as a result could be reverting to some long-term mean valuation. For the time being, investors may be better off focusing on the short list as a potential source of contrarian long ideas. A review of recent headlines of our "low-quality" list supports this notion.
About the lists
These ideas are generated in a similar way to the Ascendere Long/Short Model Portfolio, which rebalances roughly 80-100 stocks on a monthly basis. Unlike our monthly model portfolio, we have not backtested the factors in our weekly focus list, but we would not be sharing these ideas unless we thought they could show some promise.
New Weekly Focus List: UGP and PAAS as "high-quality" longs; TOL, CHU, EQT as "low-quality" shorts or contrarian long ideas
As of the close of April 1, 2010, there were five focus list ideas. Ultrapar Holdings Inc. (NYSE:UGP) and Pan American Silver Corp (NASDAQ:PAAS) as longs, and Toll Brothers Inc. (NYSE:TOL), China Unicom Hong Kong Limited (NYSE:CHU) and EQT Corporation (NYSE:EQT) as short ideas.
click to enlarge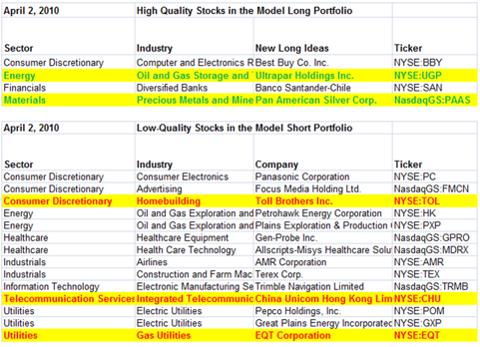 It is important to focus on the stocks that we got wrong to understand how not to mistake again. What was it about Melco Crown Entertainment (NASDAQ:MPEL) that our factors picked up, but completely missed on the others in the group? Perhaps the whole notion of adjusting a successful monthly portfolio strategy into a weekly trading strategy based on fundamental rankings is misplaced.
Recent Headlines:
MPEL: Macau on 3/25 announced it would limit the number of gambling table games. (WSJ)
BRFS: No information.
EOG: Upgraded by RBC on March 29, price target raised to $130 from $112. We suspect as a play on motions to lift a ban on offshore drilling, and a generally increasingly bullish outlook on the sector. (MarketWatch).
MTU: Reached an agreement with Morgan Stanley to integrate Tokyo brokerage operations. (WSJ)
PUK: "constructive and positive talks with investors" about a planned $35.5 billion acquisition.." (WSJ)
ASML: Toshiba Corp. has ordered chip-making equipment from ASML. (Reuters)
AU: CEO seeking board approval for a mining project in Western Australia. (Dow Jones)
CHA: "Net profit in the sector has likely bottomed, and CHU and CHA are expected to compete less aggressively. (MarketWatch).
TNE: Beginning a debenture road show for investors. (WSJ)
Don't Throw Out the Baby with the Bath water
In quickly reviewing this list, we can see there is nothing wrong with our factor models. What is wrong is that it looks like the fundamental data is stale relative to an increasing torrent of newsflow supporting evidence of a global economic recovery. This gives us greater confidence to suggest that investors focus on our "low-quality" short lists as potential "contrarian" long ideas by trying to anticipate any positive news flow item that could suddenly change the outlook for these companies. If the positive news continues, such stocks could continue to outperform significantly. This is where any good industry-specific analysts should really shine right now.
More cautious investors may want to avoid the shorting stocks altogether, and focus on long-ideas that are already backed by high-quality fundamental data but may also be anticipating some kind of significant news flow event.
A pdf of this report is available.
Disclosure: None