Having covered Sirius XM (NASDAQ:SIRI) for some time now, I've often paid attention to the bi-weekly release of the short interest in the company. While the data is too old at the point of release to be particularly relevant to current trading, it is still interesting to see the shifting sentiment as shorts increase or decrease their positions.
Before getting into the actual numbers, I'd like to point out that myself as well as others have often assumed that the short interest in Sirius XM is mostly hedged vs. Sirius XM's outstanding $550 million in convertible bonds. There are near 300 million shares promised by these bonds and the holders of the notes can, and often do, short the shares to recoup the capital tied up in the bonds and simply collect interest at a net $0 outlay. Likewise, a bond holder can withdraw value by shorting shares hedged by the notes they hold if capital is needed.
Either this idea has been wrong, or the bond holders have been covering, or there were simply not many bond holders short the equity to begin with.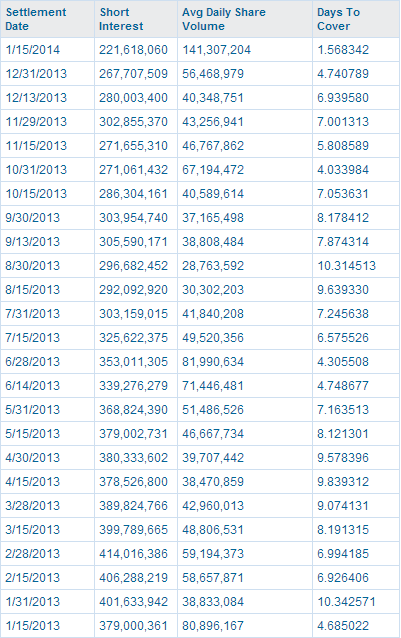 This is the most current data for short interest in Sirius XM as released on January 27th, 2014. Note that this number comes from a trade date of January 10th, with a settlement date of January 15th. Thus it is the number of shares sold short at the close of the day on January 10th.
221 million shares. This is a number far enough from the roughly 300 million shares covered by the bonds to poke large holes in the idea that those bond holders remain short Sirius XM, if they ever were short at all. You'll notice that the short interest has been steadily decreasing ever since November 29th and has significantly declined since this time last year, when at times over 400 million shares were sold short.
One doesn't really have to wonder why shorts would cover since last January, as Sirius XM was in the middle of a large scale buyback and performing quite well. But one has to wonder why shorts would cover to the point that short interest is the lowest it has been in years after what was touted by many as a 'disappointing' set of results in the Q3 call. One would expect short interest to have increased if sentiment followed headlines, no?
Then again, was that Q3 call really all that bad? Slowing growth? That's nothing new with Sirius XM which has had slowing growth on a percentage basis for a very long time. It's what happens when you get 'big'. Add 1 million to 5 million and that's 20% growth. Add 2 million to 20 million and that's 10% growth.
That's not a bad thing at all. And slower growth on a percentage basis when you are big, and costs are paid for, may be even better than faster growth when you are small and not turning a profit. If I grow +$1 million at a revenue of $5 million, and my costs are $8 million, I am still losing money even if I am growing 20%. If I grow +$2 million at a revenue of $20 million, and my costs are $15 million, I grew at a 'slower' relative 10% pace but the part I get to keep, which is really all that matters at the end of the day, grows at a much much faster pace.
Sirius XM is a cash flow machine and should continue to be so for years to come. It's no wonder that some who have been on the short side, hedged or not, have taken recent uncertainty and weakness and used it as an opportunity to cover.
Liberty's Effect
On top of this, Liberty Media (NASDAQ:LMCA), the controlling holder in Sirius XM, recently made an offer of an equity swap for the remaining shares of Sirius XM. Liberty's valuation on the swap comes in the form of a ratio and thus the value of the trade fluctuates with the price of Liberty Media. At the time of the offer the valuation placed on Sirius XM by Liberty was in the $3.60s per share. Since then the share price of Sirius XM has swung considerably on very high volume, reaching up to $4 per share and coming back down to closing prices in the mid $3.60's.
The most recent calculation of short data comes after the offer by Liberty Media, and short covering may very well have been catalyzed by the offer. Expectations generally favor the notion that the offer will either be raised to a more favorable ratio with a higher valuation for Sirius XM holders, or rejected completely as the current offer seems to undervalue Sirius XM shares. When one considers that Liberty Media's sellback agreement entered into with Sirius XM contained a lower hedge and minimum sell price in the $3.60s, months ago, and one combines that with Liberty's offer for an equity swap, a conclusion and assumption can be made.
Since Liberty Media will make an equity exchange at a valuation in the $3.60s per share, and since Liberty Media would not sell back at a valuation below $3.60s per share, then Liberty Media considers Sirius XM to be undervalued below share prices in the $3.60s.
Of course, there's the old saying about what we do when we assume, and what it makes out of 'u' and 'me' but assumptions and guesswork are unfortunately part of the game when it comes to investing. Not everything is so crystal clear.
Liberty's Short Data
Some who have been reading along may be taking into consideration what I have said for some time now. There's a certain symbiotic relationship with Sirius XM and Liberty that comes from Liberty's value being made up in great majority by the value of its Sirius XM stake. With Liberty's shares in Sirius XM being well over 50% of Liberty Media's cap, what happens with one typically happens to the other. Share prices have generally traded in tandem on a percentage basis since the Starz (NASDAQ:STRZA) spin out, and only recently diverged.
Because of the close relationship of the two companies it's interesting to note that while Sirius XM's short interest has been plummeting, Liberty Media's short interest has been steadily increasing, and has actually increased sharply as of the last reporting period.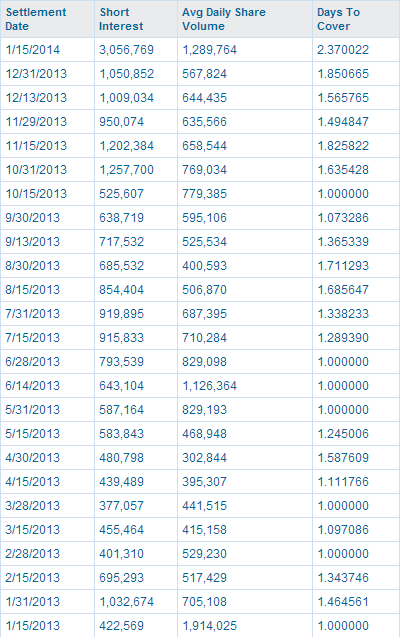 Yes, that's correct. Liberty's short interest is now at over 3 million shares, the highest in the past year. This dwarfs the average short interest in Liberty which typically comes in at under 1 million shares.
It appears that since the offer, shorts have piled into Liberty Media, and lightened up considerably in Sirius XM.
Some will argue that a short in Liberty due to Liberty being mostly made up of Sirius XM, is effectively a short in Sirius XM. Perhaps those short 'SIRI' could be moving to being short 'LMCA' instead, with expectations of the equity swap. This would make sense, if one follows the belief that the deal will be sweetened for holders of Sirius XM. Shorting Liberty and buying Sirius XM in that case should result in a profit, assuming Liberty does not drop too low, and Sirius XM does not go too high. That's a guessing game I'll happily leave to those speculators. I enjoy sleeping at night.
The traders playing off these expectations and assumptions can and will cause significant fluctuations in the short interest and even in the share price that may be considered abnormal. Think of Liberty's offer as a cannonball jump into a calm pool. Waves on impact that shimmer out to a ripple as everything comes into balance and individuals set into position. An alteration of the ratio, rejection of the offer, a counter offer, or even some good (or bad) news from the companies themselves can result in another disruption and large scale trading by those looking to profit on the current deviations from the expected ratio.
To Summarize
With Sirius XM's short data hitting historic lows, and with Liberty Media's short data hitting historic highs, it's reasonable to assume that Liberty's recent offer of an equity swap has had significant influence in these moves.
It's reasonable to assume the street believes that the offer will be sweetened, as the chosen trade seems to be long Sirius XM and short Liberty Media. It is also reasonable to assume that Liberty Media sees value in Sirius XM or even Sirius XM as undervalued at or below the $3.60s due to that valuation being placed on an equity swap.
It is also reasonable to assume that Liberty Media sees value in Sirius XM at or below the $3.60s due to its refusal to sell back shares, below this level, to Sirius XM in the company's share repurchase agreement. Liberty would rather keep the shares than sell back below the $3.60s.
These hints, in conjunction with my overall view of Sirius XM as a good company and good investment, made my decision easy to repurchase shares in the $3.60s last week with the cash received from my options play the previous year. It can certainly be argued that any assumptions above are pure folly, but I'm comfortable with them. Time will reveal if they are correct, and if my $5 price target for Sirius XM over the next 12 months will come to fruition.
Disclosure: I am long SIRI. I wrote this article myself, and it expresses my own opinions. I am not receiving compensation for it (other than from Seeking Alpha). I have no business relationship with any company whose stock is mentioned in this article.
Additional disclosure: I am long SIRI January 2015 $2.50 calls.