Value investors are always on the lookout for great bargains. And it doesn't make much difference where they can be found. While headlines blare updates on technology companies and energy stocks, less popular industries can thrive unnoticed in the shadows - creating a perfect shopping opportunity for bargain hunters.
Consider the dairy market. It may not be a "sexy" industry for most investors, but the forecast for 2014 could change that. The USDA expects U.S. milk production this year to reach a record 205.3 billion pounds. Higher milk prices and lower feed costs are expected to contribute to an increase in cow numbers and output per animal. And the higher prices should get support from higher demand from both the domestic and international marketplaces.
Dean Foods (NYSE:DF) looks to be in the right position at the right time to profit from the trends in dairy this year. The food and beverage company markets over 50 brands like TruMoo, Swiss, Land O' Lakes, and more. It operates out of 75 plants across the U.S. and employs over 19,000 dedicated workers.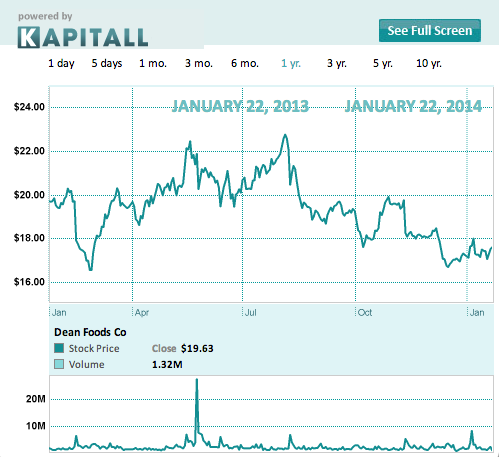 Click here to see data in full. Sourced from Zacks Investment Research.
As part of an on-going cost savings initiative, Dean Foods spun off WhiteWave (NYSE:WWAV) and sold stock generating proceeds of $589 million. Efficiency efforts have resulted in the closure of seven plants, with plans to closing another 10% to 15% of facilities in 2014 and eight more already announced. Thanks mainly to the spin-off of WhiteWave along with Morningstar, Dean Foods has drastically improved its net debt to EBITDA leverage ratio to 1.64 - an improvement from the 3.52 it stood at for the end of the year in 2012.
The Board of Directors has announced a cash dividend policy beginning in Q1 2014 for $0.07 per quarter, or $0.28 a share annually. At current values, this would give the stock a dividend yield of about 1.6%. Additionally, Dean Foods has increased the amount available for stock repurchases to a total of $300 million.
Dean Foods looks cheap trading at 15 times future earnings considering next year's earnings growth is expected to be over 30%, giving it a PEG ratio of 0.5. Given next year's earnings and its current valuation, Dean Foods is trading at about a 20% discount with a price target of $21 a share.
It's not a green light across the board for Dean Foods however.
In the dairy industry, Dean Food's closest competitors are privately owned - National Dairy LLC and Dairy Farmers of America. There's some controversy over whether these other companies are truly "competition" or not, due to a DOJ investigation into an alleged milk price collusion scheme.
Just this week, Dairy Farmers of America agreed to settle with plaintiffs to the tune of $158.6 million, after an antitrust lawsuit was brought forward by thousands of dairy farmers (including some DFA members). It was alleged that Dairy Farmers of America collaborated with Dean Foods, among others, to reduce competition for farmers' milk in the Southeast U.S., and so decreasing prices.
Total settlements in the case amount to more than $300 million, and Dean Foods alone paid out $140 million in 2011.
Even though the lawsuit is settled, investors should expect some volatility in Dean Food's stock.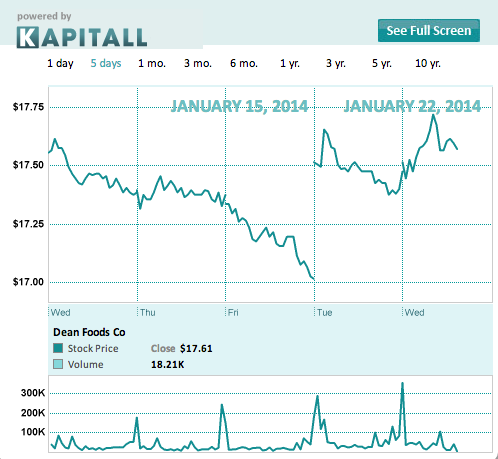 Click here to see data in full. Sourced from Zacks Investment Research.
Disclosure: I have no positions in any stocks mentioned, and no plans to initiate any positions within the next 72 hours.
Business relationship disclosure: Kapitall is a team of analysts. This article was written by Daniel Cross, one of our writers. We did not receive compensation for this article (other than from Seeking Alpha), and we have no business relationship with any company whose stock is mentioned in this article.