In Monday's Financial Times there was an article entitled Macro Funds Miss Out On Crisis," where they show how many macro funds are currently lagging their expected performance so far for 2010. While it is true that many funds are relatively flat, we are surprised that the article had nothing good to say. We, being proponents of Global Macro as not only a strategy but as the best strategy across a full market cycle, decided to take it upon ourselves to look at Global Macro against the S&P 500 from the beginning of the crisis October 2007 to now.
What we find is that while the S&P 500 is down -24.41% from the beginning of the crisis, the HFRXM Global Macro Index is basically flat at +1.04% for that same time. In fact, if you had invested $1000 in each of the HFRXM and the S&P 500 on October 1, 2007 your investment in the Global Macro Index would be ahead of the S&P 500 by 33%. So while you wold not have huge absolute gains, you would also not have huge absolute losses.
$1,000 Invested In HFRXM and S&P 500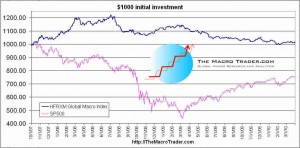 (Click to enlarge)
Of course such comparison offer little real value since the S&P 500 is a horrible benchmark for a macro trader. Global macro encompasses stocks, bonds, commodities, and currencies so it should be relatively uncorrelated to any one asset class. What sets global macro apart from other strategies is that it enables the trader to go wherever they see the best opportunities. Just because they have the flexibility does not mean that they will catch every move, but it does allow them the flexibility needed to avoid large losses.
Disclosure: No positions