As stocks have faltered in early 2014, the shares of Annaly Capital (NYSE:NLY) have clearly outperformed. This begs to question whether Annaly might offer safe haven to hide out in during today's market turmoil. However, on Monday, things seemed to change, and it may be for good reason.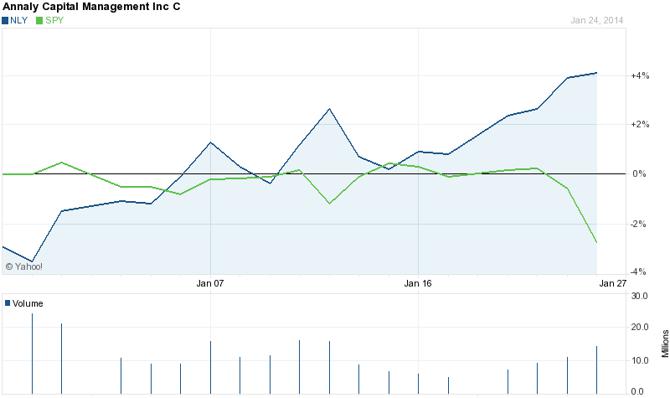 1-Month Chart at Yahoo Finance
The one-month chart of Annaly Capital, when matched against the SPDR S&P 500 (NYSEARCA:SPY), seems to show safe haven appeal. At the very turn of the year, I outlined my concern for stocks heading into 2014, discussing my view that capital would likely flow out of equities that had come very far very fast. Since stock market appreciation was broad-based, I indicated that it left few places for capital to hide. I targeted gold as one place capital could flow to, and that turned out to be correct. Later, a weak employment report reinforced this trend. As you can see by the table below, the beaten down shares of mortgage REITs made for another destination for newly unsettled capital. I suggested Annaly would benefit at the start of the year as well.
| | | |
| --- | --- | --- |
| Security | Year-to-Date | Last 12 Months |
| SPDR S&P 500 | -3.6% | +18.5% |
| Annaly Capital | +4.5% | -29.8% |
| American Capital Agency (NASDAQ:AGNC) | +7.2% | -34.0% |
| Market Vectors Mortgage REIT (NYSEARCA:MORT) | +3.9% | -16.3% |
| UBS ETRACS Mo. Pay 2X Mortgage REIT (NYSEARCA:MORL) | +2.7% | -28.8% |
There were at least two good reasons for the early gains in mREITs to start the year. One was the capital flow issue discussed, but the reason the mREITs presented appeal was due to their deeply discounted valuations, which may already incorporate enough of the risk they bear to rising interest rates. Today, Annaly still trades at 0.83X book value. After the Fed masterfully maneuvered its initiation of asset purchase tapering and kept interest rates from rising too quickly, investors had to reconsider whether they had already priced in the impact to the mREITs. Perhaps now price was finished moving lower, though dividends continue to be trimmed. Today NLY offers investors a dividend yield of 11.4%, but one which has been at risk of reduction.
Annaly Capital and mREIT peers American Capital Agency and others do not typically follow a path closely attuned to that of the market. That is evidenced by the beta coefficients of NLY and AGNC, which are both 0.17. Investors know that going in, and so the shares of mREITs have automatic safe haven appeal. But something seems to have changed this week.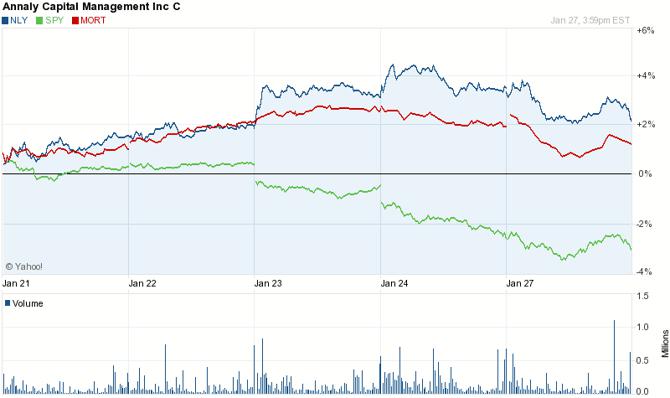 The five-day chart here shows suddenly closer correlation between mortgage REITs and the market. On Monday, NLY and the MORT seemed to perfectly trace the SPY's path. Why is that and does it signify a shift in NLY's safe haven appeal to a new perspective putting it into the line of fire as well?
You'll note that while the SPY started the day lower, the shares of NLY started higher. However, at around 10:00 AM ET, NLY fell into what seems to be equal vulnerability. Something happened at 10:00 AM that could very well be responsible for that. New Home Sales were reported for the month of December at that hour.
| | | | |
| --- | --- | --- | --- |
| | Reported | Expected | Prior Result |
| New Home Sales (Dec.) | 414K | 450K | 445K (Revised) |
This sharp decrease in the seasonally adjusted annual pace of new home sales in December played poorly for this group of securities. In fact, their downside performance on Monday exaggerated that of the market and would have made for a beta above 1.0 if it covered a large enough sample size of days' trading performance.
| | |
| --- | --- |
| Security | Monday January 27, 2014 |
| SPDR S&P 500 | -0.5% |
| Annaly Capital | -1.1% |
| American Capital Agency | -0.7% |
| Market Vectors Mortgage REIT | -0.7% |
| UBS ETRACS Mo. Pay 2X Mortgage REIT | -1.8% |
This seems to say that the safe haven appeal of the mREITs and NLY has been lost. Given the distressing signs I've seen building in housing of late showing trouble for real estate, investors should perhaps consider other options for capital near-term. On Wednesday, the Fed's monetary policy decision offers special risk for the housing sector, and all the more reason to go to cash (I much prefer gold). However, even gold gave way on Monday, showing that beta has moved to 1.0 across securities. That may reflect an especially treacherous environment and one very vulnerable to serious correction under the right catalyst. Those seem to turn up at times like these, as the market begins to notice every brick in the wall of worry. That's why, over the weekend, I suggest investors reconsider all passive long market positions. So, in conclusion, NLY and mREITs do not seem to offer safe haven appeal any longer or over the near-term, and face special sensitivity this week related to the Fed's communication.
Disclosure: I have no positions in any stocks mentioned, and no plans to initiate any positions within the next 72 hours. I wrote this article myself, and it expresses my own opinions. I am not receiving compensation for it (other than from Seeking Alpha). I have no business relationship with any company whose stock is mentioned in this article.