This is a series of articles that will attempt to find the best of breed BDCs to include in my updated "Total Return Portfolio" for 2014. Please read "Part 1" for complete description of the portfolio but basically it is for investors that want dependable regular dividends and the potential for special dividends as well as long-term capital appreciation from increased stock values. The other five portfolios that I cover are: General, Risk Averse, High-Yield, Value, and Underdog. This article will cover dividend and portfolio growth potential.
Dividend Growth
Looking at historical dividend growth is deceiving because as BDCs mature they reach a run rate from increased efficiencies of capital use and operational expenses with less ability to grow future earnings compared to some of the younger BDCs. This is why I put them into groups based on age and performance with the first group being older BDCs.
Hercules Technology Growth Capital (NASDAQ:HTGC) tops the list especially over the last 12 months while others such as Solar Capital (NASDAQ:SLRC), Fifth Street Finance (NYSE:FSC) and Full Circle Capital (FULL) have had negative dividend growth over the last three years. However for BDCs such as FSC and SLRC I believe these dividend reductions resulted from maintaining underwriting standards rather than investing in riskier assets. I try to take some of this into account in the next section with SLRC having plenty of dry powder to grow the portfolio and income.
Portfolio Growth Potential
The following table uses the financials for each BDC as of September 30, 2013 to project the amount of portfolio growth assuming no additional equity, a debt-to-equity ratio of 0.80 plus available cash used to grow the current portfolio. Obviously many of these BDCs have had at least one equity offering since then such as Ares Capital (NASDAQ:ARCC), TCP Capital (NASDAQ:TCPC), New Mountain Finance (NYSE:NMFC) and FULL, but this analysis still shows the potential portfolio growth using the same amount of leverage. The amount of debt vs. equity would most likely be different for each company as discussed in "Leverage vs. Portfolio Investment Quality". I have separated the BDCs into two groups according to their current price to net asset value ("NAV") per share because the companies trading at higher multiples can easily raise future equity capital at a premium to grow the portfolio at a faster pace per share.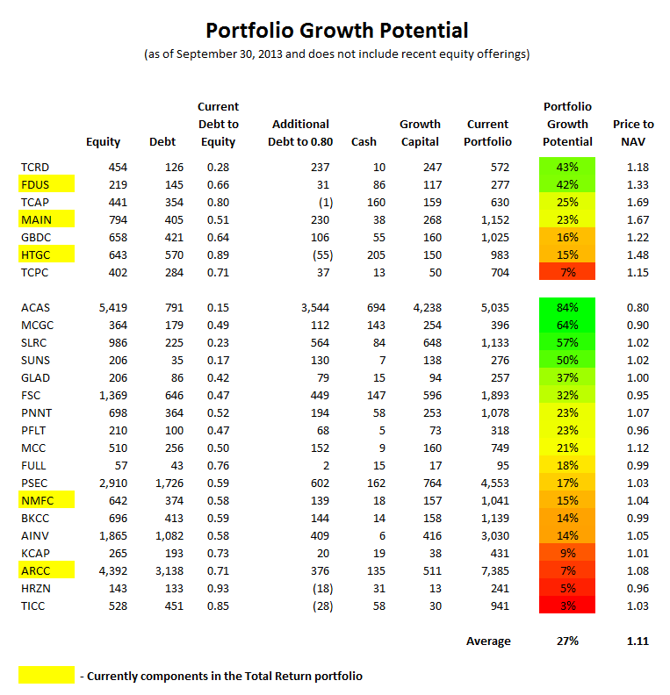 Click to enlarge
The BDCs with higher multiples of NAV will definitely be considered for this portfolio including Fidus Investment (NASDAQ:FDUS), Main Street Capital (NYSE:MAIN) and HTGC, that are already components but so will THL Credit (NASDAQ:TCRD), Triangle Capital (NYSE:TCAP) and Golub Capital BDC (NASDAQ:GBDC). Also some of the lower priced BDCs with higher growth potential will be considered. ARCC and NMFC are both below the average as well as having lower multiples.
American Capital (NASDAQ:ACAS) is an outlier in this analysis for many reasons including a continual decline in portfolio value giving it much more available capital used to pay down debt and buyback undervalued shares rather than invest in income producing assets.
What does all this mean for dividend potential?
In "Part 2" of this series I discussed dividend coverage and sustainability. I believe that BDCs with higher coverage levels are more likely to increase dividends over time. The table below takes into account historical dividend growth, coverage potential and the ability to grow the portfolio for increased income: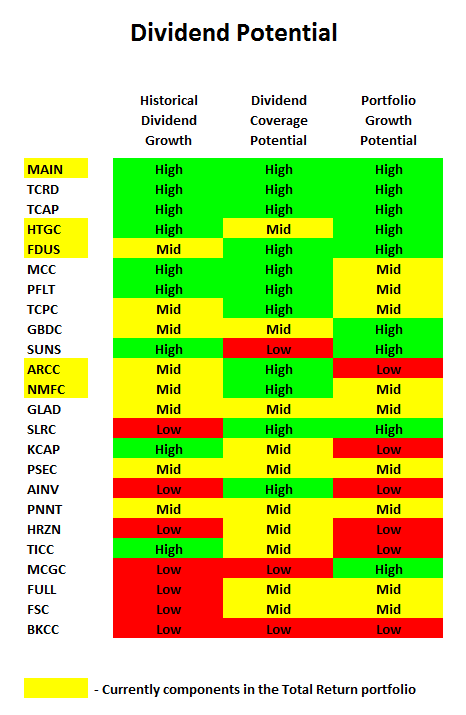 While BDCs such as SLRC have had negative historical dividend growth I believe some are more likely than the others to increase dividends once they deploy available capital. Other BDCs with similar potential are MCG Capital (NASDAQ:MCGC), Solar Senior Capital (NASDAQ:SUNS) and Gladstone Capital (NASDAQ:GLAD) but I have not performed a detailed analysis and projections for these companies so far.
The rest of this series will continue to look at historical results and projected performance of each BDC to uncover the best BDCs for this portfolio. The remaining key criteria I will be analyzing are:
Regular dividend yield
Special dividend potential
Relative valuations
Risk to reward ratio
NAV per share growth historically and projected
I will try to cover each of these areas using available public information as well as my own analysis and I will most likely be investing in all of these BDCs personally. Investors should only use this information as a starting point for due diligence. See the following for more information:
Disclosure: I am long MAIN, TCPC, ARCC, FDUS, TCRD, PSEC, NMFC. I wrote this article myself, and it expresses my own opinions. I am not receiving compensation for it (other than from Seeking Alpha). I have no business relationship with any company whose stock is mentioned in this article.