The purpose of this article is to assess the fair stock value of eBay Inc (NASDAQ:EBAY). In the article I will discuss the expected role of smartphones as a key growth driver of the catalog and mail order industry and the company's ability to take advantage of future endeavors.
Outlook
Modern and busy life styles with less time available for shopping are fuelling the growth in mail order markets. Other key drivers of growth in this market are low investment and capital requirements for service providers which result in a bigger number of products offered to customers. According to Global Industry Analysts this market is likely to reach $835 billion by 2015.
The catalog and mail order industry is a very competitive, large, and rapidly growing industry that is significantly affecting physical retail. Despite the fact that in a physical retail store the customer has the benefit of physically examining the product, consumers' comfort with online shopping is resulting in continuously increasing online sales. Ultimately this fact does not suggest that the need for stores will evaporate. Still, for many people in most circumstances, in-store shopping is and will remain the preferred means of shopping.
In 2010, 3.8% of total visits to e-retailers stemmed from smartphones. As long as smartphone adaption increases mobile traffic to e-retailers also increases due to the introduction of different user friendly and efficient mobile apps facilitating online shopping. Furthermore, it is easy for customers to cross check and compare prices while shopping online. Smartphone adoption has a very important in the online shopping market. In 2013, 39% of the visits to e-retailers were made through smartphones. This figure is growing so fast that by the end of 2014 it is expected to reach 53.2% denoting almost 49.6 billion visits to e-retailers through smartphones. In 2015 this percentage may increase to 60%.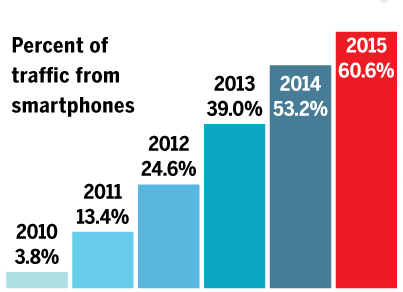 According to FORRESTER, cross-channel sales in the U.S. will reach $1.8 trillion by 2017. Cross-channel sales are those which are influenced by the website but are completed in stores. Direct e-commerce sales (including mobiles and tablets) may cross $370 billion 2017. Total retail sales in the US are estimated to reach $3.6 trillion by 2017, 60% of which will be performed directly on smartphones or tablets. Major contributors to cross-channel sales are likely to be apparel, grocery, consumer electronics, home improvement and accessories industries and will constitute almost $1.1 trillion of the total expected cross-channel sales of $1.8 trillion. In next five years, almost 10.3% of total retail sales in the U.S will be completed online and will result in $370 billion in web sales of the $3.6 trillion expected total in retail sales.
Current Positioning
EBay is the second largest e-commerce site that attracts almost 224 million unique visitors per month.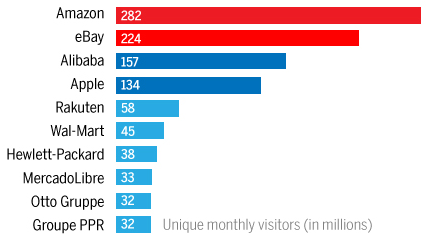 A major chunk of visitors are from the U.S. and that is why I have kept my focus mainly on eBay's current and expected performance in the U.S.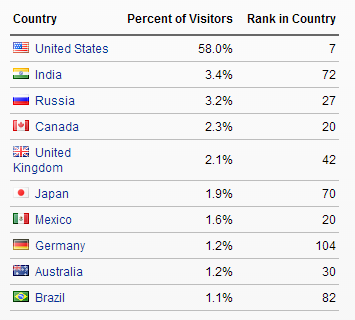 According to a survey 63% of smartphone owners utilize e-commerce sites because of on-the-go convenience. Available special offers and coupons fetch 52% of customers. Comparability of prices across the brands and stores makes 48% of smartphone owners liable to purchase items through e-commerce while 41% buy if they are in store and the store is out of stock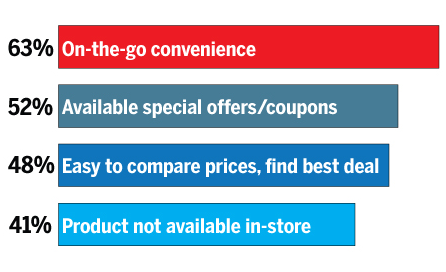 EBay has been able to exhibit splendid profitability in the last twelve months. The company displayed 68.99% gross margin compared to the industry margin of 53.67%. With regards to the operating margin eBay was slightly below the industry score by recording 20.78% for last twelve months compared to the industry margin of 22.5%. However, eBay has maintained a higher net profit margin of 17.77% that is above the industry's net profit margin of 15.82% for the trailing twelve months.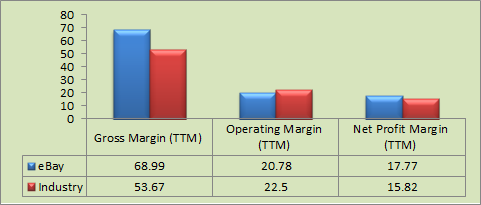 Sustained profitability is proof of eBay's efficacious business planning, prolific implementation of resources and inexhaustible utilization of every available opportunity. Over the last five years eBay has outperformed the industry with a gross margin of 71.33% and net profit margin of 22.64% compared to the industry's average gross margin of 58.96% and net profit margin of 17.82%. These figures showcase the aptitude, understanding and commitment of the company's management to conduct business in such a competitive industry.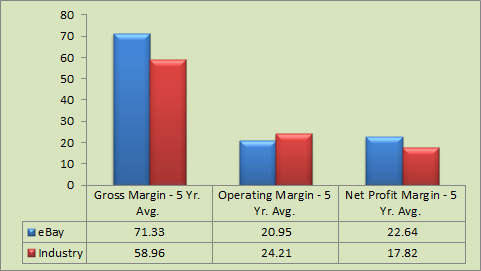 Going forward, the recent acquisition of Braintree and its integration with PayPal will support customers as well as the growth of eBay. Braintree along with its mobile application Venmo will accelerate PayPal's strong presence in mobile payments while Braintree will receive a boost through PayPal's global scale and resources. EBay is now able to provide its customers Venmo that enables them to pay each other using mobile devices.0020Many next-generation innovators like OpenTable, HotelTonight, Uber and Airbnb have picked Braintree as a payment platform of choice. In short, the industry is clearly revealing that considering past performance, recent acquisition, current foothold and propensity to exploit future potentials eBay has gained a stronger position in the industry and is well prepared to utilize the growth opportunities especially in mobile purchases.
Valuation
Incorporating past performance and interpreting future potential I have used the multiple based valuation approach to estimate the fair value of EBAY. As per my analysis, EBAY has a 70% upside price potential that renders a buy rating.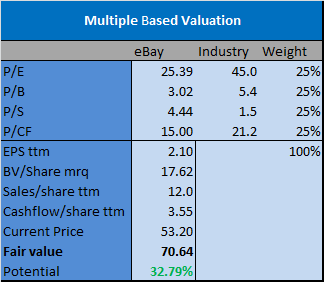 To be on safer side, I have also analyzed eBay's expected average PEG ratio of 1.38 for next five years. The industry is expected to observe an average PEG ratio of 2.6 in the next five years that also intimates that EBAY is currently undervalued compared to the industry.
Disclosure: I have no positions in any stocks mentioned, and no plans to initiate any positions within the next 72 hours.
Business relationship disclosure: The article has been written by a Blackstone Equity Research research analyst. Blackstone Equity Research is not receiving compensation for it (other than from Seeking Alpha). Blackstone Equity Research has no business relationship with any company whose stock is mentioned in this article