The later part of last week marked the return of volatility in the global financial markets. The Federal Reserve scaled back from quantitative easing, the slowdown in emerging markets compounded by political and financial instability of Argentina and Turkey sent the markets tumbling. S&P500 stock index (NYSEARCA:SPY) finished the week down 3%, Dow Jones Industrial Average (NYSEARCA:DIA) down 3.3%.
Risk aversion pushed equity risk premium higher, providing support to gold prices. As I discussed in an earlier post, equity risk premium is one of the key factors which influences gold (NYSEARCA:GLD) prices. Risk premium has increased from 4.96% to 5.14% this year, and gold has gained 5.31%. Historically, gold has a strong correlation with the direction of equity risk premium. However, it still needs to be seen if the slowdown in emerging markets (NYSEARCA:EEM) will counter this historical relationship.
With the earnings season in full swing in the US, investors are keeping a close eye on corporate profit margins. So far the percentage of companies reporting earnings above estimates is below the four year average, while the percentage of companies reporting revenues above estimates is above the four year average. The path these elevated profit margins take from here will influence gold prices in future.
Listed below are the few catalysts which can create more volatility in gold in the near future.
Reaction to slowdown in emerging markets
Direction of Corporate Profit Margins
Interest Rate Volatility
Identifying these catalysts assists in understanding the volatility risk in gold. Table 1 presents the 30 day realized volatility, options implied volatility and estimated volatility levels (based on GARCH model) for Gold, Emerging Markets, and S&P500.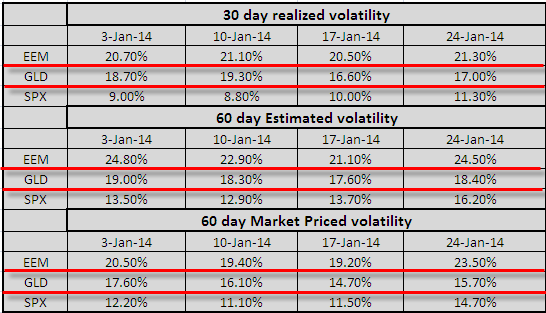 Table Realized, Estimated and Market Priced Levels
We notice the rise in volatility in emerging markets and the S&P500. Even though expected and options implied volatility levels for the S&P500 and emerging markets rose, higher volatility expectations in gold have diminished lately. Moreover, recent turmoil in the market has inverted the options term structure (backwardation) across emerging markets, the S&P500 and gold. Investors can take advantage of the inverted term structure to either initiate a new position or hedge an existing position. A couple of strategies which can be employed currently are:
Calendar Spreads (ATM, OTM) - If you expect the underlying security (Gold, Emerging Markets, S&P500) to stay within a narrow range for near future, ATM strike calendar spread offers favorable risk reward (For example: Selling Feb / Buy March). OTM calendar spreads (Above/Below the market price) can be used as well to express bullish / bearish opinions.
Selling Put Spreads below the market: If you expect underlying security to stay above a certain price level in near future, selling put spreads below the market price lets you take advantage of elevated options premium, and capture the time decay.
Disclosure: I have no positions in any stocks mentioned, and no plans to initiate any positions within the next 72 hours. I wrote this article myself, and it expresses my own opinions. I am not receiving compensation for it (other than from Seeking Alpha). I have no business relationship with any company whose stock is mentioned in this article.