Encana (NYSE:ECA) is shifting its focus toward oil production this year. It decided to invest around 75% of its total budgeted capital of 2014 into five core-producing assets, which are rich in natural gas and oil condensate. Because of the continuing lower price of natural gas, the company's financial performance was down. Thus, Encana is more interested in producing oil over natural gas to achieve higher returns.
Expected 2017 upstream cash flows from liquid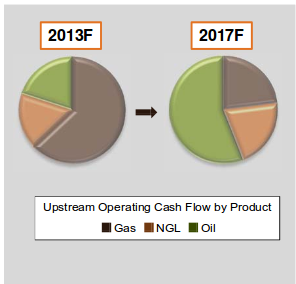 Source: Company presentation
Accelerating performance with Duverney
Duverney is considered to be another Eagle Ford region in its ability to produce oil and NGL. This shale play is rich in condensate, which is in demand in North America. Condensate is light oil, used as a diluent in heavy oils to reduce the thickness and ease the transportation through pipelines. In western Canada the oil-sand companies need a higher condensate to mix in the tarry bitumen they produce, easing the flow through pipelines. But, because of shortages of condensate production, these companies are not getting enough. Oil-sand companies use up to 350,000 barrels per day of condensate whereas the total production of condensate was around 145,000 barrels per day last year.
Encana has total net acreages of 253,000 in Duverney, which is one third the area of the top tier high condensate rich play. With the total net acreage holding around 75% of condensate oil fields, the company can produce higher condensate oil in line to meet the growing demand. Duverney has total estimated oil, NGL, and natural gas resources of around 61.7 billion barrels, or Bbbls, 11.3 Bbbls, and 443 trillion cubic feet, or Tcf, respectively. With these massive resources and larger holdings of the oil condensate field, Encana will invest $250 million to $300 million this year. This investment will be integrated towards its rig activity and drilling new wells. It is expected to run six to eight rigs to drill 15 to 20 net wells this year.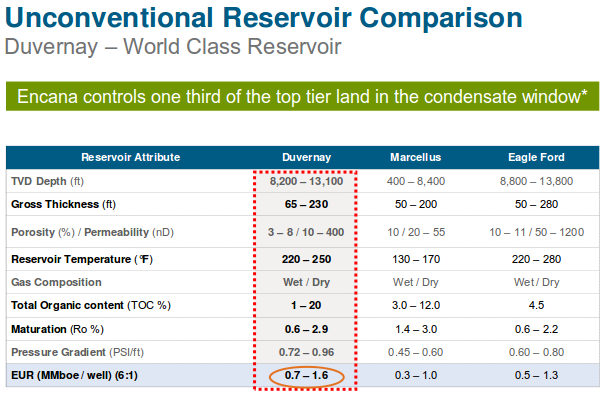 Encana had reported its initial 160-days production rate from the Duverney wells of around 350 barrels per day of condensate and 2 million cubic feet, or mcf, of natural gas per day. The company witnessed total well production of 100,000 barrels of field condensate and 400 mcf natural gas through October 2013. So with more projected net wells in Duverney, I expect the company will achieve higher production of field condensate and natural gas, meeting its expected increase in output this year.
Moreover, the increasing rich field-condensate production in Duverney will also likely lead to higher margins. The condensate in western Canada traded around $15 more than the western Canada light oil benchmark and around $10 to $15 more than the U.S. condensate. This will improve the return on liquid and help the company meet its expected upstream cash flow from liquid projection. So, Encana's strong position and projected well completion in Duverney will strengthen its top line in coming quarters, and it will benefit from the available higher condensate margin and condensate demand in North America.
Other players in Duverney
With its liquid rich net acreage of around 155,000 in North Duverney and around 194,000 net acres in South Duverney, Talisman Energy (NYSE:TLM) is expecting strong financial performance ahead. Talisman completed two wells in South Duverney that it brought into production in third quarter last year. The company reported a seven-day average rate of production of 730 barrels per day of condensate from the first well and 365 barrels per day from the second well. Moreover, Talisman has successfully reduced the total drilling and completion cost per well by 16% compared to 2012 to average $16.2 million in 2013. This saving along with higher condensate production will improve the company's financial performance in coming quarters. Apart from Talisman, Chevron (NYSE:CVX) successfully completed the 12-well exploration program in its 325,000 net acres in Duverney in 2013. It reported total initial condensate production of 1,300 barrels per day and 7.5 mcf of natural gas production during October last year from five completed wells. The company's four additional wells are in being completed, which will increase production and ultimately affect its top line.
Growth opportunity with natural gas is still possible
Although the natural-gas price continues to be low, Encana still has a bright spot in the natural-gas market. As one of the largest gas producers in North America, Encana has seven compressed natural-gas fuelling stations in this region. These gas-fuelling stations were dedicated to the company's compressed natural gas, or CNG, vehicles earlier, but now it is opened for public use. Using CNG as fuel could further reduce cost compared to using diesel or gasoline.
Apart from that, Encana used gas in its drilling and fracking operation at Wyoming where air emission control was the biggest issue. Using this gas-fired drilling technique, the company saved around $250,000 per rig. As a result, Encana saved around $16 million in 2013. This could efficiently reduce the completion cost per well for other upstream companies, too, as every oil- and gas-producing company seeks to reduce operation costs. If this occurs, demand of natural gas will likely grow along with the efficiency of the oil- and gas-producing companies.
Moreover, car makers are focusing more on fuel efficiency and reducing emissions to be environmentally friendly. Natural gas results in lower emissions as it has a lower carbon content. As a result, the natural gas-enabled vehicle market has grown. The natural-gas truck and bus markets are expected to continue this growth at a compounded annual growth rate, or CAGR, of 12.6% and 6.4%, respectively from 2013 to 2022. Also, North America is projected to buy 12.7% of 400,000 natural-gas medium- and heavy-duty trucks and buses.
With an average output of 3 billion cubic feet per day, or bcfd, of natural gas, Encana is positioned in the natural-gas market to benefit from the projected growth and user demand.
Conclusion
Encana with its oil condensate-rich production assets in North America is expecting better performance in coming quarters due to higher demand of condensate. Furthermore, the margin on liquid products will help the company strengthen its financial performance. Although it is focusing more on liquids to meet its projected 2017 cash flow, natural gas could be another success factor in future. With the company's strong acreage position in the North American shale play along with liquid production growth, I would recommend buying this stock.
Disclosure: I have no positions in any stocks mentioned, and no plans to initiate any positions within the next 72 hours. I wrote this article myself, and it expresses my own opinions. I am not receiving compensation for it (other than from Seeking Alpha). I have no business relationship with any company whose stock is mentioned in this article.