Over short time periods, a number of factors can affect stock prices. Momentum and investor sentiment often swamp detailed analysis of a company's fundamentals and take prices in whatever direction they desire.
When looking for new trades, the disconnect between a stock's technical backdrop and the fundamental value leads to confusion. Many times I have seen stocks that I felt were grossly overvalued possess bullish technical patterns while other companies that were undervalued exhibited bearish patterns. Never one to thumb my nose at the market, the inability of technicals and fundamentals to confirm each another often forces us to look elsewhere for new trades.
However, on occasion the two will converge. When a business backdrop matches well with how a stock is trading, it offers an excellent opportunity.
After Research in Motion (RIMM) reported earnings last week, we now have a clear picture. RIMM has great products, but an uncertain future. Caught between the iPhone and Android phones, competitive pressures are mounting. Bulls will point to the stock's low P/E, but a recent study showing little customer loyalty makes RIMM a stock that is cheap for a reason.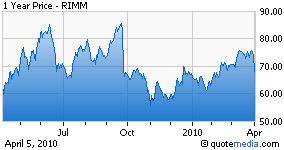 With deteriorating fundamentals, the stock's technical backdrop is starting to show the same. After a steady rally, RIMM declined sharply after releasing its results and now trades below a key support level, and all three moving averages. With that decline continuing this morning, there is little support until $58. The path is clearly lower and those holding the stock are facing losses.
Ahead of last week's earnings report, I recommended a position in RIMM April $70 puts to subscribers of in EPIC Insights. Two days later, these options have delivered a 117% gain. This is the just beginning. As RIMM continues lower, I expect these options to deliver tremendous gains. With the technicals and fundamentals confirming one another, this trade is well positioned to benefit from the coming decline.