Junior gold miners are potentially great investment bets whenever they have solid assets, are well managed, and the price of gold is favorable. Market Vectors Junior Gold Miners ETF (NYSEARCA:GDXJ) seeks to replicate as closely as possible, the performance of the Market Vectors Junior Gold Miners Index.
The correlation between prices of this ETF and SPDR Gold Trust Shares ETF (NYSEARCA:GLD) is very high as is shown by the following chart. To analyze prices deeply we must study the other chart below where prices of both assets are recorded. One conclusion stands out: from September 2011 until today, while GDXJ has dropped 75% GLD only has slide 34%. When the trend is beginning to be upwards as it seems to be happening now, the companies included in GDXJ will leverage even more the movements of gold price especially as their cost structure is appropriate.
Charts courtesy of StockCharts.com
click to enlarge)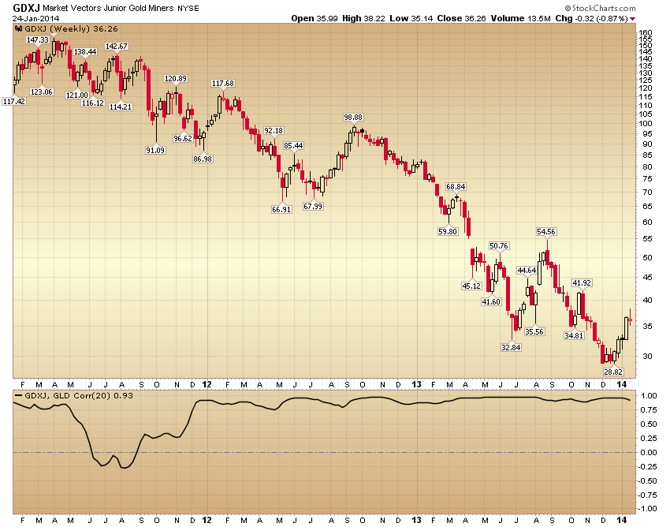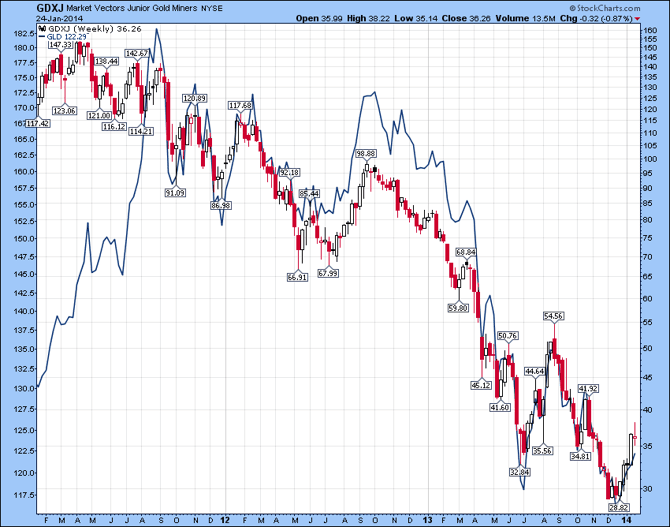 Naturally, GDXJ is a high risk/reward ETF, and investors are aware of its potential downside which must be managed closely. Investors also know that its potential upside can be very large and far exceed 100% at times.
The problem is that it all depends on the price of gold and its prospects for the future. Currently, gold has been on a downward trend since peaking in September 2011. For that reason, it is essential to make a careful analysis to try to know what is the right side of the market now. Gold fundamentals remain very strong: a) its capacity of being an asset of refuge; b) the buyer interest from China and other major countries; c) the weakness of the U.S. dollar and other market factors, are all reasons to be very positive on gold. But is it still time for a major correction extending what has occurred in the last two and a half years?
My next chart of GLD shows that a series of lower highs and lower lows have managed to put in place a clear downward trend.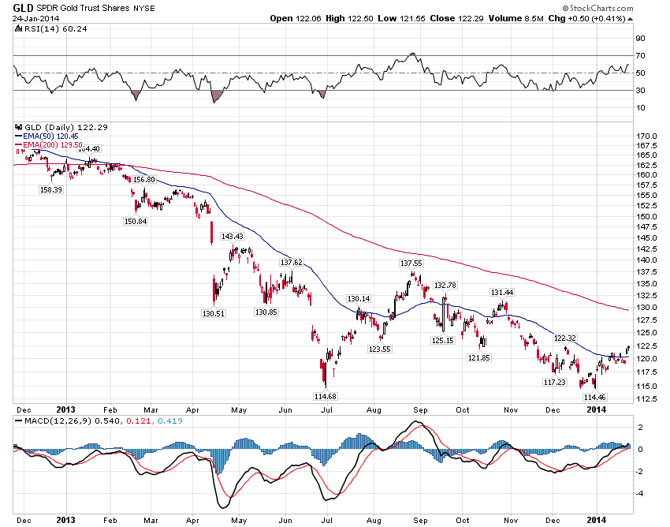 Nevertheless, on the last seven months gold has set three times a minimum of about 114.50 which is now a powerful support. Accordingly, it must be pointed out that a price increase beyond 122.32 and then 131.44 will be very positive.
Now let's look again at GDXJ's weekly chart above. In general, the technical situation confirms what was said for gold. Especially now, the Gold walk will be decisive for the fate of any junior gold company. Therefore, in my opinion investors should buy GDXJ with caution following the development of next week to decide about money management.
As of 01/23/14, GDXJ total net assets have decreased to $1.5B with a global universe of 69 publicly traded small and medium-capitalization companies. Canadian producer China Gold Resources is now in first place with only 4.27% of the Fund. Mcewen Mining (NYSE:MUX), Silver Standard Resources (NASDAQ:SSRI), Silvercorp Metals (SVM), Sandstorm Gold (NYSEMKT:SAND), Endeavour Silver (NYSE:EXK), Seabridge Gold (NYSEMKT:SA) and Allied Nevada Gold (NYSEMKT:ANV) are now the leading US miners of this Fund with participations of 4.00% to 2.14%.
Concerning concrete junior gold miners, we have to evaluate total costs of producing gold in order to verify whether a given level of price of this precious metal yields profits and leads to additional investment.
Gold price has a huge direct impact on gold producers. Conversely, miners ability to generate profits and capacity to remain on the market or develop their business also has a significant influence on gold price.
Only for guidance, some important aspects must be mentioned. The marginal cost for an ounce of gold is now $1,500, with $1,700 as a sustainable number, taking $200 for an acceptable profit. Though this number is relevant we know that what really matters is the real cost for different precious metals companies. It is a fact that total gold production costs varies sometimes widely from company to company. It is possible that for small and mid cap miners gold prices are near breakeven. This level is normally a strong support because present gold prices are almost unsustainable for the industry.
Conclusion
It is common sense to say that the market price of an asset is its total production cost plus a premium. If this is true, gold must have made its bottom or will not be far. Gold fundamentals tell us that there is strong demand, and producers normally cut production until prices recover. Thus, the price of gold should rise implying that junior mining companies will continue to strengthen the trend started four weeks ago.
Disclaimer: The author of this article gives only his personal view and opinion, never making any investment advice to buy or sell specific securities. The information presented is from sources believed to be reliable, but its accuracy cannot be guaranteed. Before investing in financial assets, investors should do their own research, and consult a professional investment adviser.
Disclosure: I have no positions in any stocks mentioned, and no plans to initiate any positions within the next 72 hours. I wrote this article myself, and it expresses my own opinions. I am not receiving compensation for it (other than from Seeking Alpha). I have no business relationship with any company whose stock is mentioned in this article.