From reading many articles on SA written by dividend growth investors, it seems pretty clear that many of us DGIers, if not most of us, start our stock research by looking at the Dividend Champions, Contenders and Challengers (CCC) list as compiled and maintained by David Fish. This is a list of all stocks that have increased their dividend every year for either the past 25, 10 or 5 years, respectively. A link to the latest Champions list can be found on this website. As a DGIer, I only want to own stocks that have a history of increasing their dividend year after year. So if a stock is not on this list then I'm not interested in it. It is the place where my stock research starts.
Of course, the CCC list is only a start, and each DGIer uses the CCC list in his or her own way, but since so many people refer to the list I still thought it would be instructive to do a review of how the stocks on the list did this past year.
Before I begin let me thank Mr. Fish once again for all the work he puts into maintaining this list. I, for one, would find it much more difficult to be a dividend growth investor without his list.
To do this review I compared the last CCC list of 2012 (dated 12/31/12) to the last CCC list of 2013 (dated 12/31/13). Using the prices shown in the two spreadsheets, and then adding in the dividends paid, I calculated the 2013 return for each stock, and calculated the average return for the entire list. Some stocks were removed from the list during the year, due to cutting or freezing their dividend, or due to a merger or buy out. The return of these stocks was calculated by using the closing price on the date the stock was removed from the list, as reported on the "Changes" tab of the spreadsheet, as the final price for the stock.
Results
Out of 458 starting stocks 10 (2.18%) cut their dividend. This is consistent with the 2-5% figure that I have seen reported as a representative number of how many dividend growth stocks cut their dividend in any particular year. 13 other stocks (2.84%) froze their dividend, and 11 (2.40%) were removed due to merger and acquisition activity.
The average return, with dividends, for all stocks on the list was 27.93%, if you used an equal weighting.
The average return, with dividends, for all stocks on the list was 21.04%, if you weighted the stocks using market cap, which is the same technique used for creating the S&P 500 Index. This would be the more accurate number if you were interested in comparing the return to the return of the S&P 500 index.
The return for each group of stocks was:
| | | | |
| --- | --- | --- | --- |
| | Equal | | Market Cap |
| Champions | 26.29% | | 22.38% |
| Contenders | 28.68% | | 19.82% |
| Challengers | 28.14% | | 21.11% |
Next I sorted the stocks by different criteria often used for selecting stocks, and divided them into percentiles to see if the results correlated with any specific data. For example, using the 1-year dividend growth rate (DGR) I sorted the stocks from the highest DGR to the lowest. I then split the list into ten percentile groups, calculated the return for each group and plotted the results on a graph. Each percentile group had about 45 stocks in it.
1 YR DGR
| | |
| --- | --- |
| Percentile | Return |
| 1 | 44.18% |
| 2 | 26.60% |
| 3 | 26.64% |
| 4 | 25.22% |
| 5 | 30.32% |
| 6 | 25.64% |
| 7 | 30.46% |
| 8 | 23.48% |
| 9 | 24.39% |
| 10 | 22.17% |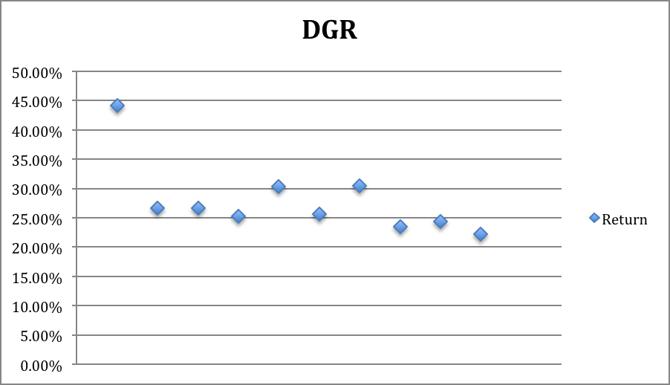 Click to enlarge
This shows that the highest percentile DGR group greatly outperformed all other groups, and as the DGR dropped there was a general decrease in the return. I was not able to figure out how to put a best fit line into the graph, but it looks to me like it would show a slope down and to the right, showing a decrease in return with a decreasing DGR. With about 45 stocks in each group I would think that there's a good chance that these results might be statistically significant. I'm not a statistician so I don't know how to do that test.
Next I grouped all the stocks according to their yield, with the highest yielding stocks as the first percentile, and the lowest yielding stocks as the tenth.
YIELD
| | |
| --- | --- |
| Percentile | Return |
| 1 | 29.96% |
| 2 | 17.50% |
| 3 | 24.68% |
| 4 | 26.95% |
| 5 | 34.53% |
| 6 | 28.62% |
| 7 | 28.16% |
| 8 | 31.63% |
| 9 | 31.51% |
| 10 | 24.45% |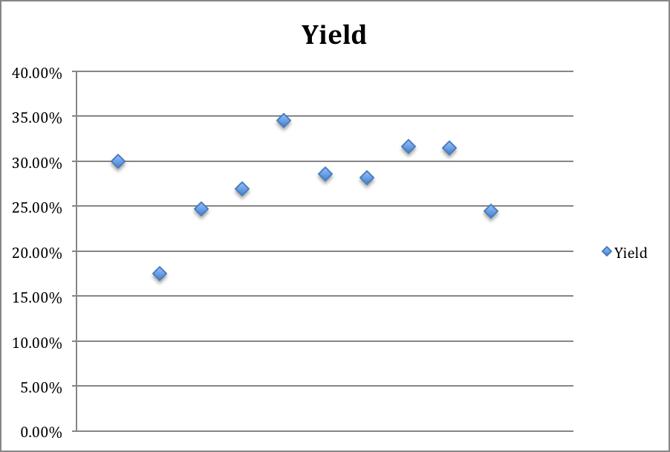 Click to enlarge
To my eyes I don't see any trend based on yield.
Next I sorted them based on the Chowder number. The Chowder number (named after one of the SA contributors) is the present yield plus the 5-year DGR. For more information about the Chowder Rule you can read this article by Chowder himself. So this metric tries to categorize the stocks using a combination of both dividend growth and yield. The Chowder number is a screening criteria that is often mentioned on SA, so I thought it would be useful to see if it showed any effects on returns. Again, stocks with the highest Chowder number are in the first percentile.
Chowder Number
| | |
| --- | --- |
| Percentile | Return |
| 1 | 31.14% |
| 2 | 34.03% |
| 3 | 38.43% |
| 4 | 25.26% |
| 5 | 35.50% |
| 6 | 28.03% |
| 7 | 25.68% |
| 8 | 18.16% |
| 9 | 26.28% |
| 10 | 19.10% |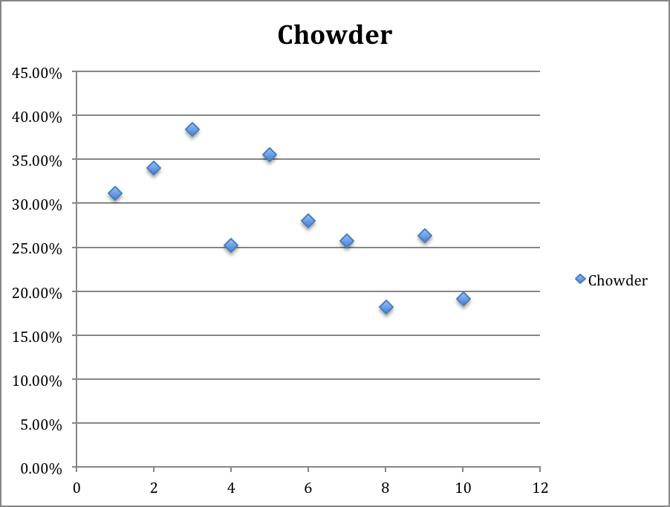 Click to enlarge
This shows a clear correlation with the highest returns corresponding to the highest Chowder number stocks.
And finally I looked to see if returns had any correlation with market cap.
MARKET CAP
| | |
| --- | --- |
| Percentile | Return |
| 1 | 20.24% |
| 2 | 26.72% |
| 3 | 23.81% |
| 4 | 24.66% |
| 5 | 34.89% |
| 6 | 29.32% |
| 7 | 32.66% |
| 8 | 36.31% |
| 9 | 26.00% |
| 10 | 24.63% |
| | |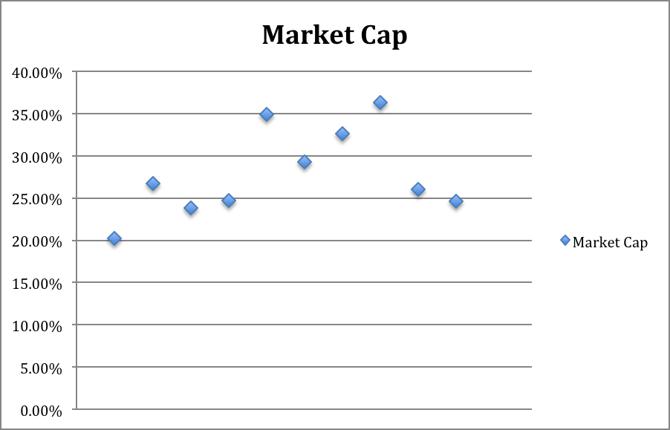 Click to enlarge
If anything there may be a trend for higher returns with lower market cap, which would correlate with many studies showing that small and mid-cap stocks outperform large cap stocks, although usually this is a long-term effect. However, the lowest two percentile groups break this trend, so I'm not sure what to make of this.
Conclusion
The CCC list has been a very valuable tool for finding DGI stocks. Just knowing which stocks have raised their dividends for at least 5 years or more is extremely helpful. But can you tell before hand which of the CCC stocks would tend to give the best total return? I don't know. I'm presenting this data to report the results, not to prove anything or to come to any conclusions. I'm hoping that this can be the start of a good discussion of the meaning of the results, if there actually is any meaning.
Having said that, it appears that a higher 1yr DGR and higher Chowder rule shows some correlation with better results. Based on this it seems like a reasonable strategy going forward would be to focus on DGI stocks with a high dividend growth rate and/or at least a high Chowder Number. This makes sense since a stock's price appreciation tracks its dividend growth rate fairly closely over the long term.
A stock's current yield doesn't seem to show any correlation with short-term performance. This is no surprise because higher yielding stocks usually have a slower dividend growth rate and smaller capital gains. Higher yielding stocks are also more at risk for a dividend cut, so are riskier. Lower market cap stocks may tend to perform better? Or not? The chart is difficult to interpret.
These results represent only one year's worth of data, so I don't know how statistically significant they are. These findings could just be random results for this one-year time period or they may show a legitimate trend. It will take further investigation to determine whether or not these trends would hold true for other time periods.
Thank you for reading my article. I look forward to your comments and criticisms.
Disclosure: I have no positions in any stocks mentioned, and no plans to initiate any positions within the next 72 hours. I wrote this article myself, and it expresses my own opinions. I am not receiving compensation for it (other than from Seeking Alpha). I have no business relationship with any company whose stock is mentioned in this article.