Antero Resources (NYSE:AR) provided an operational update on January 27th after hours. There were many salient points from the update, which can be read here (link), but the most important data point is that the 24-hour IP rates of Antero's most recent Utica wells averaged 27.3 mmcfe/d each, 52% of which was liquids. And if ethane is assumed to be produced instead of being "rejected," the wells would have even higher IP rates, averaging 32.3 mmcfe/d, 65% liquids. Four out of the 5 wells are currently producing to sales.
Here are the specific results from the press release:
Additional 5 Antero Utica Shale Wells - 24-Hour Peak Rate

Well Name

County

Gas Equivalent

Rate(MMcfe/d)

Wellhead Gas

(MMcf/d)

Condensate

(Bbl/d)

Shrunk Gas

(MMcf/d)

NGL

(Bbl/d)

% Liquids

EstimatedBTU

Lateral

Length

(Feet)

Milligan 2H

Noble

40.2

17.2

2,087

13.5

2,361

66%

1276

5,989

Coal 3H

Noble

35.3

15.1

1,850

11.8

2,063

67%

1278

7,768

Milligan 3H

Noble

32.1

15.4

1,228

12.1

2,111

62%

1276

5,267

Dollison 1H

Noble

27.5

12.5

1,397

10.2

1,488

63%

1238

6,253

Milligan 1H

Noble

25.8

10.6

1,442

8.3

1,461

68%

1276

6,436

Average - Ethane Recovery

32.2

14.2

1,601

11.2

1,897

65%

1269

6,343

Average - Ethane Rejection(1)

27.3

14.2

1,601

13.0

779

52%

1269

6,343
These are massive results, comparable to some of the dry gas results Cabot (NYSE:COG) and Range (NYSE:RRC) have put up in the NE and SW cores of the Marcellus, respectively. Here is a slide from Cabot's December 2013 presentation, which shows average 30-day production rates across 10 wells of ~16.8 mmcf/d and initial average production rates of 20.1 mmcf/d.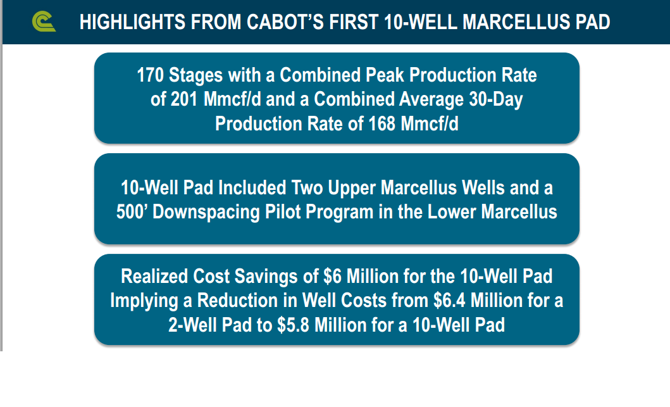 Obviously, Antero's initial production rates are higher, and the liquids rich component is more valuable than dry gas, but it remains to be seen what the 30-day production rates are, and recoveries for NGLs remain depressed.
These results put results from other plays into perspective, as the rates of return from wells in the NE Marcellus or now in the Southern portion of the Utica are obviously well in excess of the cost of capital in the industry, and are more attractive than most other places E&P companies are deploying capital.
It is relevant for holders of Magnum Hunter (MHR), which is drilling wells in close proximity to Antero in the Utica. This can be seen on the below map: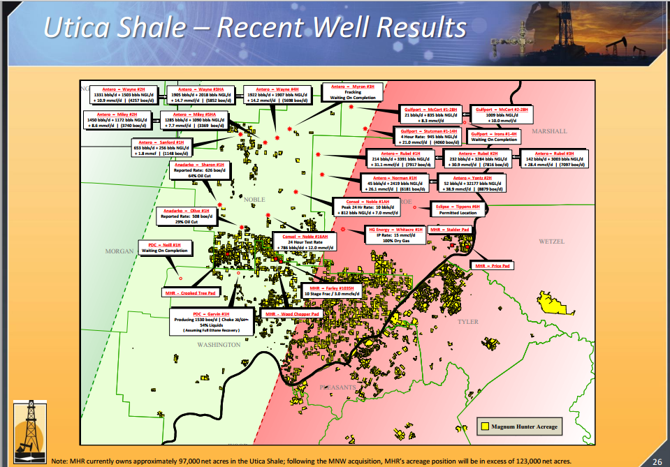 Ultimately, at the high valuation stocks like Antero, Cabot and Magnum Hunter trade at, it will take more than a few monster well results to convince me to pay 10x+ 2014 EBITDA multiples for their stocks, particularly when I am invested in similarly rapidly growing, similarly high IRR smaller companies in other plays like this one (link). But it is good to know what is happening in the industry, and well results like this could signal another wave of land buying, and potentially another wave of oil and gas production growth in Appalachia.
Disclaimer: Opinions expressed herein by the author are not an investment recommendation and are not meant to be relied upon in investment decisions. The author is not acting in an investment adviser capacity. This is not an investment research report. The author's opinions expressed herein address only select aspects of potential investment in securities of the companies mentioned and cannot be a substitute for comprehensive investment analysis. Any analysis presented herein is illustrative in nature, limited in scope, based on an incomplete set of information, and has limitations to its accuracy. The author recommends that potential and existing investors conduct thorough investment research of their own, including detailed review of the companies' SEC filings, and consult a qualified investment adviser. The information upon which this material is based was obtained from sources believed to be reliable, but has not been independently verified. Therefore, the author cannot guarantee its accuracy. Any opinions or estimates constitute the author's best judgment as of the date of publication, and are subject to change without notice.
Disclosure: I have no positions in any stocks mentioned, and no plans to initiate any positions within the next 72 hours. I wrote this article myself, and it expresses my own opinions. I am not receiving compensation for it (other than from Seeking Alpha). I have no business relationship with any company whose stock is mentioned in this article.