On a recent trip to Oregon, I decided to swing by the office of the branch manager of a local Umpqua "store," like I usually tend to do every few months and asked her about how things were going with Umpqua Bank (NASDAQ:UMPQ). She seemed excited about their recent acquisition of Tacoma, Washington based Rainier Pacific Bank (OTC:RPFG) and mentioned that the problems at Rainier Pacific mainly stemmed from some of their investments and that the loan portfolio looked good. It looked like Umpqua had acquired assets and a 14-bank footprint in Washington state at an attractive price.
The regional banks that survive this cycle have the opportunity to emerge stronger as they acquire assets of failing banks at attractive prices, especially with loss sharing agreements in place with the FDIC. Umpqua raised $562 million through two stock offerings in August 2009 and February 2010 to pay back TARP loans and to fund future acquisitions. Total assets increased 9% in 2009 to $9.38 billion and jumped up again in the first two months of 2010 to approximately $10.5 billion following the acquisitions of Seattle based Evergreen Bank in January and Rainier Pacific Bank in February.
Unfortunately, Umpqua's Troubled Asset Ratio or TAR spiked sharply from 16.1 in the third quarter of 2009 to 23.1 in Q4 2009. The TAR is a very useful metric put together by the Investigative Reporting Workshop in partnership with MSNBC and is similar in nature to the famous Texas Ratio that was used in the 1980's to identify troubled banks. The lower the TAR, the better the health of a bank. The national median TAR as of December 31, 2009 was 14.5.
We first covered Umpqua Bank in the February 2008 newsletter in a section titled Umpqua Holdings: Can the Free Cookies Last? and later purchased the stock for the SINLetter model portfolio in July 2008 for $12.13. I decided to sell Umpqua Holdings a couple of months later for a gain of 32% on concerns that the financial sector had not yet hit a bottom. We added Umpqua Holdings to our watch list and followed the stock's journey to a low of $6.91 in March 2009 before the rebound along with the rest of the market to current levels that are just above our original purchase price.
Based on my conversation with the Umpqua branch manager and questions from subscribers about investing in regional banks, I decided to take a closer look at Umpqua and the regional banking sector. Since the market bottom in March 2009, financials have led the charge back up with both large and small banks rebounding from what could be a generational low.
However as you can see from the chart below, the larger banks as represented by the ETF XLF have notched gains of over 150% when compared to the 80% gain by regional banks represented by the ETF KRE from March 2009 through March 2010.
click to enlarge images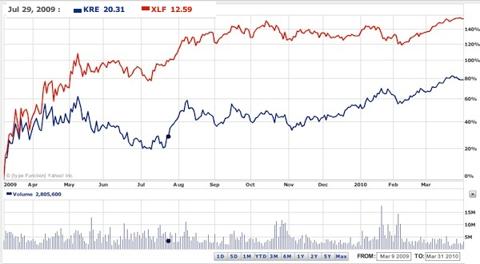 With the easy gains behind us and the rally long in the tooth, security selecting becomes even more important. While Umpqua Bank is a known entity for me, given its higher than average TAR, I figured it would be a good idea to identify other similar sized regional banks that look equally if not more attractive. With hundreds of regional banks littering the landscape, an attempt to weed through the list of regional banks to find the diamonds in the rough is an arduous endeavor at best.
To help simplify the process, I figured I would use the 50 regional banks in the SPDR KBW Regional Banking ETF (NYSEARCA:KRE) as a starting point. Simple valuation metrics used to analyze stocks in other industries unfortunately do not work for the banking sector due to the unique situation they find themselves in during this economic cycle. Moreover following the repeal of the Glass-Steagall act in 1999, banks have gotten their hands into multiple cookie jars and attempting to analyze the business has gotten more complex. At least at the regional bank level one can hope to have better visibility into the nature of the bank's business. I decided to concentrate on three metrics including,
Did the total assets of the bank increase in 2009?
Is the Troubled Asset Ratio or TAR of the bank below the national mean of 14.5?
Does the bank have at least $10 billion in total assets?
The table below represents the 50 regional banks in KRE along with their TARs and dividend yields. The table is sorted by displaying the banks with the lowest TARs on top. You may notice that 11 companies in this list do not have a TAR specified and this is on account of the fact that these 11 companies are multi-bank institutions and each bank within those institutions have different TARs.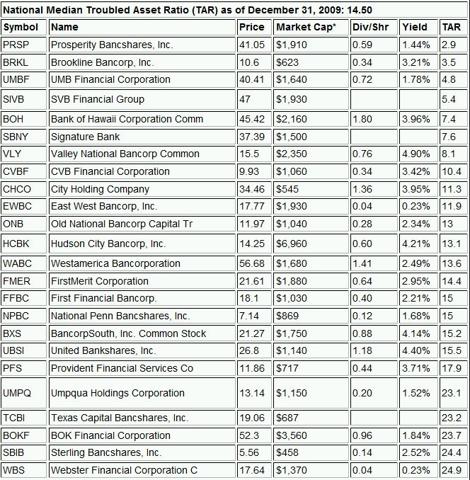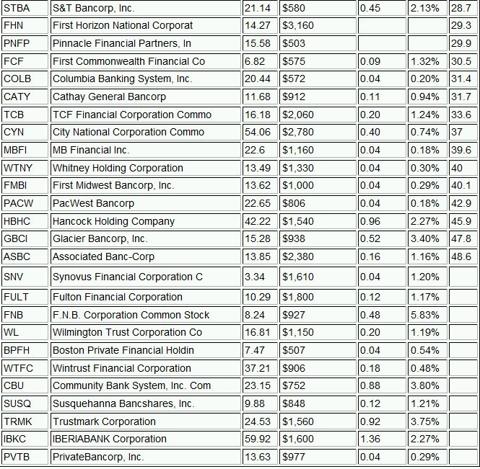 * Market caps in millions
From the banks listed above, the ones that not only meet all three of our criteria but also saw their TAR drop or stay flat from Q3 2009 to Q4 2009 are UMB Financial (NASDAQ:UMBF), Bank of Hawaii (NYSE:BOH), Signature Bank (NASDAQ:SBNY) and East West Bancorp (NASDAQ:EWBC). Each of these banks saw their assets increase more than 10%. East West Bancorp saw the biggest jump with assets increasing 66% in 2009 to $20.56 billion and its TAR drop from 16.5 in Q3 2009 to 11.9 in Q4 2009. However the bank I find most attractive of the group is Bank of Hawaii (BOH) with its nearly 4% dividend yield, 15% jump in assets in 2009 to $12.39 billion, a drop in TAR from 7.9 in Q3 2009 to 7.4 in Q4 2009 and a micro-economic climate that appears to be strong based on my observations from a December trip to Honolulu. Another regional bank worth considering that is not on this list is First Niagara Bank of Buffalo, NY (FNFG) that also sports a nearly 4% dividend yield, a low TAR of 6.4 and saw its assets increase 56% to $14.45 billion.
Despite improving fundamentals at some regional banks, I believe the macro picture still looks bleak and these banks have rebounded sharply from their March 2009 lows. Commercial mortgages could be the next shoe to drop and the flattening of the yield curve will particularly hurt regional banks. A potential pair trade to consider would be to go long a basket of strong regional banks like Bank of Hawaii, First Niagara and Umpqua while simultaneously shorting the regional bank ETF KRE. As you can see below, KRE has significantly outperformed these individual banks since the start of 2010. For now I am going to add the five banks discussed here to our watch list and will probably start a position in a basket of regional banks after additional due diligence.