The market has seen a steep selloff in the past few days and that has created buying opportunities in a number of stocks. A huge spike in the Volatility Index (VIX) shows how fear has surfaced and that is often a sign that we should all be buying stocks. The concerns in countries like Argentina and China has given the markets a good excuse to have a healthy pullback and that is when I like to start putting more cash to work. Below, let's take a look at the chart for the Volatility Index and a couple of stocks that are being targeted by hedge funds. These stocks appear cheap and poised for a potential turnaround: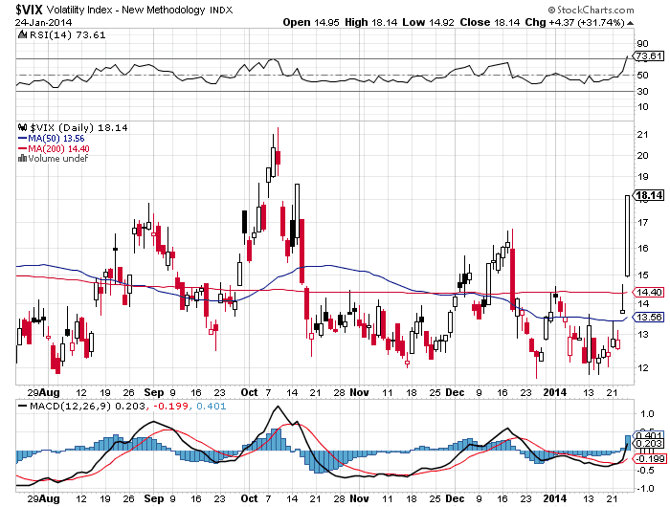 Click to enlarge
It's worth noting that the chart for the Volatility Index has just spiked to levels that haven't been seen since the market pullback in October, which turned out to be a fantastic buying opportunity.
Accuride Corporation (NYSE:ACW) manufactures commercial vehicle products which include vehicle wheels, components and assemblies, truck bodies, chassis parts, and other commercial vehicle items. Accuride has four major business units: Accuride Wheels which offers wheels for trucks, buses, commercial light trucks, and military vehicles. Gunite Corporation which makes brake drums, disc wheel hubs, spoke wheels, rotors, and slack adjusters. Brillion Iron Works which makes castings for heavy and medium-duty trucks, as well as for industrial machinery, and construction equipment. Imperial Group manufactures truck body and chassis parts, including bumpers, battery and tool boxes, bus chassis assemblies, fuel tanks, roofs, fenders, and more.
An activist hedge fund named Coliseum Capital Management has been consistently buying significant amounts of Accuride shares throughout 2013, to the tune of millions of dollars and even at about $5 per share which is much higher than the current share price. After the share price declined on a recent earnings miss, Coliseum Capital did not hesitate to buy millions more dollars worth and it is one of its top holdings. For example, on November 13, it bought 250,000 shares at $3.23 per share in a deal worth $807,500. On November 4, 2013, it bought 325,000 shares at $3.41 in a transaction valued at $1,108,250. On November 1, it bought 736,671 shares at $3.44 each in a transaction worth $2,534,148. It also bought 50,000 shares on October 31, 2013, at $4.40, in a transaction worth $220,000. On October 9, 2013, it bought 100,000 shares at $4.53 per share, which was valued at $452,999. Plus, there are many other significant buys throughout this year for this firm. In addition, there is another fund called Cetus Capital II which has also purchased shares. On November 13, it bought 211,750 shares at $3.23 each in a transaction worth $683,952. On November 12, it bought 281,495 shares for about $3.23 each in a deal valued at $908,000. This substantial and repeated buying from hedge funds could be indicating this stock has significant upside potential. Coliseum Capital now has a stake of more than 16% of this company and that shows a lot of conviction.
Accuride has been posting losses which is a potential downside risk for investors to consider, but that is also what makes this a possibly lucrative turnaround. For the third quarter of 2013, Accuride reported a net loss from continuing operations of $8.4 million, or 18 cents per share, compared to a net loss of $15.8 million in the third quarter of 2012. This company has been reducing expenses and streamlining operations in order to improve financial results. In addition, improving sales in the trucking sector could lead to revenue growth in the coming quarters.
Accuride supplies many of its products to some of the world's largest truck makers including Paccar, Inc. (NASDAQ:PCAR) and Navistar International (NYSE:NAV). Both of these stocks have been trending higher in what could be viewed as a positive sign for this industry. Obviously the industry has not seen a complete turnaround since the 2008 financial crisis, but if truck industry leaders are seeing a stock price uptrend, it might be an early sign that better times are coming and this should eventually trickle down to companies like Accuride. While not all truck makers are seeing an upturn yet, companies like Paccar have been reporting strong growth. Third quarter net sales and financial services revenues were $4.30 billion compared to $3.82 billion in 2012, which represents a 13 percent increase. If that type of growth continues, it should benefit Accuride since Paccar is one of their largest customers. Finally, it's worth noting that George Putnam of the "Turnaround Letter", recently picked Accuride as a favorite turnaround stock for 2014. The stocks he picked in 2013 rose an average of 90% last year, so his track record is impressive.
Here are some key points for Accuride Corp:
Current share price: $3.95
The 52 week range is $3.10 to $6.88
Annual dividend: n/a
Titan International, Inc. (NYSE:TWI) makes farm and heavy equipment tires that are used in the agriculture, construction, forestry and mining industries. For a few reasons, (such as a weak mining sector), 2013 was a tough year for Titan shareholders. The stock is now trading well below the 52-week high and currently stands at just over $27.
However, there are some reasons to be more positive, even though some investors are still bearish. According to Shortsqueeze.com, nearly 5.3 million shares have been sold short. With an average daily volume of around 460,000 shares, the short interest is equivalent to nearly 11 days worth of trading volume.
While this company has been challenged by weak demand for replacement tires in certain industries such as mining, the long-term outlook appears strong for Titan. Analysts expect earnings to jump nearly 20% from about 95 cents per share in 2013 to around $1.14 per share in 2014. Earlier in 2013, analysts estimates were over $2 per share which shows the level of earnings power this company could have when business conditions are ideal. I expect the company will get to that level of earnings and even with a below market PE multiple of about 14, this would imply a stock price of about $28 which is right around the current 52-week high. This would give investors who buy now very significant gains.
In the fourth quarter of 2013, Titan announced a deal with Voltyre-Prom, a leading producer of agricultural and industrial tires in Volgograd, Russia. This allows Titan to expand into this region since Voltyre-Prom held a 43% market share in agriculture tires and 16% market share in industrial tires in Russia in 2012. While this deal did not add to financial results in a substantial way for most of 2013, it could add to growth potential in the future.
Some high profile analysts and investors have taken a bullish view on Titan International shares. A Barron's article recently stated a recovery could be at hand for this company. Famed investor and shareholder activist Marc Rachesky runs MHR Fund Management LLC and it recently disclosed a stake of nearly 6%. A recent Wall Street Journal article states:
"MHR's regulatory filing on Titan did not reveal a specific purpose for the investment. The firm said it intends to "engage in discussions with [Titan] management and others concerning the business and operations of the company". That's the standard language activists use to signal their intent to use their large stakes to make changes."
With "smart money" investors like Mark Rachesky getting involved, and many shorts left and creating a potential short-covering rally, the worst might be over for this stock. In the long run, a turnaround in key markets for this company could lead to the type of profits that could push this stock back towards 52-week highs.
Here are some key points for Titan International:
Current share price: $17.77
The 52 week range is $14.14 to $27.12
Annual dividend: 2 cents per share which yields .1%
Data is sourced from Yahoo Finance. No guarantees or representations
are made. Hawkinvest is not a registered investment advisor and does
not provide specific investment advice. The information is for
informational purposes only. You should always consult a financial
advisor.
Disclosure: I am long ACW, . I wrote this article myself, and it expresses my own opinions. I am not receiving compensation for it (other than from Seeking Alpha). I have no business relationship with any company whose stock is mentioned in this article.