The last two years were good ones for Kiwi bulls. One of the cardinal sins of investors, retail especially, is the urge to hop on a rocket ship that's actually prepping for re-entry. Admiring a chart like the 2012-2013 Kiwi-ETF (NYSEARCA:ENZL) below they vow to buy the next dip, but, all too often, that next dip isn't a dip but the beginning of a correction, or worse for their new long position, a reversal. This begs the question: did the author of an article titled "New Zealand and Its Dollar Positioned to Continue Upward in 2014" just declare himself hypocritical and ignorant? Maybe -- but I doubt it.
Technical Observations:
Take a look at ENZL's two-year Pamplona run.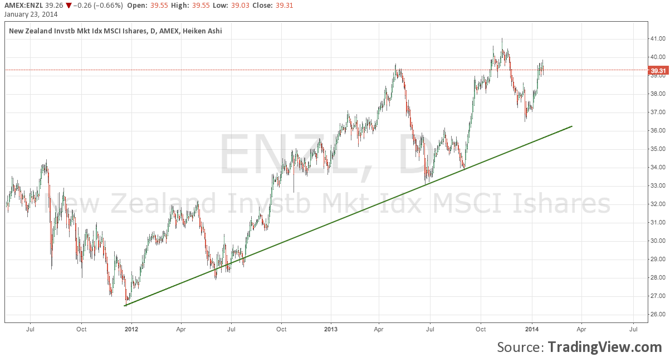 Click to enlarge
If you're unfamiliar, ENZL goes long New Zealand's core corporations. The ETF is especially sensitive to the state of the country's dollar as NZ's economy is critically tied to exports. Traditional wisdom dictates that a higher dollar makes life more difficult for export-driven corporations and the economies depending on them, but New Zealand's other industries have sustained strong growth for long enough to basically offset the traditional challenges engendered by a highly valued currency. Their housing market has exploded, which of course, brings up "bubble" discussions, but to date there's no reason to believe that central bank governor Graeme Wheeler isn't in control of the situation. In fact, quickly elevating housing prices are just another reason to expect an imminent currency rate hike. Another major force behind New Zealand's economic strength, led by Fonterra, is dairy exporting. Strong dairy prices have lifted the nation's terms-of-trade to a 40-year high. Solid dairy returns were posted despite a mid-2013 major Fonterra recall. Also contributing to general positivity is an improving employment outlook, strong migration, and steadily resurgent retail sales.
I think an interesting way to gauge the health of an export driven economy with a relatively strong dollar is to chart a national ETF like ENZL against baskets of other relevant currencies.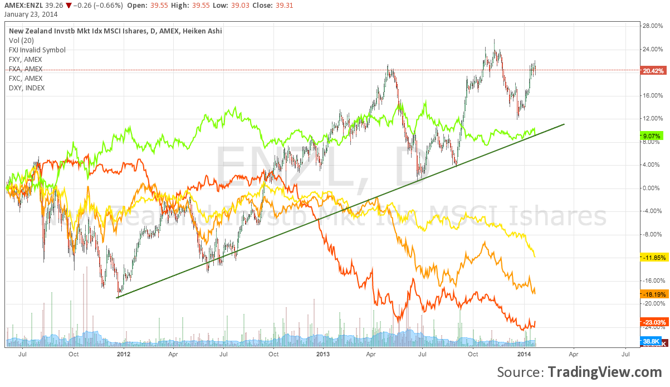 Click to enlarge
The Canadian Dollar (yellow), Yen (dark orange), and Australian Dollar (light orange) all suffered from extended bouts of weakness compared to the ENZL. The US Dollar (light green) was down slightly but not to the same degree. The takeaway here is this: despite the weakened currencies of many of New Zealand's customers the bull run continued, the positive returns continued. There may be concern of the move finally becoming stretched, but, technically this run has had healthy corrections needed to nourish a long-term upward run.
Although the Aussie is nearing the benchmark set by RBA Governor Stevens (.80-.85 versus the US Dollar), there is still room on the downside. Canada's dollar has begun weakening and their central bank would like to see it slide some more. The bulk of the Yen's bear run may be over, but, many analysts see a leg or two left on the downside. An intriguing play might be to go long a basket of New Zealand anchored forex crosses. Check out the two-year comparison below.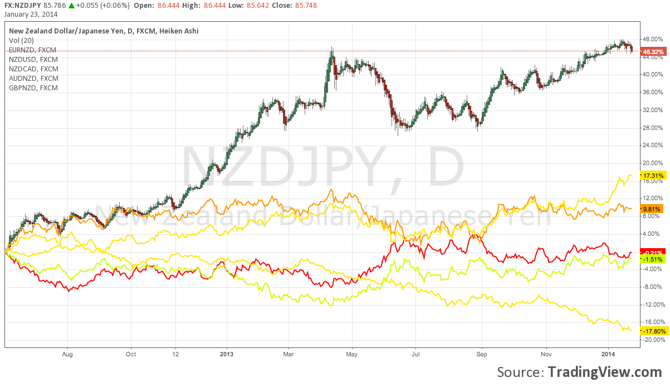 Click to enlarge
New Zealand Dollar strength was led by Yen where it's now battling a critical multi-year resistance/support level. The NZD also performed respectably against its neighbor, the Australian Dollar. Decent past but now increasing gains against the Canadian Dollar are another source of interest.
The NZD basically fell flat against the Great British Pound and US Dollar, not to mention the tightly controlled Chinese Yuan.
The only currency that strengthened against it was the old Teflon, the Euro.
Fundamental Economic Data and Swaps:
Overnight Index Swaps suggest that there's roughly a 60% chance that the RBNZ hikes rates next week at its January 30th meeting. Whether the move actually happens then or not is probably less important than headlines suggest. A rate hike in 2014 has been telegraphed by Graham Wheeler for some time now, and, to some degree it's baked into the currency's standing already. More fuel on the fire if they do pull the trigger so early in the year, likewise, we could see a leg down if they pass on hikes for now. A delayed rate hike may, technically, be the best thing to happen to ENZL. A healthy dip to the multi-year trend line would present a great buy-and-hold opportunity for the rest of this year, all with a relatively tight stop (if that's your sort of thing).
New Zealand's two-year interest-rate swap rate rose one basis point to 3.83 percent. It reached 3.89 percent on Jan. 6, the highest since January 2011. While the Fed pares stimulus, traders are certain of a gain in New Zealand's borrowing costs over the same time period. The NZD continued higher following a gain yesterday after the nation reported accelerating inflation, bolstering the case for its central bank to raise interest rates.
Building permits jumped 11.1 percent in the month, the most since April, according to a report today. Consumer prices in New Zealand rose 1.6 percent in the fourth quarter from a year earlier, the fastest annual pace since early 2012, the statistics bureau said today, compared with the 1.5 percent estimated by economists in a Bloomberg News survey.
Imre Speizer, market strategist at Westpac Banking Corp. in Auckland, wrote in an e-mailed note to clients that the Kiwi should strengthen toward 86.75 U.S. cents by the middle of this year as New Zealand's central bank starts to tighten policy, he wrote.
Risks to a Bullish New Zealand/New Zealand Dollar Outlook:
-- China. China. China. Where do the vast majority of New Zealand exports find themselves imported? China. For the first time in 6 months China's PMI contracted. Bogged down by weaker domestic and export demand, the HSBC Flash PMI fell to 49.6 in January off the 50.5 final reading for December 2013. As that growing monster of an economy begins experiencing growing pains and headwinds while the country's leadership attempts to shift economic policy to better position themselves to reduce debt, curb potential financially engineered calamities, and for a prolonged global economic leadership role there is a realistic danger of slowing growth putting the brakes on New Zealand's two-year run up.
But don't jump ship on strong Chinese growth because of just one number. Bill Adams, senior international economist for PNC Financial Services:
"We are reluctant to read too deeply into this number. Chinese statistics, even ones as ably adjusted for seasonal variation as the HSBC PMI, tend to get a little fuzzier around the Lunar New Year holiday which falls on January 31this year."
And BAML's Ting Lu:
"Even the HSBC flash PMI reading is based on surveys conducted before 21 Jan, ten days before the LNY holiday (officially starting from 31 January), the flash PMI reading could still be significantly affected as the HSBC PMI sample is heavily dominated by small enterprises which may have sent migrant workers home several weeks ahead of the LNY holiday. Also note that the different timing of LNY holiday makes seasonal adjustment extremely difficult, and thus inaccurate, for readings around the LNY season."
-- The housing market escapes Wheeler's control and pops.
-- Perhaps the most likely challenge is the appreciation of the New Zealand dollar. If the hike and solid economic data lead to too much appreciation too quickly while the Aussie continues weakening, and maybe the Yen as well (and... China potentially loosening the reigns of control on their currency), the high Dollar could finally cause problems for exporters, which in such an export-dependent economy, will affect jobs, which slows retail sales and depletes the money available for down-payments on increasingly expensive real estate.
Summary:
New Zealand looks strong, barring any fundamental changes in China or housing issues domestically. If you're looking to make a play, it's smarter to wait until the January 30th meeting concludes and the rate hike happens or is delayed. ENZL has performed well and is a nice vehicle to enter New Zealand in a diversified way, although a better price may be available in the coming weeks (again, see the whole bit about the rate hike).
Disclosure: I am long ENZL. I wrote this article myself, and it expresses my own opinions. I am not receiving compensation for it (other than from Seeking Alpha). I have no business relationship with any company whose stock is mentioned in this article.
Additional disclosure: The opinions here are not necessarily indicative of Demmler Investment Group's positions.