By David Russell
Put volume surged in FMC Technologies (NYSE:FTI) yesterday, but the action was anything but bearish.
optionMONSTER's tracking systems detected a large two-part trade on the oil-service company. An investor bought 3,000 May 65 puts were for $2.20 at the same time they sold an equal number of April 65 puts for $0.60. Volume was below open interest in the April contracts, suggesting an existing position was closed.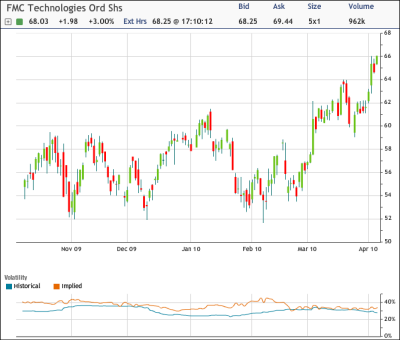 FTI rose 3 percent to $68.03, its highest closing price since July 2008, aided by strong oil prices. It issued in-line guidance the last time it reported quarterly results on Feb. 25 and is scheduled to release its next earnings report on April 29.
The shares spent more than five months trading on either side of $60 level before breaking to the upside last week. Some chart watchers may now expect a big run to the upside following such a long period of consolidation.
Given that the puts changed hands at the same time the shares were surging higher, the transaction probably resulted from a shareholder extending a protective position for another month so he or she could remain long the stock.
The trade makes sense because the April puts will lose value at a quickening pace as expiration approaches on April 16. Every day the trader waits to roll the position will increase the net cost because the May contracts will hold more of their value.
Overall options volume in FTI was five times greater than average in the session.
(Chart courtesy of tradeMONSTER)