It appears that we could have a mixed day in the US as far as the three major indexes are concerned due to the Apple (NASDAQ:AAPL) earnings and guidance given yesterday after the close. The disappointing guidance and lack of a new product or increased buyback will be a drag on the Nasdaq today, even though the company reported revenues which topped estimates and an EPS figure which also beat handily.
Guidance is becoming a bigger issue moving forward now as investors' focus shifts towards the future and the multiples that stocks can handle. We have seen a lot of beats in the tech sector as of late, but in many of the cases where shares were hit hard we also saw weak guidance from the reporting company.
One area where there is strength in the economy is the industrial names, with both Honeywell (NYSE:HON) and United Technologies (NYSE:UTX) having solid quarterly reports recently and being one of the few bright spots in yesterday's very weak market. Although not pure tech names, these two companies are benefiting from new technology affecting industries they serve as well as improving products they offer.
Chart of the Day:
So long as the Nasdaq Composite can hang around the 4,100 level we remain bullish on the entire tech sector. If the index should fall further we would exercise caution as the next stop could be the all important 4,000 level.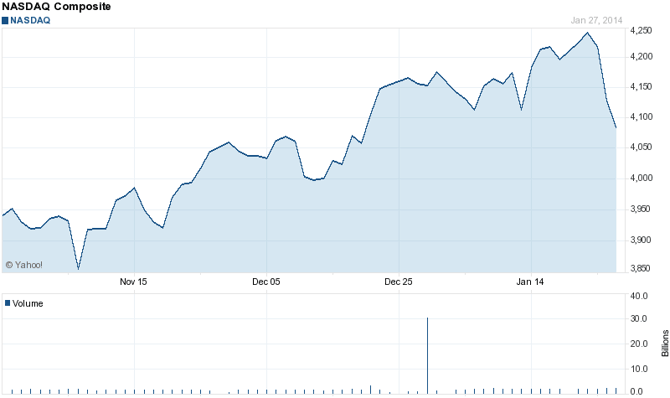 Source: Yahoo Finance
We have economic news today and it is as follows:
Durable Orders (8:30 a.m. EST): Est: 2.1% Act: -4.3%
Durable Goods - Ex Trans (8:30 a.m. EST): Est: 0.6% Act: -1.6%
Case-Shiller 20-city Index (9:00 a.m. EST): Est: 13.8% Act: 13.7%
Consumer Confidence (10:00 a.m. EST): Est: 77.5 Act: 80.7
Asian markets finished mixed today:
All Ordinaries -- down 1.26%
Shanghai Composite -- up 0.26%
Nikkei 225 -- down 0.17%
NZSE 50 -- down 0.11%
Seoul Composite -- up 0.34%
In Europe, markets are trading mostly higher this morning:
CAC 40 -- up 0.62%
DAX -- up 0.39%
FTSE 100 -- up 0.33%
OSE -- down 0.28%
Commentary
One of the trouble spots which is developing in the market today is Big Tech, although one could argue that this is simply a continuing trend as the Big Tech names have consistently lagged the market over the past few years, individually and as a group.
Apple actually has good results with solid top line growth and EPS growth, which is in contrast to other Big Tech names Cisco (NASDAQ:CSCO) and IBM (NYSE:IBM). The laws of big numbers are stacked against many of these names, but the main issue is innovation and the commoditization of certain technology products.
We have been bulls on Apple shares for a while now, and remain so even after the quarter. The company does risk seeing its iPhone product becoming commoditized, but we still have not seen the iPod commoditized to this day as competitors never really materialized. The iPhone and iPad do have competitors but at the top end of the market the numbers seem to indicate that the company has been taking away market share from its main competitors again, with the help of the new product launches.
With the sell-off taking place after the quarterly report yesterday, we saw shares test the $500/share support area and hold. With that support confirmed, both last night and this morning, we think that this is not a bad entry point for those looking to lower their cost basis or open new positions.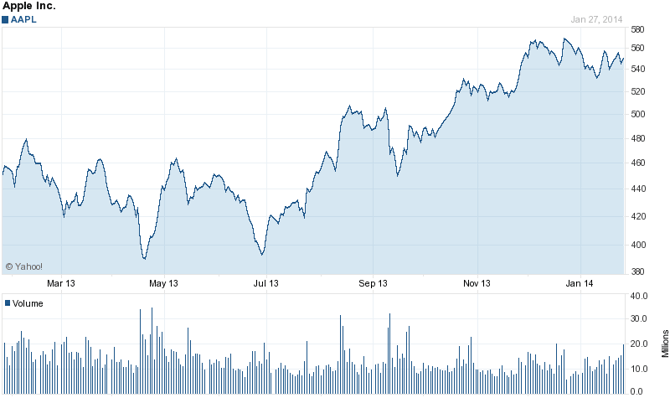 Source: Yahoo Finance
We do think that the company is due for a new product soon, and it is about time for a smart television which could be tied into iTunes or the App store so that consumers could purchase content from certain companies or pay for access to certain channels.
When we look at the landscape in the technology sector we understand the difference between the Big Tech names and the new social media and app driven names. What is lost upon us is how investors can throw Apple into the same bargain bin as companies with real disappointing results and outlooks, such as IBM and Cisco.
We were buyers before this sell-off and think that it is quite possible that we increase exposure in the future as we begin new buying programs due to the general market sell-off.
Disclosure: I have no positions in any stocks mentioned, and no plans to initiate any positions within the next 72 hours. I wrote this article myself, and it expresses my own opinions. I am not receiving compensation for it (other than from Seeking Alpha). I have no business relationship with any company whose stock is mentioned in this article. We have previously recommended both UTX and AAPL to clients.