By David Russell
Kohl's (KSS) is rebounding after a four-month correction, and the bulls are looking for more upside.
optionMONSTER's Heat Seeker tracking system detected heavy buying of the May 60 calls, which traded 5,496 times against open interest of just 454 contracts. Institution-sized trades for $0.95 and $1 accounted for most of the activity, although premiums drifted as high as $1.10 late in the session.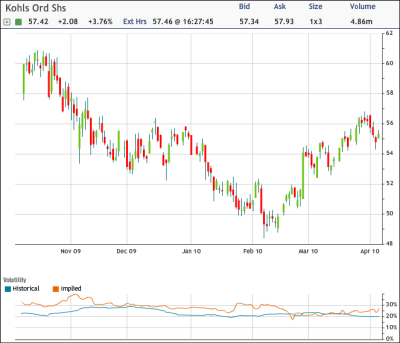 KSS rose 3.76 percent to $57.42. The department-store company reported better-than-expected sales and earnings on Feb. 25 and issued guidance in line with analysts' forecasts.
The stock traded as high as $60.89 in October but then pulled back and eventually found support at $50 in February. It's been rebounding higher since then and broke out of an "ascending triangle" pattern about three weeks ago.
Yesterday's option trades reflect a belief that the stock will continue to rally and make new highs. KSS must climb at least 6 percent by expiration for the calls to turn a profit.
The next scheduled events that could serve as potential catalysts for the shares is the release of March same-store sales on April 8, April sales on May 6, and fiscal first-quarter earnings on May 13. All three announcements come out before the bell.
Overall option volume in KSS was six times greater than average in the session. Calls accounted for 82 percent of the activity.
(Chart courtesy of tradeMONSTER)