Apple (NASDAQ:AAPL) reported earnings yesterday and if you're invested, chances are you've read the results already. Having said that, I'm going to offer simply a brief overview of results, and focus on analysis for Apple going forward.
Put simply, QTR sees this sell off as a buying opportunity for those looking to add the most fundamentally sound company in the world to their portfolio. Readers of my Apple coverage are likely not surprised, as I've been consistently bullish on Apple as a long-term investment for years. I predict this will be a short term sell-off - and one that doesn't find Apple under $480 before it starts to bludgeon forward yet again.
Apple reported EPS and revenue that both beat analyst expectations. iPhone sales were one of the big downward catalysts for the company, as they missed the street's expectations of 56 million. iPad and Mac, however, both came in above expectations. iPad sales helped fuel margins that were above expectations, something that I had predicted several times (here and here).
Another major driving force behind the stock selling off is the guidance for Q2 that came in at $42-$44 billion, well below the $46 billion analyst consensus. Forget reported earnings - with many companies on the street it's "what have you done for me lately?"
Also, another of Apple's little hidden gems came through with strong growth, as revenues from the iTunes store continued to grow by 19%. Those sales came in at $4.4 billion. The iTunes store is a revenue center that I have predicted many times over to continue to grow exponentially. The further Apple's foray into the "ecosystem" goes, the more available the iTunes store is going to be, and the more it's going to be the consumers "go to" spot for whatever media they want on demand.
Eventually, I expect Apple to push hard with the iTunes store through TV (either through Apple TV or an iTV) and really put pressure on Netflix (NASDAQ:NFLX) and others. But, we're not there just yet.
My last article stated my case for why I thought Mac - not iPhone or iPad - was going to be Apple's secret weapon for 2014. I argued:
In the midst of the PC market's downturn over the past year, Mac has continued to gain market share and post respectable numbers for Apple. With the PC market hitting a bottom, Mac sales are likely to advance even further.
And, as predicted, in the midst of a PC slump, Mac came in above expectations - albeit slightly - as more and more consumers chose Apple PCs to quarterback their home media ecosystem. My prediction when the PC market turns around is that Mac will beat expectations consistently this year, as well as gain market share for the company.
Here are some of the predictions I set forth in my past article with regards to earnings.
| | | | |
| --- | --- | --- | --- |
| | Analyst Estimates | QTR Prediction | Actual |
| EPS | $14.32 | In-line | $14.50 |
| Revenue | $57.46 billion | Beat | $57.59 billion |
| Margin | 37.2% | Beat | 37.9% |
| Mac | 4.6 million | Beat | 4.8 million |
Unfortunately, Mr. Market doesn't offer bonus points for getting predictions correct (unless you bought puts or shorted) and Apple was clipped 6-7% after hours yesterday and early this morning.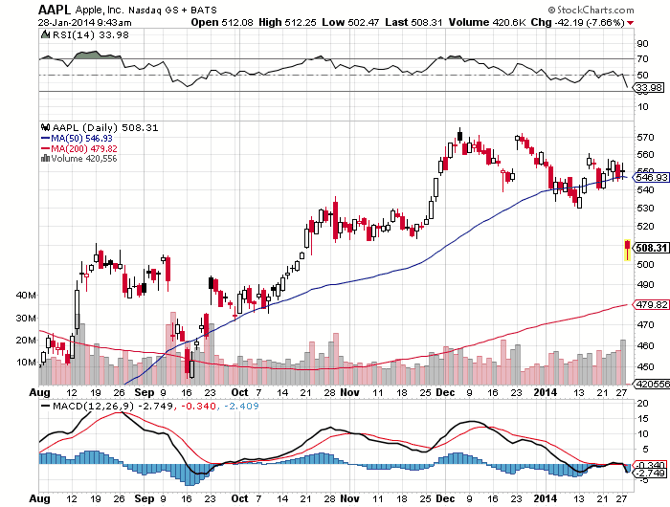 Meanwhile, as Apple stock plummets, Apple has continued to grow its cash on hand (or as Carl Icahn calls it, "my money that I'm owed") - yet again:
AAPL Cash and Equivalents (Quarterly) data by YCharts
And, while there were the slew of obligatory "downgrades" - most of which were downgrading the stock to outperform or hold from strong buy to buy, there were a fair amount of analysts that feel the same way I do, and advocated buying on the dips. Seeking Alpha posted this morning:
One of the items that I tried to remind investors of heading into earnings was the company's newfound stance on how it issued guidance - and what a beat means now, compared to a beat a year ago:
You've got to remember, too, that a beat for Apple now is sufficiently better than a beat for Apple in the 2010-2012 era, where it was notorious for sandbagging its guidance. Apple's CFO, Peter Oppenheimer, has done well to rope in analyst expectations over the past year and remind the analysts that the company's guidance should be the control for predictions. Bullish estimates are supposed to be fueled by tablet sales and Apple's recent foray into China.
As such, my argument going forward is that Apple remains a buy here. In addition to Apple beating its "realistic" guidance and a good quarter getting swept under the rug due to guidance, there's still fundamental reasons I think Apple remains a buy here:
Apple is as safe of a company you can invest in, short of investing in the government.
Apple continues to grow its cash while making prudent distributions to shareholders that don't overextend the company.
Carl Icahn, of whom I'm less than fan, isn't going to be exiting at a loss - ride out the dip with the billionaire.
Apple is going to be offering a slew of new products in the coming year, likely to include a larger screen iPhone (they're banging down the door for this now - doesn't it seem like yesterday everyone was screaming for the 5C?)
In addition, I'll be looking for supplemental revenues from Mac on the iTunes store to help steady Apple's ship through this year.
I'm forecasting Apple with a price target of $650 by 1Q 2015.
Best of luck to all investors.
Disclosure: I have no positions in any stocks mentioned, and no plans to initiate any positions within the next 72 hours. I wrote this article myself, and it expresses my own opinions. I am not receiving compensation for it (other than from Seeking Alpha). I have no business relationship with any company whose stock is mentioned in this article.