By Bryan McCormick
US stock index futures are weaker after on a mixed session in Asia and a stronger start for the eurozone and UK markets.
Overnight the Reserve Bank of Australia hiked rates by a quarter of a percent, which had been expected. Higher yields are helping draw flows to the Australian dollar, which is nearing its previous highs against the US dollar and appears near a technical breakout above 0.94.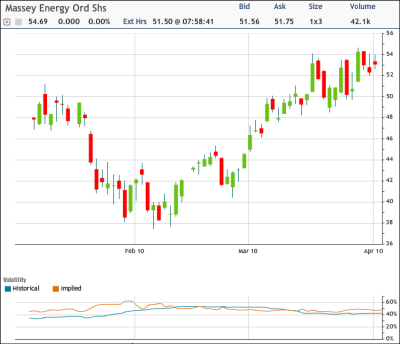 Renewed concerns over the joint European Union/International Monetary Fund rescue package for Greece helped push the euro lower but so far not by any large degree. The concerns are far more muted than they were a couple of months ago. The one currency that is weak this morning is the UK pound, following the call for a general election as of May 6.
One stock that is likely to be weak today is Massey Energy (NYSE:MEE) in the wake of a mining explosion in West Virginia that claimed 25 lives. That stock is down nearly 6 percent in the pre-market. A few related names that could be active on that news include Patriot Coal (PCX), Peabody Energy (BTU), Arch Coal (ACI), and James River Coal (JRCC).
The economic calendar is relatively light this week, with earnings season next week being the principal focus for traders and investors. Given the relative absence of catalysts, we may see more range-bound trading.
Any pre-announcements, negative or positive, could change that outlook. Some stocks that could move today ahead of their earnings news tomorrow include Family Dollar (NYSE:FDO), Monsanto (NYSE:MON), and Bed Bath & Beyond (NASDAQ:BBBY).

Disclosure: No positions