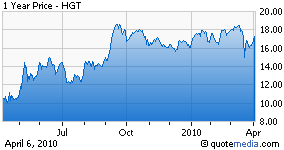 Buy-recommended Hugoton Royalty Trust (NYSE:HGT) offers a near 8% distribution yield for the next year despite a low price for natural gas, the fast-growing, environmentally desirable fuel. Stock price is in an uptrend measured by the 200-day average and it may have further to go judging by estimated Net Present Value (NPV) of $21 a unit. Yet natural gas, HGT's main product, is out of favor with both the one-year and six-year price below the 40-week averages.
The fuel expected to contribute the most to energy growth languishes underappreciated at a price 40% of the heating equivalent of oil. Investors in HGT can be patient with an adjusted reserve life index of 12.3 years, implying continuing production at a declining rate for at least twice as long. Recently the operator of the trust's properties has reinvested less of the trust's cash flow, thereby allowing volume to decline naturally. Money not spent for drilling has boosted distributions.
The future tradeoff between volume and spending will depend on buy-recommended ExxonMobil (NYSE:XOM) as it is expected to acquire XTO Energy, the founder of the trust. A premium price for HGT natural gas compared to the Henry Hub reference also helps current distributions to exceed a year ago despite lower levels for the widely quoted industry price. Our current projections indicate a distribution in 2010 twice the amount in 2009. Finally, HGT appears to offer favorable appreciation potential among income stocks in our regular coverage.
Originally published on March 15, 2010.