What happened to J.C. Penney?
J.C. Penney (NYSE:JCP) is a troubled retailer whose investors and suppliers pray that it survives. Nowhere have we heard a wide-ranging plan that answers this prayer. I present such a plan, which is a sketch of what management may achieve in a short time period to save J.C. Penney.
This report is to show that creative thinking can supply answers to problems that appear unsolvable, careful observation may indicate changes in a company's direction, and present an emerging, advantageous investing opportunity.
The history of J.C. Penney is fascinating, and explains its present difficulties. The assemblage of recent large investors who attempted to influence its direction would have done well to read about its past. Intervention by these large shareholders in day-to-day operations was a significant factor in J.C. Penney's breakdown. Recent missteps by management have damaged the J.C. Penney brand, but its name still remains an important retailing icon in the mind of the American consumer.
Investors should learn from Warren Buffett who requires management of his business investments to continue as they did in the past.
The following chart shows J.C. Penney's development from the year 2002 until present. It identifies top management charted against a tally of J.C. Penney's stock price, percentage gross margin and retail sales.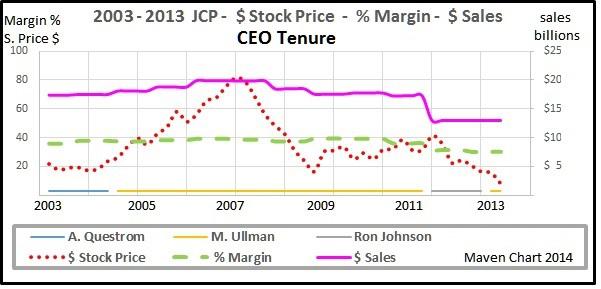 Stock price, percentage margin & sales as of quarter end. M. Ullman CEO twice.
Undertakings at J.C. Penney that led it to its troubled state read as a fairytale, like fantastic magical intrigues told in stories.
Following is the plan that could save J.C. Penney. Use this link to read my supporting articles.
J.C. Penney's recent history.
J.C. Penney had been a supplier of items that are essential for everyday living to Americans for more than 110 years, and until recently retained the home town character that its founder James Cash Penney prized.
In early 2011, an important financial organization, Pershing Square Capital Management, purchased a 16.5% interest in J.C. Penney, followed by a large investment from the Vornado Corporation. Their combined interest amounted to more than a 26%. Pershing Square's leader, Bill Ackman, pressed for changes in management, and chose a retailing star, Ron Johnson, to run J.C. Penney. Mr. Johnson assumed this position and introduced radical strategies. He eliminated periodic special pricing from J. C. Penney's merchandising practice and installed numerous brand name boutiques along with more than 40,000 mannequins to display its wares. Mr. Johnson acted from the experience gained from his tenure as CEO of Apple stores. The J.C. Penney company rapidly became a retailing and financial disaster.
Mr. Johnson was correct in observing that J.C. Penney needed change, but he didn't observe the classic rules of retailing:
Special price events are needed to draw shoppers to a store.

Merchandise selection leads before brand name choice, which only becomes important after an item is chosen.
After a 17 month term the board discharged Mr. Johnson. Little has changed since he left to make one think J.C. Penney has freed itself from its problems. Sale price promotion has been reintroduced. Unfortunately for J.C. Penney its reintroduction has been so overemphasized that its stores have become a caricature of the retailing industry. Patrons no longer trust nor return to its stores in sufficient quantities for J.C. Penney to become profitable.
In August 2013 Pershing Square began to exit its investment by agreeing to sell its 39 million shares to City Bank for between $12.50 and $12.90 a share. This loss was $470 million followed by Vornado's exit on September 19, 2013, accompanied by the loss of $256 million.
The store's boutiques remain, but they are not properly manned because of recent personnel reduction. Merchandise selection by customers is still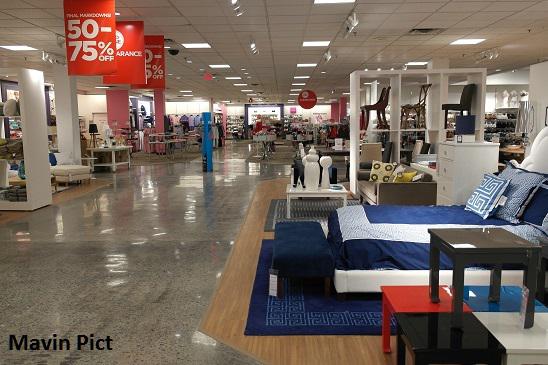 difficult. One must walk from one boutique to another boutique at a different location to make comparisons of similar items. Store image, which was once clearly portrayed as a destination to purchase everyday goods, is destroyed. The store features mountains of bed pillows that sell for $3, along with Sephora cosmetics offered at prices that most middle class Americans cannot afford. Merchandising policy is not clear to customers.
Clearly understood by capable observers is that J.C. Penney cannot survive unless substantial changes are made. Available time is a huge problem because J.C. Penney is burning its cash and has few resources remaining that may add liquidity when the cash is gone
J.C. Penney's 8-K report of November 20, 2013, shows it had $1.71 billion in liquidity. This amount includes the ill-omened number of $666 million not yet drawn from its revolving credit line. One might say, "That's a lot of cash," but when one views the losses that occurred in its last three business quarters, $489 million, $586 million and $348 million, it is not. J.C. Penney's gross margin has been reduced to the 30.5% range. Prior to Ron Johnson's leadership, margins in 2010 was 39.2%. Nine percentage points of margin require that prices be raised by 14% in order to equal the past. This increase is impossible with the present merchandising practice.
The Solution
The remaining useful marketing asset of J.C. Penney is its group of 1,104 (February 2013) large, well lighted, open showrooms. These must be modified in character and merchandising concept in order to save J.C. Penney.
J.C. Penney needs to become a shopping destination that will transfix its customers and its balance of merchandise must be designed to attract new customers. J.C. Penney's essential task is to become a store with magnificent departments but not to remain a department store.
Its theme is to become "Something for everyone," but the store will not have everything that everyone wants since it will eliminate many non-profitable items. J.C. Penney will divide offerings into items that draw traffic and into items that create profit. This balance will be determined by what is best for the company.
A sampling of department revisions:
Install a toy department that displays items bearing latest technology and child appeal. Don't offer commodity toys such as stereotyped, mass produced, dolls and plastic creations that are available only because of their promotion to children. Display real toys, not items mass produced only for the purpose of selling: Robotic kits, Meccano construction sets, Cuddlekins stuffed pandas and tigers and radio-controlled helicopters complete with cameras that may spy on neighbors. Toys that both children and parents play with together.
Furniture is a big profit center. Expand the department to become America's dominant, upper middle priced, retailer of furniture. High square footage volume and high margin could in a short time offset many of J.C. Penney's prior mistakes. In addition, offer for sale a large selection of carefully chosen furniture closeouts purchased and sold at half the going price of regularly marked up items
Electronics, household appliances and computer tablets are big business. Best Buy (NYSE:BBY) did $45 billion business in 2012, and earned $10.5 billion in margin. A selection of best sellers from these categories would develop large additional sales volume.
Concentrate on high-end household appliances like Sub Zero refrigerators, Miele wall ovens, Bosch dishwashers and Gaggenau cook tops. These wonderful machines have limited distribution, and are mostly available in specialty stores. They generate large dollar profits because of their high prices, and higher percentage mark up than is available on commodity items.
Add to appliance sales computer tablets, TV sets, digital cameras, telephones with associated services and other fast selling electronics.
Sell high styled, expensive woman's clothing. It mixes well with J.C. Penney's existing Sephora cosmetics department. This category has high margin and large volume per unit sales area
Offer the latest gadgets to bring traffic and large sales per unit area.
Accommodate the business person with suitable apparel. This category represents large sales volume in a small space. Offer men's clothing with tailoring services and women's clothing sold off the rack.
Install a gift department. Gifts are notoriously low volume items except during holiday season. Build a seasonal department that expands and retracts. Add expensive jewelry, which J.C. Penney will offer at low margins and collectibles like stamps and coins, possibly a leased department. There are 50 million collectors in America. Include expensive one-of-a kind items in the gift department, such as antiques that appeal to customers for their own use.
Everyday clothing can hide in a corner of the store and still generate high sales volume. No need for immense selection of color and style, just carefully chosen utility items. They will fly out of the store without much assistance from the sales associate. Offer both men's and women's utility clothing with inventory piled high, omitting complete size and colors for individual items
Sporting goods and associated clothing. This department should be located near clothing departments. Sporting goods are too well represented in specialty stores to warrant a comprehensive department. A select assembly of popular sporting goods should be offered at low margin to gain traffic and assist in selling higher margin sports clothing.
All this has elements of the old J.C. Penney. So what's the difference?
The store should show innovative highly styled merchandise programmed to attract the affluent customer, unlike the old J.C. Penney that appealed to the middle price shopper.
Assume a bazaar like quality for the offering of middle-priced merchandise. Configure the department to retain the old J.C. Penney aura of simplicity. Customers might not find the size and color that they wish during each visit, and will have to return over and over again to purchase this merchandise at bargain prices.
J.C. Penney's will aim for high dollar margin, and will selectively sacrifice percentage margin to gain it.
Offering of children's clothing must be reduced in choice of styles. The store will place children's apparel next to the toy department to encourage cross-over sales.
Management will squeeze linens and bathroom textiles near the mattress section of the furniture department. They will offer a complete size selection but a limited choice of quality. The mattress department will be the center for decorative bed-ware.
Operational changes!
Eliminate distribution centers. Merchandise delivered directly to stores or sent to contract delivery vendors.
Exit the labor intensive business. Contractors may perform less expensively and more efficiently than J.C. Penney.
Completely control inventory and back room record-keeping with computer systems that are an derivative of cash register entry and buyers input. Integrate systems with the RFID system. Reduce buying department personnel to a handful of savvy buying professionals who make purchasing decisions and are assisted by associates who decide how much merchandise is sent to each store.
Use store level management for training and supervision, rather than for stocking shelves and other manual labor.
Apply delivery charges for goods delivered directly to customer.
Upgrade security systems.
Separate Internet business into new entity. J.C. Penney's web site must stand alone. The Internet business though still owned by J.C. Penney must compete with its physical stores to maximize efficiency and profit.
Increase entry level sales associate quality by raising pay level and vetting new hires. Extensively train employees for service in multiple departments.
Develop sales promotions at department level twelve times per year. Sales should be held from Friday through Monday. Sales periods should not be predictable by customers. Continue promotional policy of high presentation price with periodic large discount.
Shift sales personnel need to the departments that are conducting promotions. Sales associates should be more plentiful on weekends.
How all this would be financed?
Obtain funds from a sale that disposes of all inventory. This sale should sell additional, big-ticket merchandise, purchased at closeout prices, to increase volume.
Create another stock dilution at present stock price. This would be possible because of the appeal created by promotion of the exciting new concept to double J.C. Penney's sales within a short time.
Stakeholders would be pleased with the dilution plan because it would answer their prayer for hope where there was little before, and temporarily stabilize their investment value.
Disclosure: I have no positions in any stocks mentioned, and no plans to initiate any positions within the next 72 hours. I wrote this article myself, and it expresses my own opinions. I am not receiving compensation for it (other than from Seeking Alpha). I have no business relationship with any company whose stock is mentioned in this article.