Just over 18 months ago, prompted by a (rarely occurring) interesting and insightful segment on Jim Cramer's Mad Money, I decided to establish an experiment with a category of stocks mentioned on the show.
I established two options based on portfolio size and diversification requirements-either a 5 or 10 share allocation. I recommended a choice between two stocks in each of eight categories, with a double weighting of the ninth category-consumer products. The key recommendation was to AVOID holding gold ($GLD), cash, and Treasury notes. I also cautioned against seeking refuge in commercial bonds due to the extremely low interest rates and international stocks due to the multiple macro risks that were present. Ultimately, I pitched this portfolio idea as a stable alternative for conservative investors under the age of 65.
Original Portfolio Composition (Direct from Article)
5-Share Allocation
10-Share Allocation
All of the above, plus:
Consumer Products - Either JNJ or PG depending on the first choice
18-Share Allocation (Note: not in article)
A basket of all of the 18 aforementioned stocks in equal weights.
Original Portfolio Thesis (Direct from Article)
"I firmly believe that this allocation (with prudent adjustments if required) will vastly out-perform any combination of cash, treasuries, corporate bonds, or gold while avoiding the risks inherent in growth stocks or international stocks over the next 5-10 years. If the recession environment continues and we suffer a "lost decade," I believe that this basket might outperform everything. "
Results
The 5, 10, and 18 stock baskets are compared to the returns from Gold (NYSEARCA:GLD), a 7-10-year T-Note ETF (NYSEARCA:IEF), Vanguard Total International ETF (NASDAQ:VXUS), a corporate investment-grade bond fund ($VWESX), a growth stock ETF (NYSEARCA:IWM), and the overall S&P (NYSEARCA:SPY). Direct cash would have returned under 3% due to prevailing CD rates. For each of the following investments, and for the stock portfolios, I have assumed dividends and distributions are re-invested. The results of the alternative categories are posted below:

As shown above and as predicted 18 months ago: Gold, T-Notes, and C-Bonds all proved to be horrendous investments. However, what wasn't expected was the massive return from both growth stocks and the overall S&P index. Investors who sat out the market in favor of cash, gold, or bonds suffered tremendously in exchange for the perception of safety.
Moving to the "Everyday American" stocks, we see a trend of middling returns that make sense on an application of risk/reward.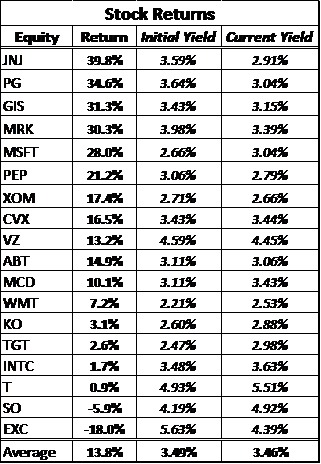 Broken down into the original three baskets:

Broadening the portfolio to include more stocks hurt the overall performance as several of the 2nd selections underperformed what I initially selected as a primary pick. This is unsurprising as I selected all of the primary picks based on relative valuation metrics. With the Abbott spin-off of more speculative growth venture AbbVie (NYSE:ABBV), I recommended a sale of the spin-off and full investment back into Abbott. The returns reflect that approach. Keeping ABBV would have given a higher total return (nearly 25%).
Lessons Learned
There are two obvious conclusions here, the first is that 'bond-proxy' stocks will be partially driven by the interest rate curve. Utilities and telecoms are the primary 'proxy' stocks, but INTC with its fattening yield and slowing growth could also be fit into this category. The second obvious conclusion is that fundamentals and the resulting dividend potential will help drive stock prices. Exelon was a company that any serious fundamental dividend-growth or moat investor should have avoided in 2012 due to the precarious payout ratios. However, many things are clearer with hindsight, so to avoid tainting the portfolio with selection bias, I have left Exelon in the results.
It's interesting to note the 5-stock portfolio outperformed the 10 and 18 stock selections in sequence. As I previously noted, I believe this is due to convergence of valuation multiples.
It's very interesting to note that the dividend yields have remained near constant despite a total return of almost 14%. In fact, excluding Exelon, the yields have actually climbed (3.36% to 3.4%) while the underlying investments have returned 15.7%. This demonstrates the underlying income power of a dividend-growth based portfolio.
The overall S&P index and growth stocks trounced the return of this portfolio over the past 18 months. However, the above portfolio would have avoided many sleepless nights, especially during the fall 2012 macro panic. In my initial proposal, I made the claim that this approach was both far superior to gold , treasuries , and corporate bonds (MUTF:VWESX). I also claimed the portfolio would likely outperform during any period of panic or recession. I back tested the portfolio against the 2008 recession and market collapse to give some historical credence.
Surprisingly I found the following in reference to the 5-year (2007 to 2012) performance of the "5-stock portfolio":
"... not only did this basket of stocks return 48.3% in the past five and half years, but they are actually valued less today than they were in January 2007!"
The valuation trend has continued-the '5 stock' portfolio of CVX, TGT, MCD, MSFT, and JNJ now trades at only a slightly higher P/E (13.5 to 14.9) versus the initial write-up, while the overall market P/E has expanded by 22% (15.6 to 19.0). Meanwhile, the underlying P/B of the '5 stock' has actually decreased (3.64 to 3.53) and the underlying yield has increased (3.05% to 3.16%)!
In other words, as the market has expanded rapidly, over 50% due purely to multiple expansion, the core-5 of the Everyday American Portfolio is arguably on its largest (relative) sale since the recession-era.
Going Forward
I desire more than 18 months of data to see how this portfolio will continue to perform in these markets. I am a bit disappointed in the overall return numbers in comparison to the S&P 500, but the investment thesis remains intact, if not strengthened by the relative valuation shifts.
I aim to expand the portfolio in the coming months, with the goal of adding some stocks that meet the overall investment criteria (stable everyday companies with strong moats) while also filling some previously neglected sectors (finance, transportation, entertainment, and materials). I hope to attain a portfolio of 25 stocks to track in this experiment. Please add your suggestions below- I am currently considering adding Disney (NYSE:DIS), Norfolk Southern (NYSE:NSC), Caterpillar (NYSE:CAT), General Electric (NYSE:GE), and Wells Fargo (NYSE:WFC).
Feedback
Please let me know if you find this experiment to be useful or not as well as any suggestions to construct a "better" portfolio. Keep in mind that I am aiming to build a portfolio that every "average/everyday American" can understand. While this might sacrifice short-term performance, I believe long-term returns and stability will easily compensate. Investors can attain strong international exposure through American-based multinationals, but I believe foreign-based stocks violate the inherent nature of this assignment.
Investment Approach
For a conservative investor, I currently find all 18 stocks to be trading at attractive prices relative to the overall market. I would recommend any of the 18, but preferably starting with a minimum base of the "top 5," over the S&P to any average investor.
I personally invest in two-tiers: my trading account & IRA and my related-party funds (family) and charity funds. The goal of the former is market outperformance by any means available. The goal of the latter is stability and relative valuation attractiveness. I hold Exxon in both tiers, and McDonald's , Target , Microsoft (NASDAQ:MSFT) in the 2nd-tier. I sold the last of my Intel last week.
Disclaimer: The above article is submitted for entertainment purposes only. None of the contents is intended to be taken as official investment advice. Please perform your own due diligence and/or consult your personal investment advisor before taking any investment actions.
Disclosure: I am long MSFT, DIS, MCD, TGT, XOM. I wrote this article myself, and it expresses my own opinions. I am not receiving compensation for it (other than from Seeking Alpha). I have no business relationship with any company whose stock is mentioned in this article.