With shares down 12% in a month, bearish sentiment is clearly apparent for Alcatel-Lucent (ALU). Investors could be growing nervous ahead of a quarterly earnings report scheduled for February 6, 2014. After trading as high as $4.50 in recent weeks, shares closed at $3.81. Even though all eyes are on quarterly results, as discussed here, investors need to look at the broader picture. More specifically, weak quarterly results from Nokia (NYSE:NOK) Solutions Network suggest the long-term story for Alcatel-Lucent is a good one. Alcatel-Lucent's LTE, wireless and high-speed transmission businesses will grow disproportionately better than for Nokia. In the shorter term, the drop in Alcatel-Lucent's shares gives investors an opportunity to add a long position.
Nokia Solutions Network struggles
Investors rewarded Nokia by buying up shares after the company sold its handset division to Microsoft (NASDAQ:MSFT)last September. Optimism grew from there because Nokia also reported strong results for the Nokia Solutions Network ("NSN"). Investors even speculated that Nokia could bid for Alcatel-Lucent. The good news stopped there. On January 23, 2014, sales at NSN fell an astounding 22%, to $4.2 billion. Nokia set its sights on winning market share from Ericsson and Huawei. In Q4, operating margin was 11.2%.
Most of Nokia's LTE deployments were based on FD (Frequency Division) technology. Nokia said it expected upcoming deployments will be based on TD-LTE (Time division LTE).
Downbeat outlook
Nokia was especially downbeat in its sales outlook. Not only does Nokia expect lower seasonal sales, new initial network deployments will have minimal profitability. Given Alcatel-Lucent's dominance in this sector, Nokia will have trouble competing. Taken from Nokia's conference call, Rajeev Suri said:
During the first quarter of 2014 we also expect some pressure on profitability given lower seasonal net sales as well as lower margins during the initial phases of several strategic new network deployments. Given this, we expect Q1 2014 non-IFRS operating margin to be in the range of approximately 5% plus or minus four percentage points.
Alcatel-Lucent and Nokia shares drop in unison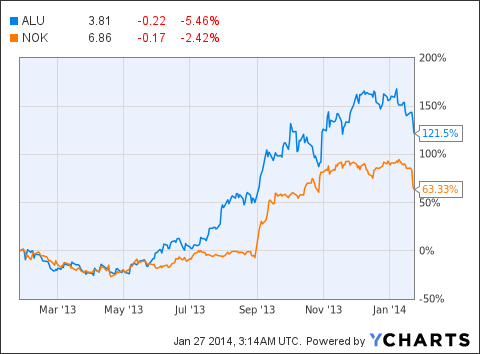 Alcatel-Lucent wins TD-LTE contract in China
Alcatel-Lucent recently won a 4G contract with China Mobile (NYSE:CHL) in October 2013. China Mobile's massive network, which services more than 750 million subscribers, will incorporate TD-LTE LightRadio. The company also said in December that China Mobile will deploy small cell solutions. LightRadio is showing tremendously strong traction. LightRadio 9768 Radio Outdoor ("MRO") was launched very recently, in February 2013, at the Mobile World Congress. It was co-created by China Mobile.
Fastest fiber speeds achieved
To re-affirm its lead in the network field, Alcatel-Lucent announced together with BT trial speeds of up to 1.4Tb/s on an existing core fiber connection.
Bottom Line
Nokia was not clear on its guidance for NSN and was downbeat overall for the first half of 2014. The company suggested positive momentum from Europe and China, but did not give any specifics on how profit margins would be sustained, if at all. Conversely, Alcatel-Lucent is in the midst of a multi-year turnaround that includes heavy cost cutting. Recent technology developments and big contract wins for Alcatel-Lucent in China and in the United States are positive for investors. This suggests that the company is more attractive as shares decline.
Disclosure: I am long ALU. I wrote this article myself, and it expresses my own opinions. I am not receiving compensation for it (other than from Seeking Alpha). I have no business relationship with any company whose stock is mentioned in this article.