By David Russell
Regions Financial (NYSE:RF) is running higher, and the bulls are sticking with it.
Overall options volume has surged to more than four times the average so far today as investors implement several strategies consistent with a positive outlook for the Birmingham-based lender.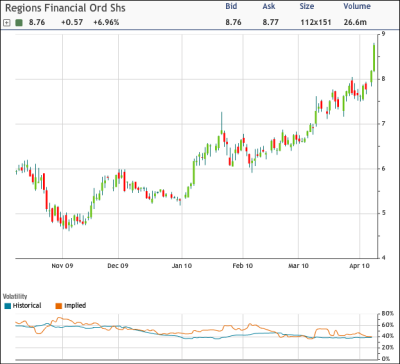 The largest trade was simple call buying: Cash flooded into the May 9 contracts, most of which traded for $0.26 to $0.44, and the April 9 calls, which fetched $0.08 to $0.15. The May options changed hands 7,984 times and volume in the April calls rose to 5,580--more than twice open interest in both strikes.
RF is up nearly 7 percent to $8.76, having run 27 percent in the last month. The stock has been rallying along with other regional banks as investors anticipate lower loan-loss reserves later in the year, despite reporting a wider-than-expected loss on Jan. 26. The next earnings release is scheduled for before the market opens on April 20.
RF is now ripping higher after spending the first three months of 2010 fighting resistance between about the $6.50 and $7.70 levels.
The put activity also shows that traders expect the shares to run significantly higher. In one trade, about 2,800 May 7 puts were sold for $0.10 against existing open interest and a matching number of May 8 puts were bought for $0.31.
The transaction probably resulted from an investor rolling a protective position higher, allowing him or her to buy an additional $1 of downside protection on a long position in the shares for net cost of $0.21.
Overall in the name, calls represented 63 percent of the volume, with the activity heavily skewed towards purchases.

Disclosure: No positions