When growth in your portfolio stalls and the market is going nowhere, it's time to look for income stocks that provide a consistent monthly dividend. One very unique company that does exactly this is Horizon Technology Finance Corporation (NASDAQ:HRZN). It also allows the individual investor to invest in early stage development companies prior to their initial public offering.
Horizon Technology Finance Corporation
Horizon Technology Finance Corporation (referred to as "Horizon") is a leading provider of secured loans to venture capital backed development stage companies located in the United States with strong relationships in the venture capital community. Horizon has found a nice niche for itself in the area between Venture Capitalists and Public Ownership by giving entrepreneurs an alternative to selling equity and losing control of their companies to outsiders.
Horizon provides loans with an equity kicker in the form of warrants for stock to companies in the technology, life science, healthcare information and services, and clean technology industries. Horizon seeks to generate attractive risk adjusted returns through current income from directly originated secured loans and capital appreciation from the warrants received when making such loans. They also selectively lend to publicly traded companies in those same four targeted industries.
Horizon is an externally managed, closed-end, non-diversified management investment company that is organized and regulated as a Business Development Company. Horizon was founded in 2008 and is based in Farmington, Connecticut.
Horizon is led by co-founders Robert Pomeroy and Gerald Michaud, each with over 35 years experience in the venture lending business with companies like Transamerica, GATX Ventures and Horizon. The company's management team also includes members with an average of 20+ years in the venture lending business.
Loans
Lending is conducted in all four targeted areas and has been split among the four areas by the following percentages: Technology 58%, Life Sciences 19%, Cleantech 12%, and Healthcare Information and Services 11%.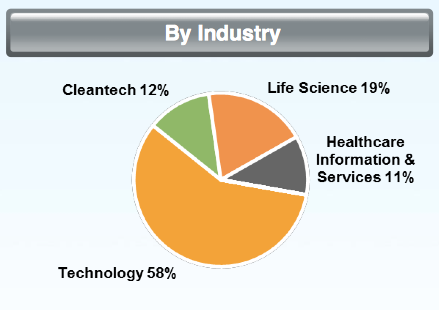 Loans in each of the industries identified above can be further subdivided into the 29 separate sectors listed below. Horizon's depth of management is unique in that they have the ability and experience to analyze the types of companies in each of these areas.
Technology
Cloud Computing
Communication/Wireless
Data Storage
Internet and Media
Networking
Software
Life Science
Bioinformatics
Biotechnology
Drug Delivery
Medical Devices
Specialty Pharmaceuticals
Healthcare Information and Services
Diagnostics
Medical Records
Services
Patient Management Software
Cleantech
Alternative Energy
Energy Efficiency
Green Building Materials
Water Purification
Waste Recycling
The percentage of loans in each of these sectors is identified in the chart below. Notice that the three largest areas for loans have been in software, 31%, Semiconductors, 16%, and Biotechnology, 10%. The remainder is spread fairly equally among the other sectors.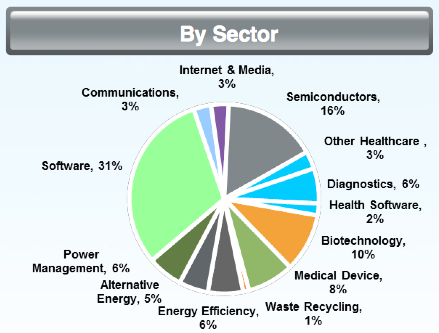 Advantages and Benefits
Horizon's most important advantage for its customers is that venture loans, as opposed to venture capital, minimize equity dilution for initial investors and entrepreneurs while at the same time providing additional growth and operating capital. Initial investors and entrepreneurs prefer this method of financing because they generally don't want to give up equity in the early stages of product creation and development. Another advantage for Horizon is that it has very limited competition. There are few experienced or knowledgeable competitors conducting this same type of business in this same space. In addition, the demand for this type of financing is continually increasing. The market keeps expanding for the technology, life science, healthcare information and services, and clean technology as new companies grow to meet the demand for new products.
The benefits of the Horizon business model is that loans are secured by the enterprise value of the portfolio company itself. It's also supported by the initial investment from the original institutional investors and venture capitalists. The loans have a relatively quick repayment schedule of 6-12 months and the loans are less dilutive than venture capital or private equity. The loans also allow for the financed company's further development, which enhances enterprise value and avoids development delays. Finally, these loans can lengthen the time necessary before the financed company has to raise capital by selling equity.
Loan Originations
Horizon's loan originations have been on a steady increase since its initial public offering in 2008. Cumulative originations totaled $546 million at the end of the 3rd quarter of 2013.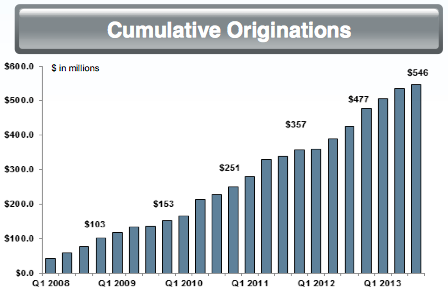 Dividends
At the same time, Horizon pays a steady monthly dividend of $.115 per share per month for a total of $1.38 per year. At the current stock price of $14.31 the yield on this investment is 9.64%. As of the end of the 3rd quarter 2013 Horizon had returned a cumulative total of $4.925 per share since going public.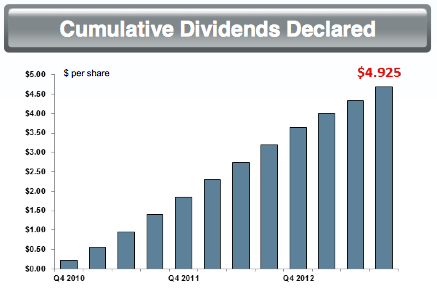 Financial Highlights
Horizon's statement of operations clearly shows that total investment income continues to increase quarter after quarter and this year's annual income is expected to increase once again. Subtracting total expenses from total investing income shows that the net investment income is also increasing.

Click to enlarge
In the company's statement of assets and liabilities it's clear that while total investments at fair value and total assets are increasing, total liabilities are increasing even faster. This has resulted in the net asset value (NAV) declining from $15.15 to $14.95 in the period from December 2012 through September 2013. Anyone considering this stock should pay close attention to next quarter's earnings announcement for more information on the direction of the NAV.

Click to enlarge
Conclusion
Horizon Technology Finance Corporation, by making loans with an equity kicker to private venture capital backed companies, allows individual investors to invest in private development stage companies prior to their initial public offerings. In addition, Horizon provides a consistent $.115 monthly distribution or 9.64% annual percentage rate which can be compounded back into Horizon stock or redeployed into other investments.
Horizon is led by a first rate and highly experienced management team and has provided solid results since going public in late 2010. For any investor seeking additional income for their portfolio, it would be wise to consider Horizon for your next purchase.
Disclosure: I am long HRZN. I wrote this article myself, and it expresses my own opinions. I am not receiving compensation for it (other than from Seeking Alpha). I have no business relationship with any company whose stock is mentioned in this article.