PetroChina (NYSE:PTR), China's only super major, has a history of strong financial growth and is well positioned to take advantage of China's growing demand for diversified energy sources. Currently trading at only 9.3x earnings, the PTR stock looks like the rare gem that offers growth at a value price.
Background
PetroChina is the largest oil and gas company in China with reserves of 22.3 billion barrels of oil equivalent (BBE) and production of 3.7 million BBE per day. PTR's operations consist of 1) exploration and production (E&P) activities, 2) refining and marketing of petroleum products, 3) producing and marketing petrochemicals, and 4) transmission and storage of natural gas.
Like most mega companies in China, PTR is majority owned and controlled by the Chinese government, which creates an overhang for minority shareholders - that is you and me - since the Chinese government's goals are often much broader than maximizing shareholder return. However, given China's continuous march towards the free-market economy, shareholders should not be overly concerned about the government's involvement since, over the long run, the government will likely ensure an adequate rate of return for investors in order to attract and keep capital.
A State-Supported Oligarch
Stocks of state-owned Chinese companies like PTR are facing head wind in recent months in-part due to the Chinese government's declaration that the free-market should play a greater role in the Chinese economy going forwards. However, PTR should be insulated from much of the upcoming reforms given its history and market positioning.
PTR was created in 1999 with the Chinese government's efforts to reform its oil and gas industry and develop the expertise necessary to compete internationally. One of the primary purposes of PTR is to secure future domestic and international resources necessary for national security and continued economic growth. Therefore, although PTR is an extremely large and profitable company in China, its large size is necessary to compete internationally with giants like Exxon Mobile (NYSE:XOM) and other foreign super majors.
Performance Review
Note on data: all data are from company disclosures unless otherwise noted.
Note on peer selection: the largest publicly traded, super majors in North America, Europe [Shell (NYSE:RDS.A)], and Latin America [Petrobras (NYSE:PBR)] is selected to represent PTR's global competitors. Selection is objectively made based on market capitalization and geographical representation.
PTR experienced the fastest revenue growth among its global peers thanks to China's supercharged economy and insatiable demand for oil and gas. In particular, China's growing middle class is driving demand for cars, which in turn is driving demand for gasoline. To meet this demand, over the past decade, PTR has built over 10,000 service stations, increased its refining capacity by over 50% to more than 3.2 million barrels per day, and dramatically increased its import of foreign oil.
PTR grew its revenue at a 10-year CAGR of 22% vs. 16% for Petrobras, 9% for Royal Dutch Shell and 6% for Exxon Mobile. Significantly, PTR only experienced one year of minor revenue decline in 2009 vs. more volatile revenue growth for its global competitors.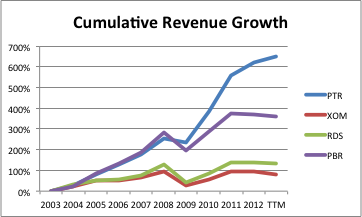 Although PTR grew revenue at by far the fastest pace, its EPS growth only placed a distant second. The reason is that PTR's operating margin has been decreasing over time: PTR's trailing twelve month (TTM) operating margin of 8.3% places it at dead last place among its global peers.
PTR's low profit margins in recent years are primarily caused by the Chinese government's policies, which limits the price at which PTR could sell its oil and gas in the domestic market. For example, the combination of huge demand for natural gas in China and the government's price controls is forcing PTR to import natural gas at a higher price than it could sell, generating significant financial losses for the company.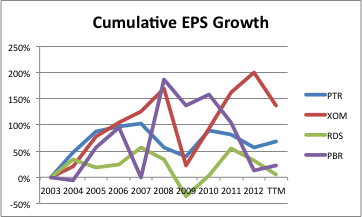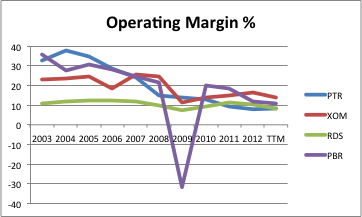 Going Forward
In the long term, natural gas should become increasingly important for China for two primary reasons:
Natural gas is considered a cleaner source of energy, especially compared to coal which China is heavily dependent on for energy, and China is desperate to control pollution;
China is investing heavily in importing, developing, and implementing new technologies to extract natural gas.
Given its large distribution, trading, and exploration capabilities, PTR is well positioned to take advantage of China's large natural gas investments and investors should monitor whether the Company's position translates into profits going forward.
Despite unfavorable price controls in China and rapidly declining operating margin, PTR grew EPS at a 10-year CAGR of 5.3%, faster than RDS.A's 0.5% and PBR's 2.1%. PTR's market lagging margins is likely unsustainable and the Chinese government will likely address it in the near future (assuming China will not abandon the free market any time soon). If operating margin normalizes to a modest 10%, PTR's EPS could increase by as much as 20%, a big positive for stock prices.
Disclosure: I am long PTR. I wrote this article myself, and it expresses my own opinions. I am not receiving compensation for it (other than from Seeking Alpha). I have no business relationship with any company whose stock is mentioned in this article.