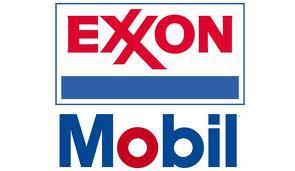 ExxonMobil (NYSE:XOM), the nation's largest natural gas producer, is down 5% so far in 2014 despite a dramatic spike up in natural gas prices. RBN Energy reports that propane prices are also very strong due to the polar vortex. With a credit rating higher than the US government, a reputation as a calm port during turbulent markets, and in the face of these energy market fundamentals, the selling in Exxon appears unwarranted and overdone.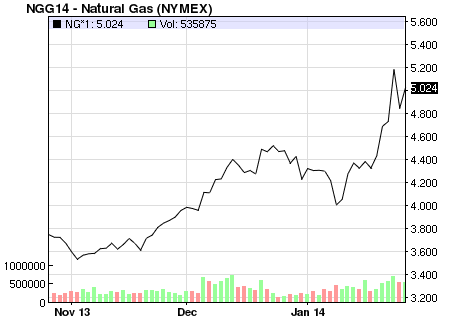 As can be seen from the graph above, natural gas prices actually started rising in earnest back in December. According to NGSA, for the first 6 months of 2013 Exxon was far and away the largest producer of natural gas at some 3.585 MMcf/day: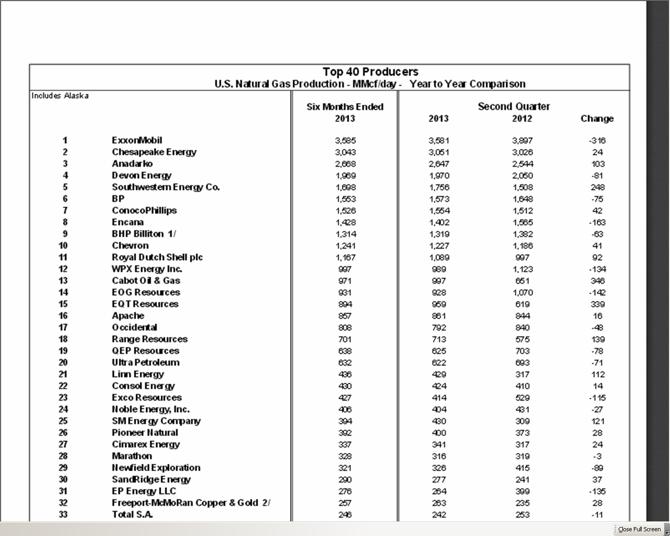 Click to enlarge
That's 500 million cubic feet per day more than its closest competitor Chesapeake Energy (NYSE:CHK), and more that 3.5x the amount than that of vaunted Marcellus producer Cabot Oil & Gas (NYSE:COG). While domestic natural gas is certainly a much larger percentage of production for the two smaller companies, the point is that Exxon is a monster producer. As such, it seems strange that Exxon CEO Rex Tillerson was roasted for the ill-timed moved to buy natural gas producer XTO, yet the market does not seem willing to go the other way as natural gas prices recover. I say this Exxon has sold off sharply along with the general market even as nat gas prices have spiked higher: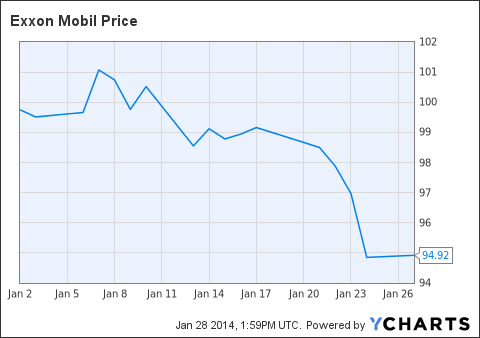 Perhaps the market believes the recovery is short term and as soon as spring comes prices will drop back down. I am not so sure. As I wrote in a recent piece The Natural Storage Glut Is Over, domestic natural gas producers have adjusted to the oversupply and low prices of recent years. Dry gas drilling has dramatically slowed (or stopped) in nearly all plays except the prolific Marcellus. Dry gas production in nearly all other shale plays has leveled off or contracted (as in the Haynesville for instance) except for the associated nat gas production due to the hunt for oil in the Bakken and primarily the Eagle Ford. Nat gas production in the EF continues to ramp up.
Benefit to Exxon
It is clear any increase in the price of natural gas would greatly benefit Exxon Mobil. Every $1 rise in the price of American natural gas would correspond to roughly $4 million/day to Exxon Mobil. Over the course of a quarter, this would amount to in the neighborhood of $360,000,000 bucks - or over $1 billion annually. That ain't chicken feed - even for a company the size of XOM.
Summary & Conclusion
On a percentage basis, XOM does not benefit as much from the rise in natural gas prices as its smaller more domestic nat gas dependent brethren. However, the recent rise in natural gas prices is definitely material to Exxon and if sustained could bring in an additional $1 billion in revenue during 2014. Much of that should fall straight to the bottom line. You know Exxon has been waiting and is ready to profit on the rise in natural gas prices.
Investors who don't own any shares in Exxon might consider establishing a position at the current price, which I believe has dropped into the "attractive" range. The company currently yields 2.7%. For those with an existing position, the stock is a HOLD and let's see what kind of Q4 earnings the company releases. The consensus Q4 estimate is for $1.92/share. The earnings are due out this Thursday at 7am CST. You can access the conference call (10am CST) here.
Disclosure: I am long XOM. I wrote this article myself, and it expresses my own opinions. I am not receiving compensation for it (other than from Seeking Alpha). I have no business relationship with any company whose stock is mentioned in this article.
Additional disclosure: I am an engineer, not a CFA. The information and data presented in this article was obtained from company documents and/or sources believed to be reliable, but has not been independently verified. Therefore, the author cannot guarantee its accuracy. Please do your own research and contact a qualified investment advisor. I am not responsible for investment decisions you make. Thanks for reading and good luck!