Today Main Street Capital (NYSE:MAIN), a Business Development Company (BDC), which operates in the lower middle market, announced a new portfolio company investment for $6.5 million. In addition, MAIN informed us that they had booked another, "$11 million in various other interest-bearing debt securities at a weighted average interest coupon of approximately 13%."
The new portfolio investment was in Currie Acquisitions, LLC, an electric bike manufacturer. The investment, as is common with Main Street, consisted of both debt and equity. In fact, MAIN owns 47% of Currie.
As we like to deconstruct these type of press releases and provide some context, we have a couple of thoughts here:
First, we're encouraged that MAIN is finding new deals to invest in. We were concerned after the most recent earnings report. Despite adding 6 new portfolio companies last year, total investment assets increased only modestly: just $7 million on the $123 million at year end 2008.
MAIN, though, has to pick up the pace in 2010 and deploy the substantial amount of capital raised in recent months through its two equity offerings: a $30 million revolver, and $90 million more in SBIC monies. Roughly speaking, and assuming MAIN will keep some cash or availability back for safety's sake, MAIN has $200 million to spend.
Today's announcement suggests MAIN has booked $17.5 million in new investments with a quarter of the year gone. That's a decent pace, but remember that at the time of the last earnings report, management announced that it had, "over $50 million of executed term sheets for new portfolio investments which are in the due diligence or documentation phase of the investment process."
That was a month ago. We don't know if the remainder is still to come or has fallen by the wayside. We certainly know from our own experience that closing new deals can often take a very long time, so we'll assume most of those term sheets will yet turn into assets.
We should also add that MAIN will be recieving the benefit of $70 million in investment assets held at its sister company's SBIC subsidiary, which MAIN acquired recently.
Second, and it's a related part of the jigsaw puzzle, we now have an idea what earnings MAIN will have to achieve to meet its $1.50 a year annual dividend. Now MAIN has raised new equity in January, and exchanged shares for the assets in its sister SBIC subsidiary.
Total shares outstanding have risen from 10.8 million to nearly 15 million. That means MAIN will have to earn $22.5 million a year to maintain its current divvy. If we annualize the IVQ 2009 Distributable Net Investment Income (MAIN's metric for measuring earnings) MAIN made $11.2 million, or almost exactly 50% of what the Company will need to achieve to "earn the dividend."
Does MAIN have enough "firepower" to eventually cause its earnings to catch up with its dividend liability? We've run the numbers again and we think so. However, it's going to take a while, and in the intervening time, conditions can change.
Take for example the interest rate MAIN earns on its loans. Remember the 13% the Company announced for its latest yield investments? That's 1.3% below the average yield at year end 2009. Either the spreads on new loans are tightening or MAIN is seeking out safer investments.
Then there's the Company policy of making equity investments in its portfolio companies. Those common stock investments may turn out to be great equity kickers in a few years, but the immediate result is no income from 10-20% of money invested.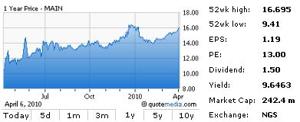 Click to enlarge
Finally, there's always bad debt to worry about, as is the case with any BDC. MAIN had to write off nearly $10 million in Realized Losses last quarter, and has already announced another $4 million in Realized Losses in the first quarter of 2010. That leaves 2 loans on non-accrual. Still, many loans left on their books at year end 2009 were being written down as being written up, so other problems could lurk beneath the surface.
With all that said, we're optimistic that Main Street will get to the promised land of covering its dividend with its earnings, but probably not well into 2011.
Disclosure: Author long MAIN