One of the big questions hanging over the future of Facebook (NASDAQ:FB) is the shift of the social network platform's teen users toward alternatives. While it is not unreasonable to conclude that this shift might indicate Facebook is losing its attraction for younger users, a more important statistic suggests Facebook might only have tapped into a small amount of its growth potential. That statistic relates to the platform's older demographic.
The Statistic Everyone Has Ignored
First, it is important to consider the statistics in context. Out of context, percentages can be misleading. According to a recent study, the total number of teens aged 13-17 using Facebook (defined as having an account) has fallen from 13.14 million at January 2011 to 9.80 million at January 2014, a decline of 25.3%. However, even before this decline, less than one in ten users fell into this demographic. Now the number is closer to one in twenty. The vast majority of users are aged 18 and above. The teen decline is just a drop in the ocean.
That out of the way, there is a more important statistic that most analysts have completely ignored. Between January 2011 and January 2014, the number of users aged 25-34 rose from 33.17M to 44.00M, a rise of 33%. In addition, the number of users aged 35-54 rose from 39.59M to 56.00M, an increase of 41%. Finally, the number of users aged 55+ rose from 15.51M to 28.00M, an increase of 80.4%. Overall, the number of users aged 25+ increased 154% and now comprises 71.7% of the total user base, up from 60.2% in 2011.
The Demographics Of Online Retail
According to a late 2012 study conducted by Forrester Research, the two US based age groups that spend the most online are generation Y and generation X, defined as ages 24-32 and 33-46 respectively. The chart below illustrates the figures: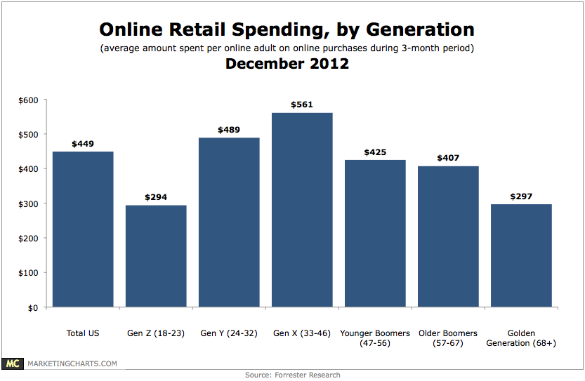 (Source: Forrester Research here)
Those aged 24+ account for more than 89% of the total average monthly spend by US online consumers. Moreover, baby boomers, the fastest growing demographic of Facebook's user base, account for more than one third of total online spend. Those aged 13-17, the demographic on which the majority of negative Facebook press currently focuses, do not even feature in the report. The reason? The vast majority are unable to shop online. According to a recent survey, just 6% of teens have credit cards, and only 7% of girls and 15% of boys say they prefer to shop online.
In short, the shift in the social media platform's user base favors Facebook's business model. The company generates 90% of its revenues through advertising. Advertisers spend money on promotion to generate sales. The most sales in terms dollar value, not just according to Forrester but a number of other sources, come from those aged 25+.
The Difference Between Facebook And MySpace
The key difference between the two platforms, and the reason that a shift of teen users does not matter as much to Facebook as it would have done MySpace back in its heyday, is the age distribution of social media acceptance. In 2005, just 5.5% of users aged 30-plus had a social media account. As of 2013, this figure has risen to 63%. The point being that Facebook's arrival coincides with the en-masse acceptance of social media. Approximately 45% of MySpace users were aged between 0-24. This left the platform highly exposed to youth trends. Just 29% of Facebook users are aged between 0-24. Age diversification greatly reduces the platform's exposure to the trend shift that proved the downfall of MySpace.
Some Potential Stumbling Blocks
Having said all this, Facebook is far from infallible. There are a number of factors that could hinder Facebook's revenue growth.
The first is the limited scope for additional revenue streams. As already mentioned, Facebook generates the vast majority of its revenues from online advertising. This leads many to drawing a comparison between Facebook and Google (NASDAQ:GOOG), and in turn, basing growth potential on this comparison. The difference between the two is the way they generate online advertising revenue. Google not only provides users with display ads and sponsored search results (comparative to Facebook's display and in-feed ads), but also through its advertising network. While Facebook is reportedly working on a similar concept, it is far from completion and will be limited in its scope, focusing only on mobile software applications. In short, Facebook is far too reliant on one revenue stream and has yet to announce any future diversification.
The second is the increased use among advertisers of social media marketing platforms. Rather than deal directly with Facebook, many advertisers now organize promotional campaigns through these platforms, one example being IZEA, Inc. IZEA operates in a subset of the social media advertising industry called social media sponsorship, whereby advertisers pay celebrities and other influential individuals to post promotional material via their social media channels. The two parties that derive financial benefit from these transactions are the content publishers and the platform operators - IZEA in this example. This practice is becoming more mainstream - one study reports more than 50% of advertisers used social media sponsorship during 2013 - and with its recent shift to native advertising, Facebook will likely soon be competing with content publishers for advertising real estate.
Conclusion
We are entering a time when age brackets no longer define internet usage or social media acceptance, and as a result, the comparisons between Facebook and past social media platforms are moot. The shifting preferences of teens towards alternative networks will have much less of a negative effect than the shift to older, more commercially active users, which will have a positive effect on the company's revenue potential.
Disclosure: I have no positions in any stocks mentioned, and no plans to initiate any positions within the next 72 hours. I wrote this article myself, and it expresses my own opinions. I am not receiving compensation for it. I have no business relationship with any company whose stock is mentioned in this article.