General Electric (NYSE:GE) has had a rough start this year with its stock dropping by 11% year to date. It is currently trading at $24.95 per share. In its 4th quarter earnings release, General Electric announced its earnings per share had reached $1.36 in fiscal year 2013, 6% higher than in 2012. It paid its shareholders $0.79 per share in dividends in 2013, which was 13% higher than in 2012. The company's recent dividend raise to $0.22 per quarter means shares in GE are now yielding 3.53% annually. This means General Electric's dividend yield is a lot higher than Honeywell's (NYSE:HON) and 3M's (NYSE:MMM).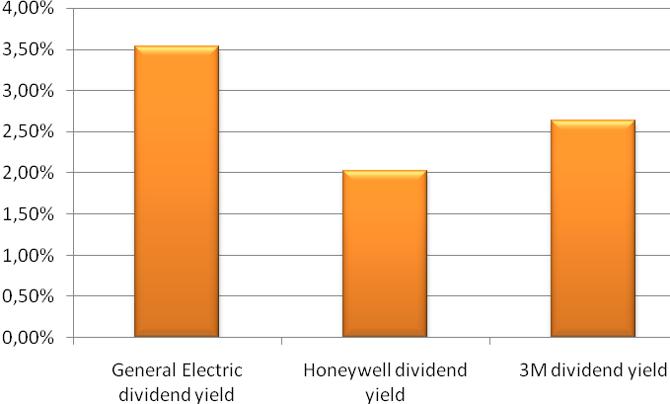 Click to enlarge
(Source: Google Finance)
Despite paying its shareholders a relatively high dividend, General Electric's payout ratio in the past 12 months was only 58.0%. Analysts expect General Electric's earnings per share to reach $1.70 in fiscal year 2014, which means that a quarterly dividend of $0.22 would keep the payout ratio at close to 50%. Furthermore, GE has shown its dedication to returning capital to shareholders by buying back $10.4 billion of its own stock. At the current price per share, General Electric is valued at only 14.7 times expected earnings for 2014, making it a lot cheaper than its competitors.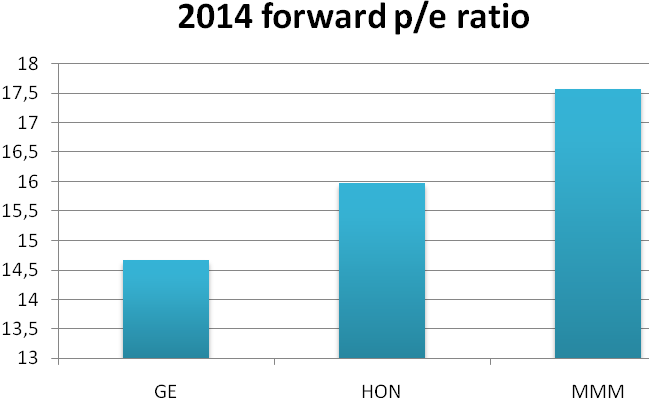 (Source: Yahoo Finance)
General Electric's five-year average price to earnings ratio is 16.1, while its 10-year average stands at 16.8. This means the forward p/e ratio for GE is slightly lower than it has been in recent years.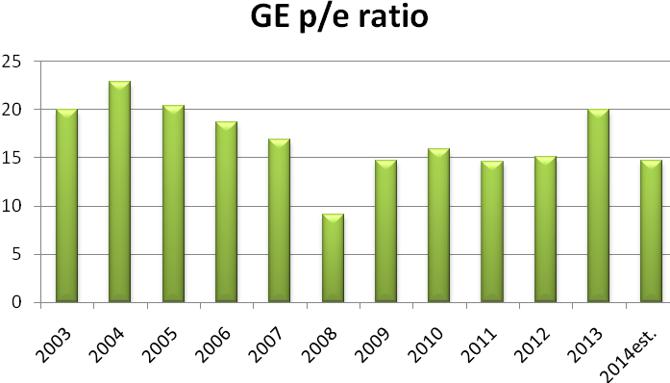 Click to enlarge
(Sources: Morningstar , Yahoo Finance)
General Electric saw some very impressive growth in its Oil & Gas and Aviation segments, both in terms of revenue and profits. Oil & Gas revenues were up by 11% compared to 2012, reaching $16.98 billion. Profits for the segment were up by 13%, to $2.18 billion. Aviation revenues increased by 10% to $21.91 billion, while profits were up by 16% to $4.35 billion. Revenues in General Electric's most profitable industrial sector, Power & Water,dropped by 13%. However, profits were down by only 8%. Profit for GE Capital was up by 12% despite a 3% drop in revenue.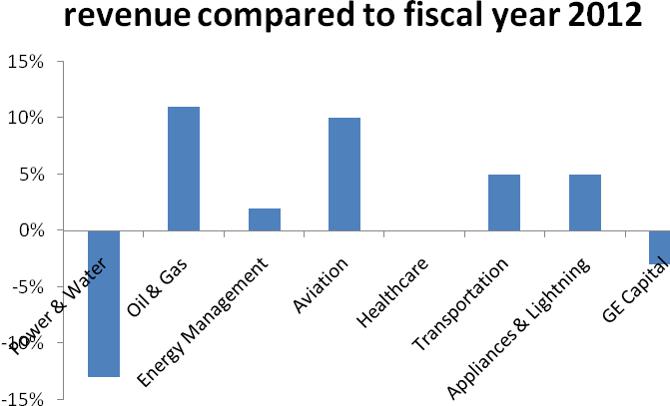 Click to enlarge
(Source: GE quarterly report Q4 2013)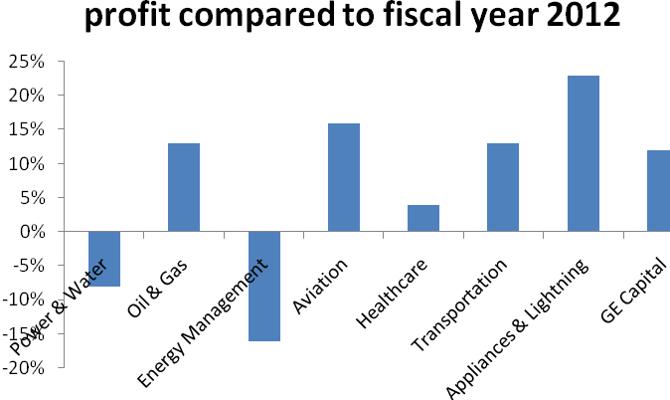 Click to enlarge
(Source: GE quarterly report Q4 2013)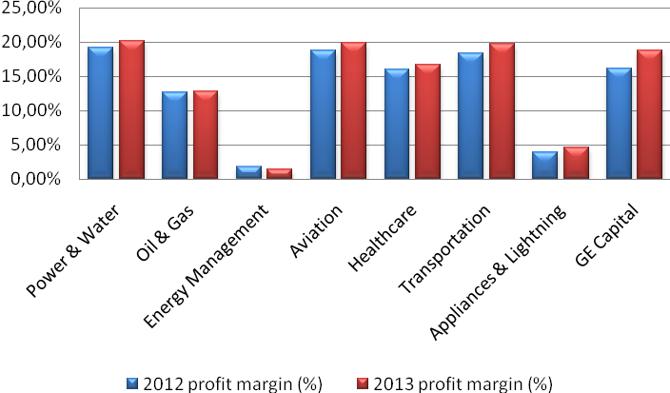 Click to enlarge
(Source: GE quarterly report Q4 2013)
In fiscal year 2013, General Electric increased its profit margin (profit divided by revenue) in all segments except Energy Management, which dropped slightly from 1.77% to 1.45%. It should be noted that the Energy Management segment is quite small, contributing only 5% to GE's total revenues last year, so a decrease in profit margin has little effect on the company's overall profit margins. An increasing profit margin is a sign the company is running more cost-efficient, something I always consider to be a very positive sign.
Conclusion:
It's quite rare to see a company like General Electric trading at a forward price to earnings ratio of less than 15. GE lost quite a bit of revenues and profits in its Power & Water segment, but was able to more than make up for it thanks to large growth in both its Oil & Gas and Aviation segments. The company showed investors its ability to cut costs and increase its profit margins in almost all segments. At current prices, GE is a lot cheaper than the 2 companies I have chosen to compare it to. General Electric's immense size means that by buying just one stock, investors can get exposure to several different segments. For me, the current yield of 3.53% is just too good to miss. I will be buying shares in GE.
Disclaimer: I am not a registered investment advisor and do not provide specific investment advice. The information contained herein is for informational purposes only. Nothing in this article should be taken as a solicitation to purchase or sell securities. Before buying or selling any stock you should do your own research and reach your own conclusion. It is up to investors to make the correct decision after necessary research. Investing includes risks, including loss of principal.
Disclosure: I am long GE. I wrote this article myself, and it expresses my own opinions. I am not receiving compensation for it (other than from Seeking Alpha). I have no business relationship with any company whose stock is mentioned in this article.