Last week was quite a brutal one for the markets. Many stocks saw their share price tumble, irrespective of their fundamentals. This decline has made some stocks attractively priced. One in particular would be General Electric (NYSE:GE). General Electric saw its share price plummet nearly 10% last week due to a nasty combination of both disappointing Q4 2013 results and the overall market decline. However, I believe the sell off is overdone and that General Electric is ready to bounce back.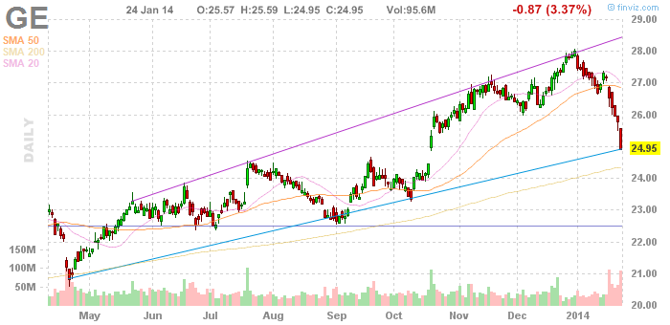 Q4 2013 results disappoint, but 2014 looks bright
It is surprising that General Electric sold off as a result of its Q4 2013 results. In general, the company met or beat estimates, with EPS coming in inline with estimates while revenues beat by $160M. Let us also not forget General Electric's massive order backlog. In Q4, the backlog increased by over $15B to $244B. The only disappointment I could find was less than expected margin improvements from the industrial segments. However, the decline may have just been plain and simple profit taking, with General Electric's stock up 15% in barely 3 months.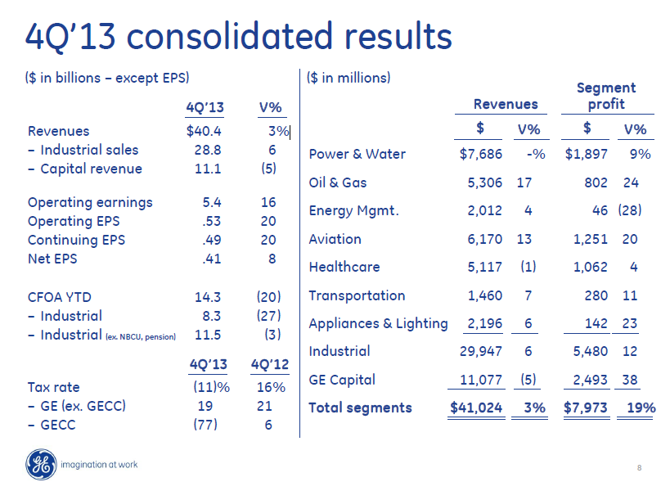 Source: GE's Q4 2013 slides
Nevertheless, 2014 is likely to be a strong year for General Electric. As I noted in a previous article, revenues are expected to increase up to 5% this year, with industrial segments sales growing by as much 4% to 7%.
2014 is also going to be the year where General Electric's shift towards becoming a pure-play industrial growth stock really kicks off. General Electric is also on track to exit North American retail finance as planned for sometime in 2014. Profits from GE Capital are expected to decline 10% to $7B, with the industrial segments likely to make up most of this shortfall. Drivers for growth this year will be the aviation, oil and gas, healthcare and appliance segments.
Overall, EPS for the company is expected to come in flat compared to 2013, though the industrial profits are likely to post double-digit growth. 60% of General Electric's profits should come from its industrial segment this year. By 2015, this figure should improve to about 70%.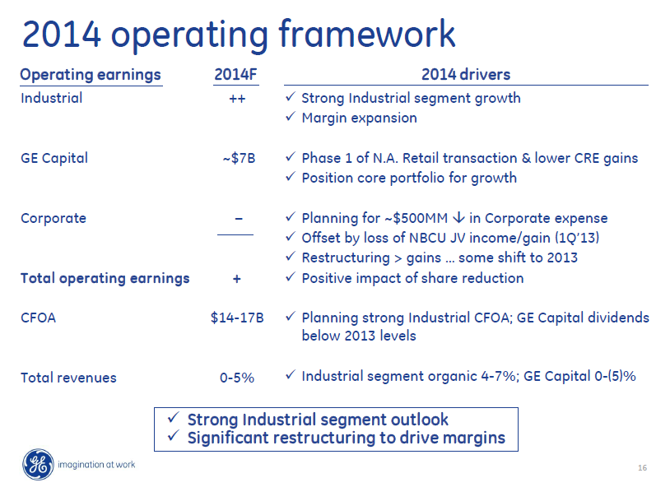 Source: GE's Q4 2013 slides
A 3.50% dividend yield with strong growth
General Electric is very focused on returning capital to its shareholders. Since lowering its dividend 66% as a result of the financial crisis, the company has basically doubled the payout in less than four years, from $0.10 to $0.22 per quarter. In addition, the recent sell off has made General Electric's dividend even more juicy. At current prices, General Electric yields slightly north of 3.50%, up from about 3.25% one week ago.
General Electric is a cash cow, with expected cash generation upwards of $90B of cash through 2016, with more than half being dedicated to capital returns. In 2013 alone, the company paid out $18B via dividends and share buybacks. This is very likely to grow in 2014. General Electric has previously noted that it plans to reduce its float to roughly 9.5B shares by 2016. At current prices, this would take about $8B per year in buybacks.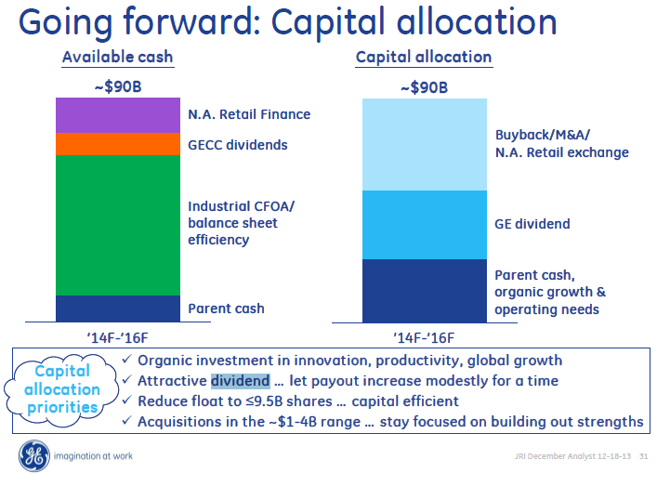 Source: GE's December Presentation
Conclusion
Some may argue that General Electric will post very modest EPS growth this year. However, this is part of the long-term plan to divest GE Capital, which should eventually reduce its exposure to finance and eventually increase the multiple for the shares.
General Electric's stock now seems to be very fairly priced. At about $25 per share, the stock trades at under a 14.00x forward 2015 multiple. In addition, its robust dividend yield and large share buyback program should reward its investors over time.
Disclaimer: The opinions in this article are for informational purposes only and should not be construed as a recommendation to buy or sell the stocks mentioned. Please do your own due diligence before making any investment decision.
Disclosure: I am long GE. I wrote this article myself, and it expresses my own opinions. I am not receiving compensation for it (other than from Seeking Alpha). I have no business relationship with any company whose stock is mentioned in this article.