Seadrill (NYSE:SDRL) is an unusual income play I have successfully traded in and out of over the last year or so. Thanks to a recent sell-off along with most offshore drillers over last month or two, I snapped up some shares again just before close on Tuesday. There are solid reasons for my renewed enthusiasm for the stock.
Technical Support:
After the over 20% pull back over the past 6-8 weeks, SDRL is getting very close to longer term technical support levels (See Chart).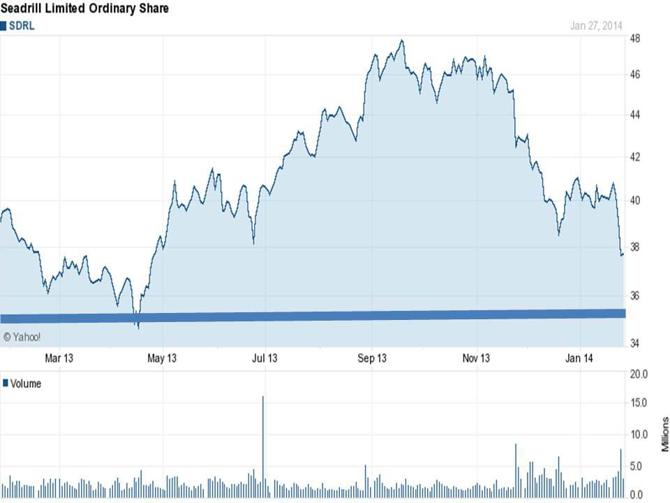 Dividend Yield:
Based on the normalized dividend annual payout schedule of 2013, the shares yield near ten percent (9.7%). Based on its last quarterly payment the dividend yield is 10.25%. Note: Seadrill pushed one dividend payment up a quarter at the end of 2012 to avoid the higher taxes of 2013.
Growth:
Revenues are tracking to just over 15% gains in FY2013. Analysts currently expect that growth to accelerate to a ~20% increase in FY2014. EPS looks set to post a better than 30% Y/Y over gain in FY2013 and the consensus currently for FY2014 is for another 25% gain.
Valuation:
SDRL sells for just over 10x forward earnings despite the company's growth prospects. This is a third under the overall market multiple of just over 15x forward earnings. The stock also sports a five-year projected PEG of less than 1 (.68), a rarity for such a high yielder. The 14 analysts that cover the stock have a $48.25 a share median price target on the stock, ~30% over the current stock price.
Summary:
Seadrill is offering value and income investors a solid entry point after declining recently by more than 20%. The shares yield ~10% which should put a floor under the stock here or at just under the current levels. The company has solid earnings and revenue growth prospects and the stock is substantially under analysts' consensus price target. It seems worth initiating a small position despite the worsening tenor around the offshore drilling space over the past month or two.
Disclosure: I am long SDRL. I wrote this article myself, and it expresses my own opinions. I am not receiving compensation for it (other than from Seeking Alpha). I have no business relationship with any company whose stock is mentioned in this article.