Monumental changes are taking place in the competitive storage industry, and changes are underway that could spell the end of the Hard Disk Drive (HDD) industry as we know it.
Solid State Devices made from NAND flash memory chips, continue to gain market share versus HDDs. According to iSuppli, Shipments of PC hard drives are forecasted to decline by eight percent in to just 436.9 million in 2013. SSD shipments, on the other hand, are expected to increase 122 percent during the same period, to 68.9 million units by the end of this year. Since Intel's new processors and Microsoft's Windows 8 have both failed to boost demand for PCs, shipments of 2.5-inch hard drives for notebooks have been affected.
According to IBM (NYSE:IBM) Table I shows the last 5 year history (2008 to 2012) of the growth of memory shipments for HDD and NAND. For this table, HDD units are drives and NAND units are 2 GB chips.
Table 1
Storage Memory Growth (2008--2012)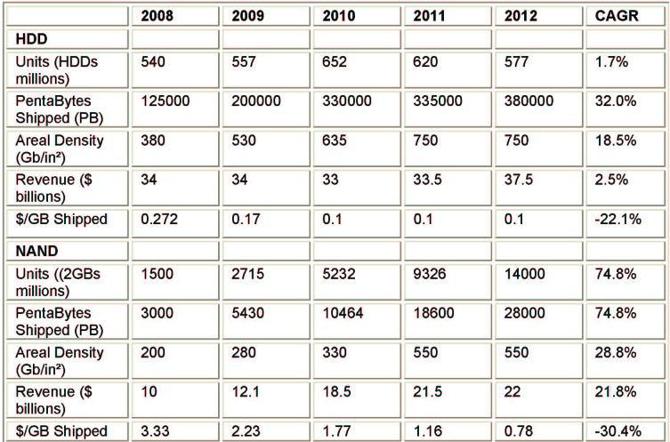 Source: IBM
There are several issues apparent in this table:
1. Units of HDD drives peaked in 2010 and has been dropping, so that the compound annual growth rate (OTCPK:CAGR) between 2008 and 2012 is 1.7%
2. Unit shipments of NAND devices continue to skyrocket, exhibiting a CAGR of 74.8% I this same time period.
3. Revenue growth for HDDs has been flat, and the uptick in 2012 was attributed to a shortage of HDDs due to a flood in Thailand in 2012 that shut down factories.
4. Revenue growth for SSDs has exhibited a favorable CAGR of 21.8%. Figure 1 illustrates revenue growths
5. Revenue per GB as measured in $/GB of data has flattened for HDDs, with a CAGR of -22.1% between 2008 and 2012.
6. Revenue per GB of data has dropped precipitously for SDD, exhibiting a CAGR of -30.4%. Figure 2 illustrates revenue per GB growth.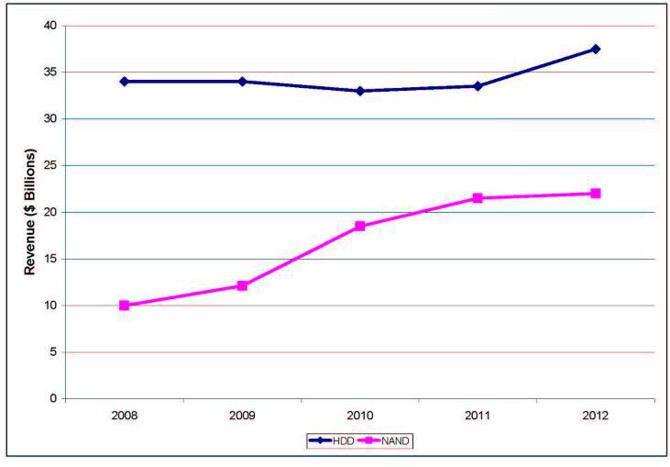 Figure 1 - Revenues for HDD and NAND 2008-2012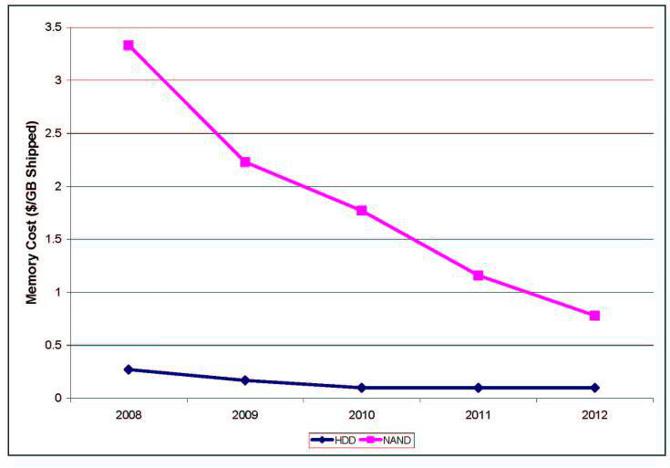 Figure 2 - Change in Memory Cost for HDD and NAND 2008-2012
The drop in price of SSDs is making them more cost competitive, resulting in increased consumption for consumer devices as shown in Figure 3, and the enterprise such as data storage systems, as shown in Figure 4.
Note in Figure 3 that while shipments of SSDs is forecast to increase from less than 10 million units in 2010 to more than 230 million units in 2015, the average capacity of an SSD device will also be increasing, from and average capacity of 86 GB in 2010 to 235 GB in 2016.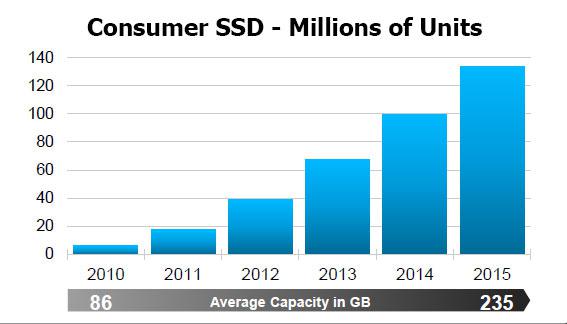 Figure 3 - Growth of SSD for Consumer Applications
Source: SanDisk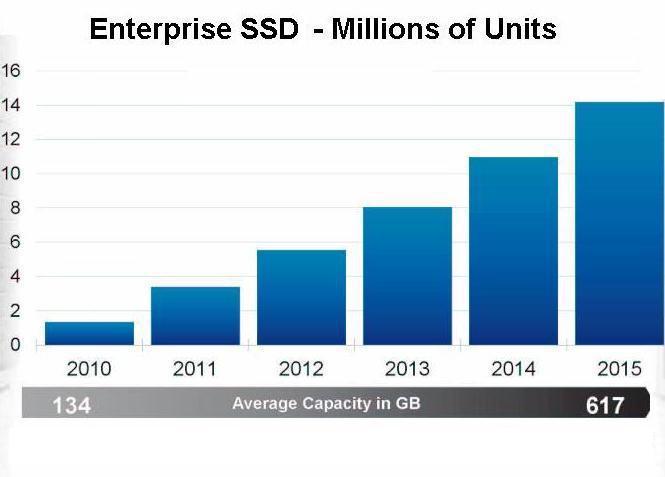 Figure 4 - Growth of SSD for Enterprise Applications
Source: SanDisk
For Figure 4 we note the same trend - an increase in average capacity from 134 GB in 2010 to 617 GB in 2015. Leaders in SSDs for the Enterprise are Intel (NASDAQ:INTC), SanDisk (SNDK), Fusion-io (NYSE:FIO), and Google (NASDAQ:GOOG)
HYBRID DRIVES
Solid State Hybrid Drive (SSHD) Technology, first introduced by Seagate a few years earlier, began being offered by all HDD suppliers in 2012. These drives like those from Avere Systems, Nimble (NYSE:NMBL), Tegile and most of the major storage vendors, can deliver all-flash performance with hard-disk economics, combining HDD and NAND flash memory storage technologies to provide a balance of improved performance and high-capacity storage availability.
Two architectures exist for hybrid HDDs:
Dual Drive solution
· HDD + SSD with chip or Southbridge running software for caching
Integrated Hybrid
· HDD + Flash with HDD SOC running software for caching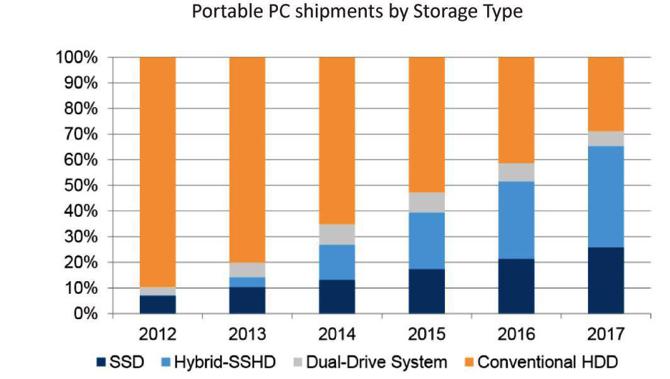 ---
Figure 5 - Forecast of SSDs HDDs and Hybrid SSDs
Source: IDC
In April 2013, Western Digital (NYSE:WD) introduced 2.5-inch WD Black SSHD products, including a 5 mm-high SSHD with 500 GB of storage capacity and NAND flash memory size options of 8 GB, 16 GB and 24 GB, as shown in Figure 6. The thin size makes it ideal for portable computers. Seagate Technology (NASDAQ:STX) makes a similar device.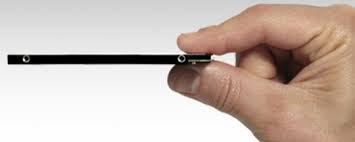 Figure 6 -Western Digital's Thin Hybrid SSD
Source Western Digital
Dual-drive hybrid systems are combining the usage of separate SSD and HDD devices installed in the same computer. Overall performance optimizations are managed either by the computer user (by manually placing more frequently accessed data on an SSD), or by the computer's operating system software (by combining SSDs and HDDs into hybrid volumes, transparently to the end-users).
SSHD refers to products that incorporate NAND flash memory into a hard drive, resulting in a single, integrated device. SSHD is a more precise term than the more general term hybrid drive, which has previously been used to describe SSHD devices and non-integrated combinations of solid-state drives (NYSE:SSD) and hard disk drives (HDD).
The fundamental design principle behind SSHDs is to identify data elements that are most directly associated with performance (frequently accessed data, boot data, etc.) and store these data elements in the NAND flash memory. This has been shown to be effective in delivering significantly improved performance over the standard HDD.
3D NAND
The NAND market is lead by Samsung Electronics (OTC:SSNLF) with a 38% share in 2012, followed by Toshiba with a 28% share, Micron (NASDAQ:MU) with a 14% share, and SK Hynix with a 12% share, based on global revenues of $19 billion. Approximately 12% of NAND chips are used in SSDs. The largest percentages are used directly as chips in mobile applications such as smartphones and tablets.
The most interesting dynamic in NAND is the upcoming transition to 3D NAND from planar NAND, given that planar technology will no longer scale with Moore's Law. Samsung's new V-NAND based 960GB SSD, introduced in August 2013, offers more than 20 per cent increase in sequential and random write speeds and 40 per cent improvement in power consumption, compared to the previous SM843T SSD. Toshiba and Micron Technology are expected to be in early-stage production during 2014-2015,
Samsung's proprietary 3D V-NAND technology achieves manufacturing productivity improvements over twice that of 20nm-lindwidths planar 2D NAND flash, by using cylinder-shaped 3D Charge Trap Flash cell structures and vertical interconnect process technology to link the 24 layers comprising the 3D cell array. The structure is shown in Figure 7.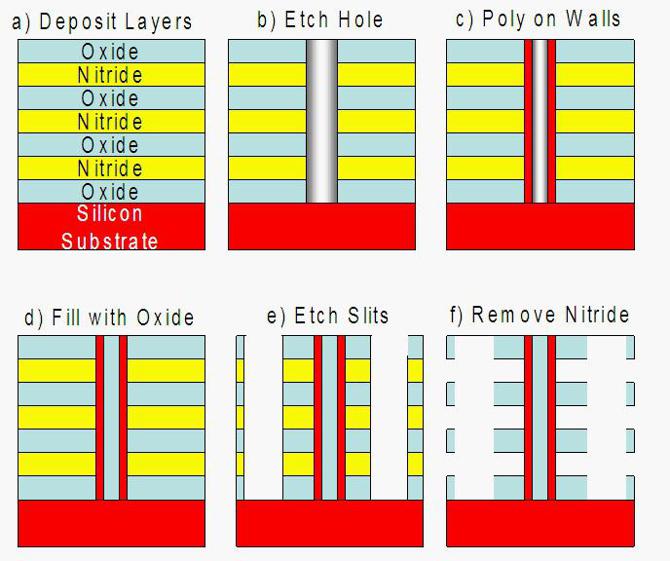 Figure 7 - Process Steps for Samsung's 3D NAND
Source: Samsung Electronics
Applying 3D V-NAND overcomes the formidable hurdle of scaling beyond the 10-nanometer (NM) linewidth. As shown in Figure 8, at the node beyond 19nm, cost of patterning the device would be excessive, requiring expensive EUV lithography. Instead, with 3D, a less expensive 193nm DUV lithography tool and a self-aligned double patterning process can be used.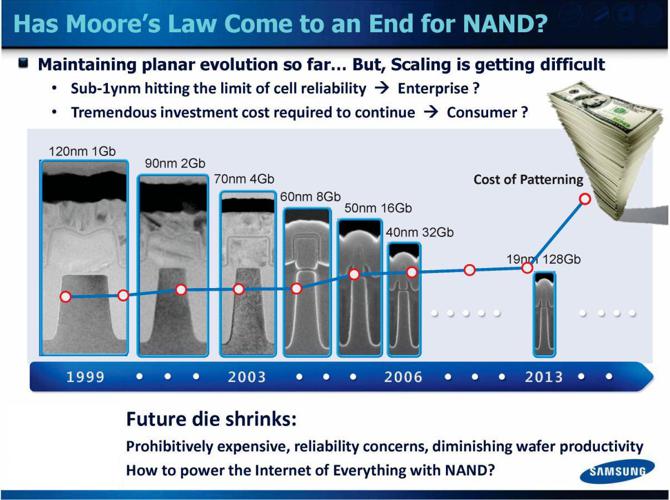 So, will HDDs soon be dead? Clearly the market has consolidated from more than a hundred manufacturers in the 1980s to three. But the saving grace may come from demand. There is just too much demand for storage compared to the capacity of SSDs. While large volumes of flash memory are made and sold, SSDs make up only 12 percent.
As shown in Table 2, for NAND to replace all HDDS would require 247 megafabs at a cost of $864 billion dollars. Just replacing NAND for Enterprise HDDs would require 33 megafabs at a cost of $115 billion. In other words, it won't be done, giving HDDs a new lease on life.

Disclosure: I have no positions in any stocks mentioned, and no plans to initiate any positions within the next 72 hours. I wrote this article myself, and it expresses my own opinions. I am not receiving compensation for it (other than from Seeking Alpha). I have no business relationship with any company whose stock is mentioned in this article.