By Carla Fried
The news that IBM's (IBM) revenue dropped 5% in 2013 was greeted with a not surprising sell-off that at one point pushed the stock down more than 4%.
But if Warren Buffett is to be taken at his word, he's likely not gnashing his teeth over this latest bit of bad news from Big Blue. Berkshire Hathaway (BRK.B) invested $11 billion in IBM beginning in 2011; the stock is Berkshire's third largest position in the concentrated $92 billion portfolio, behind Wells Fargo (WFC) and Coca-Cola (KO).
To be clear, since Buffett first began acquiring IBM shares in early 2011 the stock has been the very definition of laggard.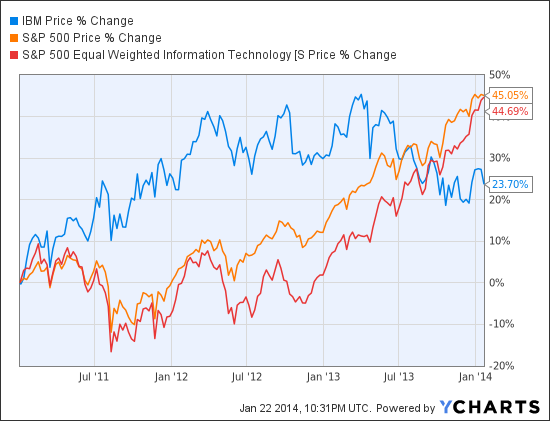 But as ugly as that looks, it is likely being filed under "wish fulfillment" in Omaha. In Berkshire's 2011 shareholder letter Buffett wrote: "We should wish for IBM's stock price to languish throughout the [next] five years." So far, so good (bad?).
As explained in the letter, Buffett is focused on IBM's aggressive stock buyback program; the lower the share price, the more shares that can be bought.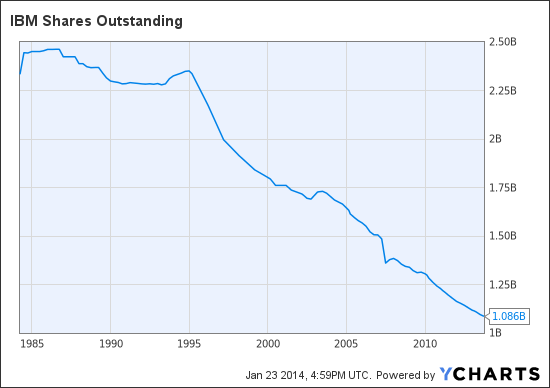 IBM Shares Outstanding data by YCharts
From a long-term investor's perspective, those share buybacks push IBM's shareholder yield to near 5%; though it should be noted that's half of what it was when Buffett first invested in IBM.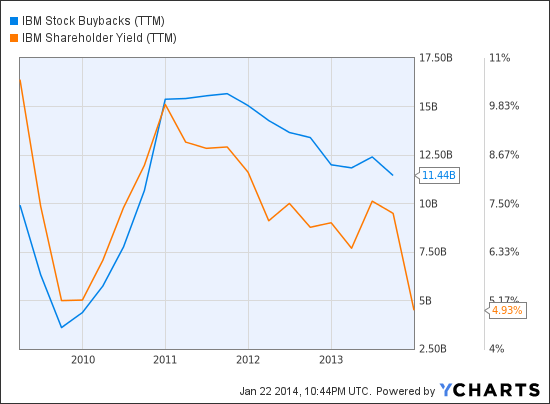 IBM Stock Buybacks (TTM) data by YCharts
That said, a growth stock IBM clearly is not. You'd be hard pressed to find any in Berkshire's massive investment portfolio. And if you've got a Wall Street Journal subscription, the recent article laying out shorter Jim Chanos' problem with companies leaning on share buybacks rather than investing more in growth is well worth a read -- IBM is featured.
But from Berkshire's perspective, IBM may or may not turn out to be a good investment as a stock -- remember Buffett is playing the long game here -- but right now it's already delivering as a better alternative to cash and bonds. Buffett invested $11 billion of cash in IBM. That's $11 billion that's not adding to the bloat of Berkshire's cash, which as of the September filing was $22 billion above the $20 billion Buffett says he likes to keep on the sidelines for operational liquidity.
Here's another way to look at IBM's performance of late, comparing it to the iShares Short-Term Treasury ETF (SHV) and the iShares Barclays Core Aggregate bond fund (AGG) which is the proxy for the taxable bond market.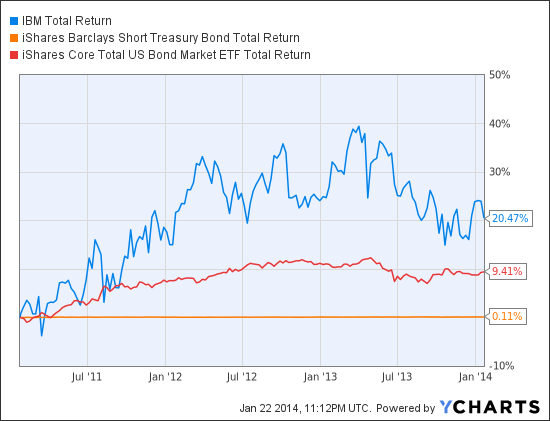 IBM Total Return Price data by YCharts
IBM CEO Virginia Rometty clearly has a challenge ahead in mitigating the drag of the hardware division and getting software and services growing at a faster pace. Without more organic growth, cash flow may eventually dictate a slowdown in repurchases. But that's likely not a near term issue as there's $13 billion in free cash flow over the past 12 months and another $11 billion in cash and short-term investments. If you're intrigued, read the 10-K and unleash some financial advisor tools.
As a growth stock, IBM is a dog. As a wide moat value stock with the potential to generate shareholder returns through repurchases and a dividend, it is worth consideration. And for what it's worth, IBM's PE ratio right now is less than when Buffett built his position.
Disclosure: None