By David Russell
Option activity soared in regional banks such as Regions Financial (NYSE:RF) and KeyCorp (NYSE:KEY) yesterday as traders gingerly bought into rallies.
Some 79,428 contracts traded in RF, while KEY saw volume of 20,069. The totals represented a nine-fold increase over average levels in recent weeks.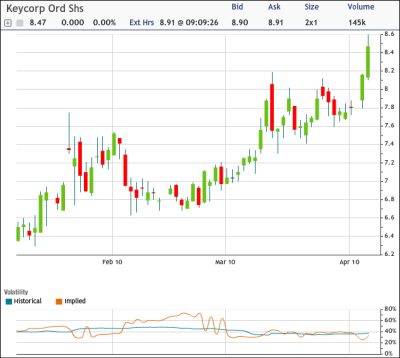 Traders bought calls, puts, and shares in both names, indicating that they want to be on board in case the shares rip higher but also fear that they may crash back to the earth. Buying calls, for instance, provides a way to profit from a rally while limiting the amount of capital at risk. And buying puts alongside stock insures against declines.
RF's May 9 calls traded 11,608 times against open interest of 3,146 contracts. Institution-sized purchases priced for $0.26 to $0.50. Money also flowed into the April 9 calls and the May 8 puts. RF rose 4.40 percent to $8.55 and is up 25 percent in the last month amid bullish options activity.
In KEY, investors bought the May 8 puts for $0.35 to $0.40 and the June 9 calls for $0.40. The shares rose 3.8 percent to $8.47.
Other regional lenders such as Puerto Rico-based Popular (NASDAQ:BPOP), Fifth Third (NASDAQ:FITB), U.S. Bancorp (NYSE:USB) and Huntington Bancshares (NASDAQ:HBAN) also received bullish options trades in the session.
The strength follows a pattern recently where regional banks have outperformed megabanks and the broader financial index. For instance, the SPDR KBW Regional Banking (NYSEARCA:KRE) exchange-traded fund is up 31 percent in the last six months, more than triple the return of the broader Financial Select SPDR (NYSEARCA:XLF).
The sector seems to be coming into favor as many regional banks--including BPOP, KEY, and RF - are down by more than two-thirds from their pre-crisis levels. Investors now seem to be fishing in the sector, betting on the opportunity for major gains following improvements in the credit market and broader economy.

Disclosure: No positions