Share price of International Business Machines (NYSE:IBM) has experienced significant weakness over the past 12 months by losing almost 14%, compared to a positive 20% return for S&P 500 Index. The awful price performance is largely attributed to market's fear that the company is losing its ground to public cloud businesses and will likely see its growth profile continue to deteriorate. Despite the intense negative sentiment, I am of the view that the current price level should warrant a buy consideration based on the following reasons:
Valuations have become cheap and likely priced in many negatives…
IBM's forward P/E multiple of 9.9x now trades at a steep discount of 36% relative to the multiple of S&P 500 Index, which is at 15.4x (see chart below). I believe this market discount to be exaggerated given that 1) the discount expanded significantly in the past 12 months from just 13% in a year ago to the current level and averaged at 25% in the period; 2) despite the recent weak performance, market continue to expect IBM can drive a solid long-term earnings growth by 9.8% (i.e. consensus estimate), which remains above the average estimate of 8.5% for S&P 500 companies; 3) the stock offers a dividend yield of 2.1%, slightly above the S&P 500 average of 1.9%, and the dividend per share has been growing at an average annual rate of 15% since 2008; 4) management is also committed to return capital to shareholders through a sizable buyback program (the company repurchased $14B value of stocks in 2013), which is substantially above market average; and 5) in spite of the increasing competitions, IBM remains a market leader in server and software services market.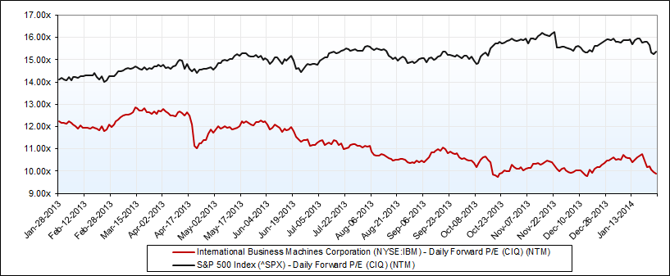 Further, the stock's EV/EBITDA multiple of 9.1x also trades at a 9% discount relative to the level of S&P 500 Index at 10.0x. It is noted that the average EBITDA multiple gap was a 5% premium in the past 3 years (see chart below).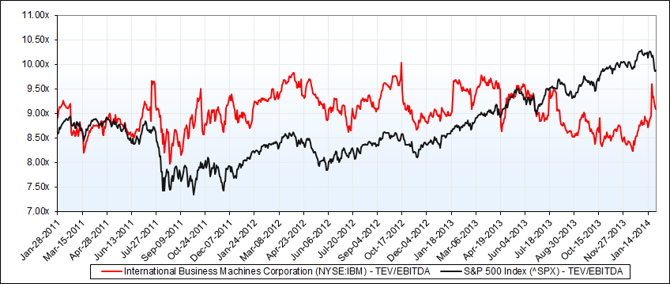 Market sentiment is really weak for the stock. Of the total 29 analyst ratings, there are 8 buys, 19 holds, and 2 sells. Their consensus long-term earnings estimate has gone down markedly from 11.3% in 6 months ago to 9.8% at present (see chart below).

Given IBM's deeply discounted valuation relative to the market and that many of the stock's key metrics (as mentioned above) remain notably above par, I believe the current share price has already reflected a majority of the near-term negatives and should be trading within an overbought range.
There remain a few upside catalysts…
I believe market has not given any credit to the following positive developments in the company and the share price may recover as they materialize over time:
In summary, IBM's recent and near-term weakness appears to be mostly reflected by the stock's discounted valuations. Owing to the positive developments that I just mentioned, it is believed that a buy rating is warranted at the current price level.
All charts are created by the author except for the consensus estimate tables, which are sourced from S&P Capital IQ, and all financial data used in the article and the charts is sourced from S&P Capital IQ unless otherwise specified.
Disclosure: I am long IBM. I wrote this article myself, and it expresses my own opinions. I am not receiving compensation for it (other than from Seeking Alpha). I have no business relationship with any company whose stock is mentioned in this article.