This is a series of articles that will attempt to find the 'best in class' BDCs to include in my updated "Total Return Portfolio" for 2014. Please read "Part 1" for complete description of the portfolio but basically it is for investors that want dependable regular dividends and the potential for special dividends as well as long-term capital appreciation from increased stock values. The other five portfolios that I cover are: General, Risk Averse, High-Yield, Value, and Underdog. This article will cover the potential for net asset value ("NAV") per share growth.
Historical NAV Per Share Growth
Many BDCs are price based on a multiple of NAV per share which is why it is important to consider growth potential when looking at projected total returns. Most BDCs are Regulated Investment Companies ("RICs") designed to avoid double taxation, using the "conduit theory," where capital gains, dividends and interest are passed onto shareholders; they avoid taxation at the corporate level, but are required to distribute at least 90% of interest, dividends, and gains earned on investments. RICs are also required to distribute 98% of net investment income to avoid paying a 4% excise tax. These mandatory distributions make it difficult to grow the value per share because they are not reinvesting in the company. American Capital (NASDAQ:ACAS) is not an RIC and does not make distributions to shareholders so it has much higher amounts of NAV per share growth.
However there are other ways that BDCs can create higher values to shareholders such as portfolio appreciation, large onetime income or gains from equity investments, and issuing shares at a premium. The table below shows the cumulative NAV per share growth for each BDC grouped into longer-term consistent growth, recent growth, and the underperformers. Many of the underperformers are the higher yielding BDC due to paying higher distributions to shareholders such as BlackRock Kelso Capital (NASDAQ:BKCC), Full Circle Capital (FULL), MCG Capital (NASDAQ:MCGC), Prospect Capital (NASDAQ:PSEC), KCAP Financial (NASDAQ:KCAP), Fifth Street Finance (NYSE:FSC) and Medley Capital (NYSE:MCC).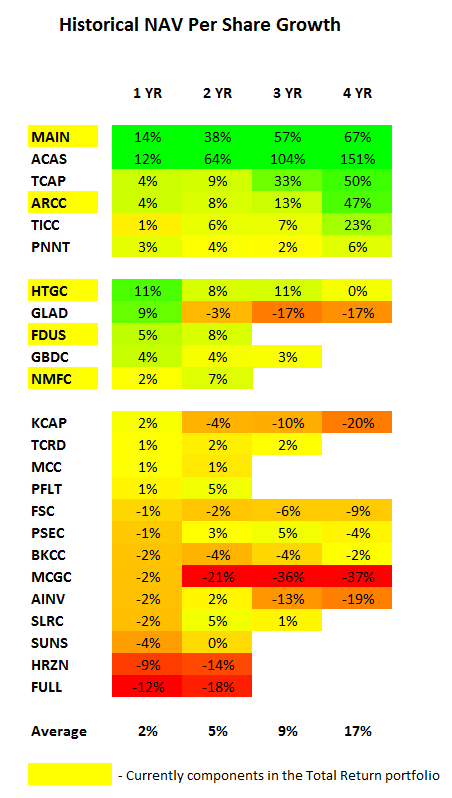 Underappreciated Portfolios
The tables below show the fair value of each portfolio as a percentage of cost. During the financial crisis ACAS took large hits to its NAV per share that slowly started to appreciate and is responsible for much of the NAV growth over the last few years (as well as its share buybacks). However the portfolio is now 96% of original cost which is most likely why the recent NAV growth has slowed. Gladstone Capital (NASDAQ:GLAD) is a good recent example of how NAV appreciation from an undervalued portfolio can benefit investors with a 14% growth last quarter. BDCs such as MCGC have underappreciated portfolios that do not seem to improve and might imply that there is a problem with underwriting or origination standards. I would steer clear of BDCs with declining fair values as a percentage of cost. TCP Capital (NASDAQ:TCPC) has legacy investments that were combined into the portfolio upon conversion to a BDC with continued strength in origination standards for quality investments, so I see upside potential in the current portfolio. Main Street Capital (NYSE:MAIN) has a high fair value but it continues to rise so I would say it has excellent origination standards.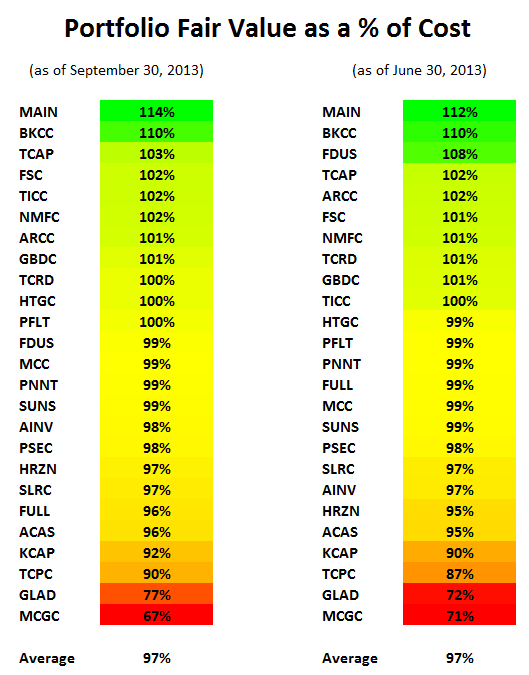 Equity Investments & Potential Equity Offerings
Much of the appreciation in NAV comes from having equity participation in the portfolio companies. Fidus Investment (NASDAQ:FDUS) is starting to realize gains from its equity investments in approximately 88% its portfolio companies, with an average fully diluted equity ownership of almost 9%. These gains can be distributed as special dividends or invested in other income producing assets for a higher NAV per share and income for dividend growth. I believe the combination of high amounts of senior secured debt along with equity participation is the perfect blend for a BDC because it will most likely be a much safer investment with higher amounts of upside. MAIN is one of these BDCs as discussed in "Main Street Capital: The Best BDC?" as well as a few others shown in the following table.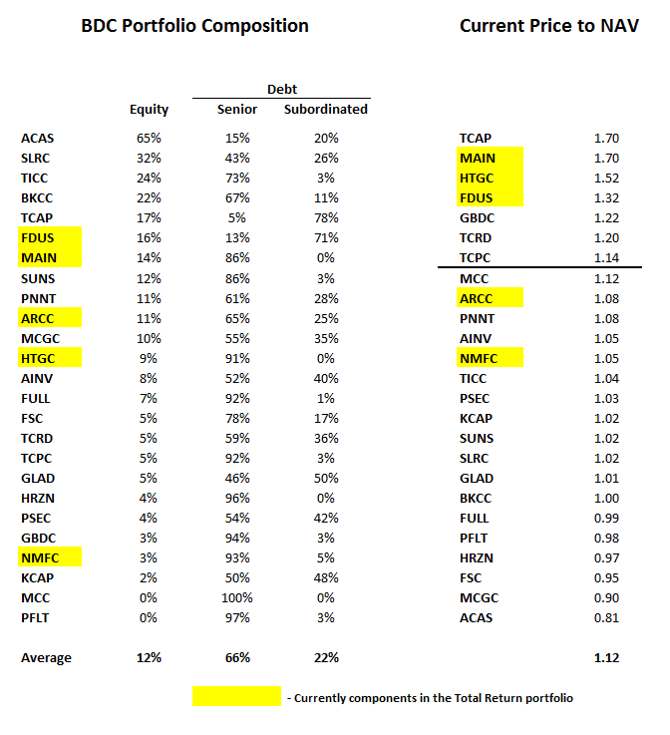 BDCs can increase NAV through equity offerings at a premium such as Ares Capital (NASDAQ:ARCC) and TCPC have done recently. Currently the average NAV multiple is 1.12 as shown in the previous table.
Which BDCs have the highest NAV growth potential?
After taking into account historical NAV per share growth, the amount of equity in each portfolio and the ability to raise capital at premium I have ranked each BDC by the likelihood of NAV growth potential as follows: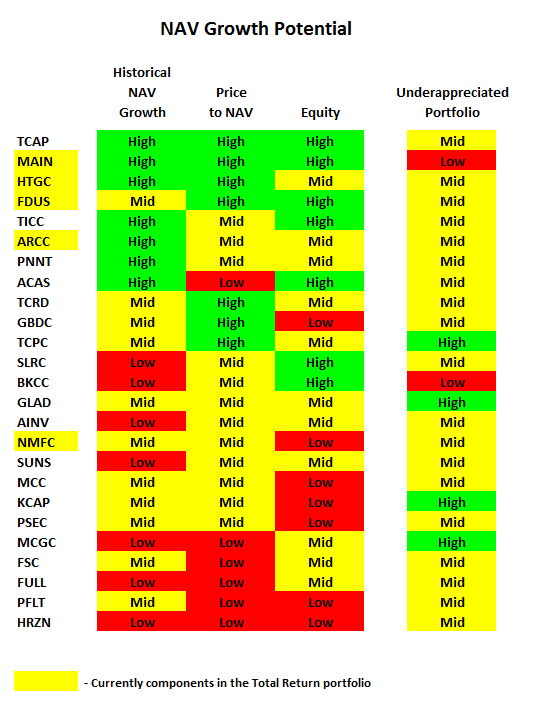 Using this analysis I would not consider many of the higher yield BDCs such as MCGC, PSEC, KCAP, FSC and MCC, but I will be considering Triangle Capital (NYSE:TCAP) and TICC Capital (NASDAQ:TICC). New Mountain Finance (NYSE:NMFC) is the lowest ranked of the current total return portfolio but there are many other considerations as well.
The rest of this series will continue to look at historical results and projected performance of each BDC to uncover the best BDCs for this portfolio. The remaining key criteria I will be analyzing are:
Regular dividend yield
Special dividend potential
Relative valuations
Risk to reward ratio
I will try to cover each of these areas using available public information as well as my own analysis and I will most likely be investing in all of these BDCs personally. Investors should only use this information as a starting point for due diligence. See the following for more information:
Disclosure: I am long MAIN, TCPC, ARCC, FDUS, TCRD, PSEC, NMFC. I wrote this article myself, and it expresses my own opinions. I am not receiving compensation for it (other than from Seeking Alpha). I have no business relationship with any company whose stock is mentioned in this article.