In several posts, I have noted that the consolidation in 2013 for homebuilder stocks could become a springboard for a fresh rally in 2014. It seems the homebuilder breakout may have begun early with D.R. Horton (NYSE:DHI) jumping the fence first.
On January 28, 2014, DHI reported strong financial results for its fiscal first quarter. Most importantly, DHI was extremely bullish about the coming spring selling season which appears to have started earlier than usual. Here are some representative quotes from the conference call (all quotes in this piece are sourced from Seeking Alpha transcripts of the conference call):
Housing market conditions continue to improve across most of our operating markets and we are optimistic about the upcoming spring selling season. We are prepared for spring with attractive communities in great locations and a strong supply of finished lots and homes in inventory to capture the expected increase in demand.

Our weekly sales pace accelerated in January as compared to the first quarter, which could be an early sign of strong demand to come in the spring…

…We are ready for the spring selling season with a strong supply of homes available to close by March

…January sales are accelerating into the spring and we have a supply of spec homes available to meet that demand. We look forward to a very strong spring selling season

…based upon our sales in January and especially this last week, we feel very good about the strong spring selling season and our ability to continue to maintain our pricing stability and raise prices.
(I used a strong quote from DHI in my review of what homebuilders said to close out 2013.)
The stock responded instantly to the freshly bullish tone…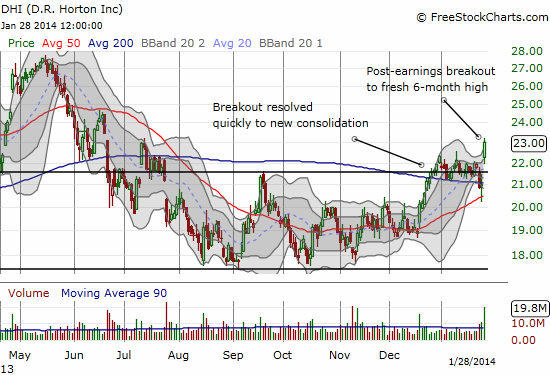 D.R. Horton breaks out to fresh 6-month highs after reporting strong earnings with bullish guidance
Source: FreeStockCharts.com
Almost all of DHI's financial metrics turned in a similarly strong showing. For example, DHI reported a year-over-year increase in gross margins on home sales revenue from 18.8% to 22.3%. More than half of the improvement came from "…improved market conditions resulting in reduced incentives and higher selling prices in excess of cost increases." This strong performance produced DHI's best Q1 for profits since 2006. With lots purchased at cheap prices (5 years total supply - 2.5 years supply of finished lots), a strong pricing environment, limited inventories in the general market, solid demand in DHI's markets, and limited financing availability for small and medium-sized builders, DHI will maintain strong margin levels.
The quality of buyers remains strong with an average FICO score of 719. First-time homebuyers dropped from 50% to 41% of the mix because of a change in he type of home DHI sold. The company reassured analysts on the call that its focus remains on first-time buyers and first-time move-ups.
Buyers have adjusted to higher rates. While DHI expects rates to increase over the course of the year, it does not expect much of an impact, especially for the spring selling season. The company's research demonstrates that employment has the strongest correlation to housing demand. So, if rates are increasing in the context of an improving economy, home sales should be fine.
New mortgage underwriting guidelines are acting as a speedbump as they slow down the buying process. Additionally, DHI does expect more inventory to come into markets with a lot of investor activity - like Las Vegas and Phoenix - as plateauing prices encourage investors to start unloading some of their homes.
DHI remains a relatively cheap homebuilder at price-to-sales of 1.0, price-to-book of 1.7, and a forward P/E of 11.9. DHI has plenty of skeptics though with short interest a large 17.9% of float. Shares short have soared 21% since the end of October as these skeptics very likely anticipated a weak spring selling season. I expect a large portion, if not all, of that recent surge will now roll back in the face of these strong data and results. Even if they do not, DHI should be one of the strong performers for this year, even if it is just to recover 2013′s high 20% above current levels.
Be careful out there!
Disclosure: I have no positions in any stocks mentioned, but may initiate a long position in DHI over the next 72 hours. I wrote this article myself, and it expresses my own opinions. I am not receiving compensation for it (other than from Seeking Alpha). I have no business relationship with any company whose stock is mentioned in this article.