My faith in Alcatel-Lucent (ALU) is not solely because of its long-term China LTE 4G benefits. I also am betting that its wholly-owned subsidiary, Nuage Networks, will help the company get out of its current rut. Alcatel recently won new contracts this year in North America, but very few are still buying ALU's projected future success.
ALU's 2014 YTD performance is -8.85% and I don't see the stock breaching $5 soon. I hope that Nuage Networks' new Software Defined Networking (SDN) deal with UPMC can convince skeptics that Alcatel-Lucent's future doesn't rely exclusively on cyclical 4G and ultra-broadband infrastructure contracts. SDN is a new growth industry where Alcatel can generate new sales to help reverse its losing run over the last five quarters.
Figures in Euro million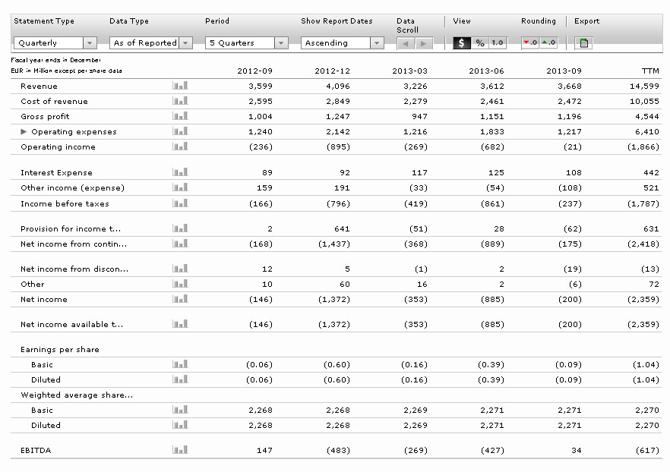 Click to enlarge
I am not losing hope that Alcatel will repeat its wonderful 2013 run again this year. ALU outperformed Nokia (NYSE:NOK), Ericsson (NASDAQ:ERIC), and Cisco (NASDAQ:CSCO) in 2013, I am betting for an encore. After Michel Combes became CEO on April 1, 2013, Nuage Networks was spun out of Alcatel just a day later. These two events were good omens that foresaw ALU deliver 231% YTD increase last year.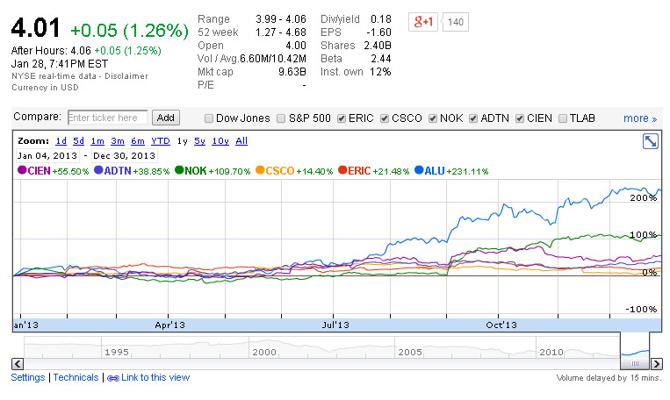 Click to enlarge
The Significance of Nuage
Nuage Networks was a secret start-up funded by Alcatel-Lucent. It is an off-shoot of start-up router-maker TiMetra, which Alcatel bought in 2003. TiMetra is acknowledged as the engine which is driving Alcatel's Shift Plan. TiMetra, since its acquisition more than 10 years ago, has also helped Alcatel-Lucent become the third largest global supplier of routers and switches.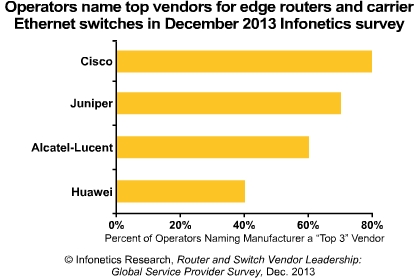 TiMetra is part of the company's Core IP networking division and Alcatel still derives more than 40% of its revenue and operating income from sales and servicing of IP routers and switches. However, the rise of SDN is an existential threat to hardware IP vendors like Cisco and Alcatel.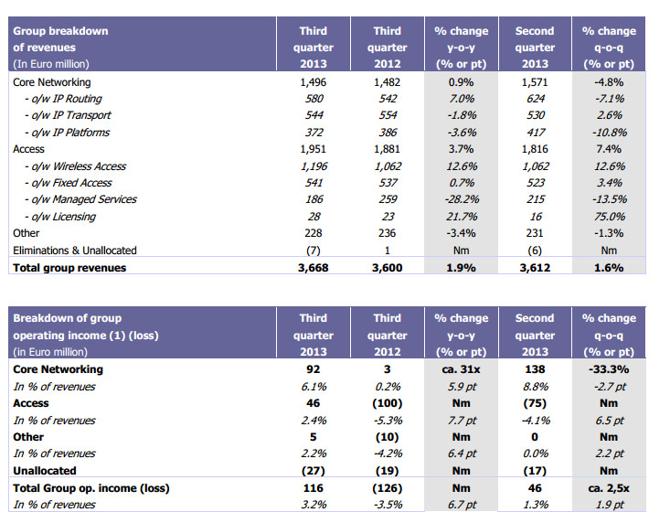 Click to enlarge
Nuage is Alcatel's ticket to get on the money train that SDN promises to become. Nuage's portfolio of products also means TiMetra can still keep on selling some of its networking hardware to the SDN market. Infonetics Research is predicting that the market for switches and controllers for SDN use will reach $3.1 billion by 2017.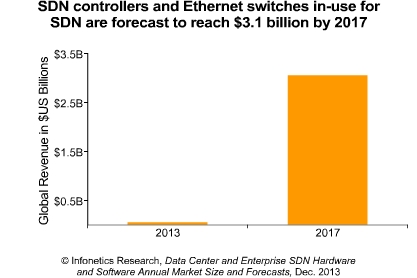 The total SDN market is predicted to grow as high as $35 billion by 2018. Nuage Networks is therefore a key growth contributor for Alcatel-Lucent. Here's a great infographic from SDNCentral which illustrates just how big the SDN pie is.

Click to enlarge
The three sectors that are driving SDN's growth are mobility, cloud computing, and Big Data. Alcatel-Lucent again benefits from those three growth drivers because it is also a leading provider of 4G and ultra-broadband fixed line solutions.
The synergy is plain to see - Nuage Networks completes the company's All-in-One hardware/software package. The SDN deal with UPMC seems to be the first commercial deployment of Nuage's products. It's a long-term contract which should put Alcatel on the radar of data center companies looking for cost-effective SDN deployment.
Since Cisco is out of favor in China and other Emerging Markets, Alcatel-Lucent can exploit this. Combes can persuade NSA-wary foreign government agencies and companies to replace their old Cisco networking platform with Nuage Networks SDN solution. Nobody is worried about spying from the French government.
UPMC will initially use Nuage's Virtualized Services Platform (VSP) and 7850 Virtualized Services Gateway (VSG) as a backup for its medical system's network. Once verified and tested, UPMC will gradually replace its massive data center infrastructure with Nuage Networks software/ hardware solutions.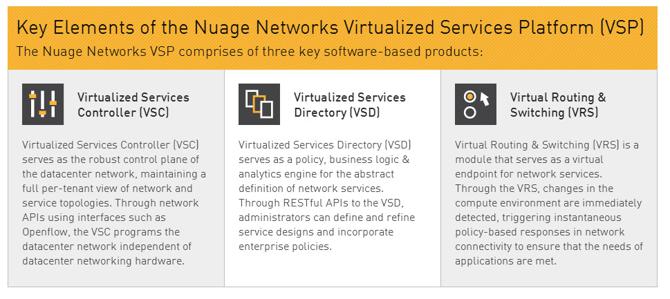 Click to enlarge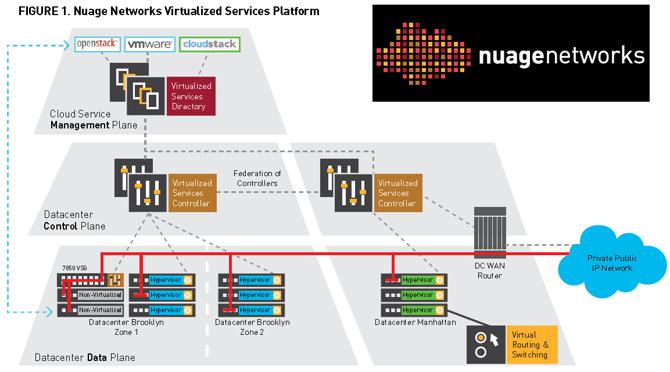 Click to enlarge
Conclusion
Nuage Networks gives Alcatel-Lucent a solid footing in the emerging SDN revolution. Nuage's sales this year will not move the balance sheet, but I'm betting it will be a great revenue generator three years from now. Nuage benefits from the cutting-edge technology that Bell Labs can deliver.
As long as Bell Labs keeps coming up with great inventions, ALU is a worthy long-term investment. Investors sometimes forget that Alcatel employs some of the world's best scientists and engineers. The company's current market valuation is only $9.13 billion. This is an undervaluation because most of us know that Bell Labs Lucent owns thousands of very valuable patents.
All in all, Alcatel-Lucent has around 45,000 issued and pending patents. The company's library of patents was already estimated to be worth $9 billion in 2011.
Disclosure: I am long ALU, NOK. I wrote this article myself, and it expresses my own opinions. I am not receiving compensation for it (other than from Seeking Alpha). I have no business relationship with any company whose stock is mentioned in this article.