Overall, AT&T (NYSE:T) had a middling 2013. The year was marked by moderate wireless growth, largely offset by serious revenue declines in the legacy wireline assets. AT&T is attempting to reverse this trend, recently selling off its Connecticut based wireline business to Frontier Communications (NYSE:FTR). However, the company is now facing the results of the decline of wirelines, namely in the form of much weaker FCF in 2014. Short-term, this may result in an elevated dividend payout ratio and a likely reduction to its capital return program. AT&T offers a $0.46 per share quarterly dividend and yields slightly less than 5.50%.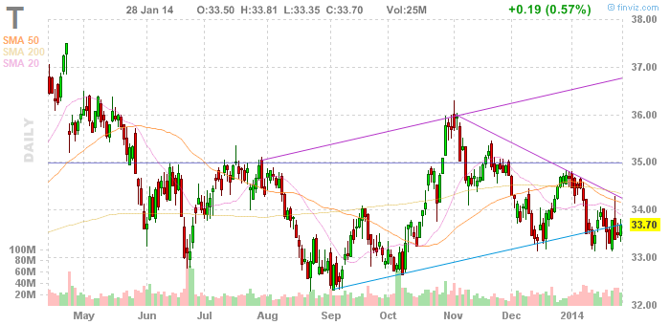 Q4 2013 Overview
On January 28, AT&T reported its Q4 2013 results. For the quarter, AT&T posted revenues of about $33.16B, up 2% from $32.58B last year. Adjusted EPS came in at $0.53, up 20% from $0.44 last year. Both of these metrics came in above average analyst estimates.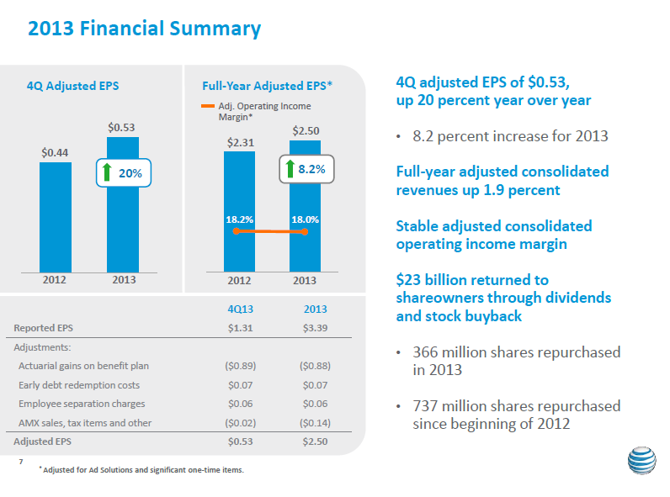 For the year, AT&T spent $13.0B buying back over 366M shares, reducing its float by 6%. When combined with the dividend, AT&T returned nearly $23B of capital to its shareholders, for a total shareholder return of well above 10%.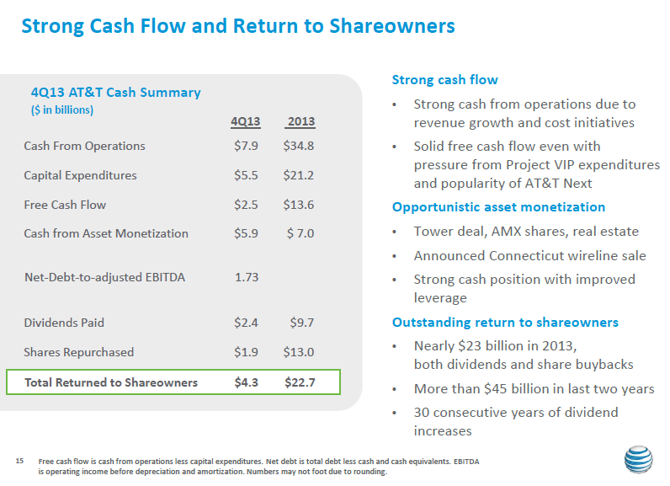 However, when digging deeper, the results are a mixed bag. Below is a look at AT&T's result by segment.
Wireless
AT&T's wireless segment posted overall Q4 revenue growth of 4.5% to $17.6B. By far, the largest driver of wireless revenue growth would be the wireless data, seeing its revenues increase 17% to $5.7B. Wireless equipment sales also saw a small 3% uptick to $2.8B. However, wireless voice and other services revenues saw a 1% decline to $9.9B.
In terms of wireless segment profits, overall earnings came in at $3.9B, up a massive 54% from $2.5B last year. This was due to AT&T significantly lower operating expenses in Q4, down 5.4% to $12.5B. This can be seen it the segment margins, which saw an increase to 21.4% from 14.5% last year.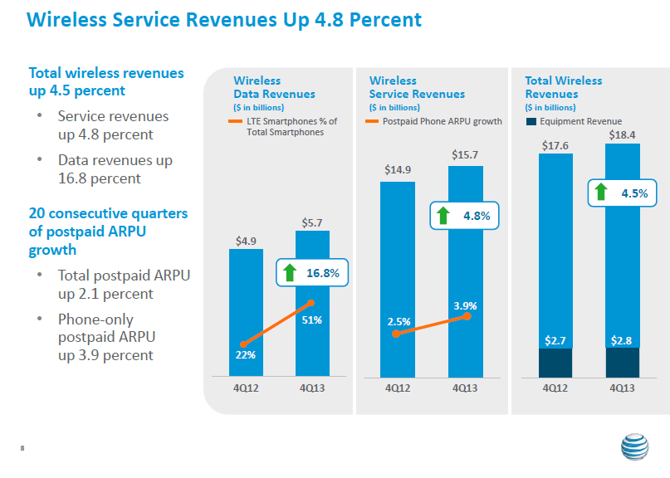 Wireline
AT&T's wireline segment continues to be its weak spot. Total segment revenues saw a 1.4% decline to $14.7B in Q4. Leading the decline was obviously wireline voice revenues, down another 11% to $4.8B. Also declining were AT&T's other wireline revenues, which are mostly related to voice, down 4.6% to $1.3B. However, these revenues declines were nearly offset by growth in wireline data, up 5.6% to $8.6B.
Wireline segment profits fell nearly 19% in Q4 to $1.45B. Margins were also impacted, down to 9.9% from 12% last year. This decline was mostly a side effect of the declines seen in the high margin wireline voice segment and higher operating expenses related to AT&T's Project VIP.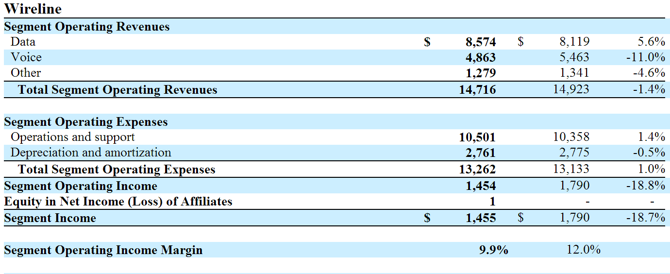 Expect lower FCF in 2014
However, the most significant decline AT&T is facing is in its free cash flow, or FCF. For the quarter, FCF came in at $2.46B, down over 47% from $4.60B last year. While last year's FCF did benefit from one-time items, the decline is still very steep. Sequentially, AT&T's FCF declined roughly 24% compared to $3.2B in Q3 2013.

AT&T 2014 outlook calls for FCF to fall to $11B in 2014, down 20% from $13.6B in 2013. This is will lead to much less cash being left over for share buybacks given that AT&T's pays out nearly $9.5B per year in dividends. Also note that dividend payout ratio will exceed 85% this year, which may lead to less room for a possible dividend hike.
AT&T's guidance for 2014 also calls for 2% to 3% revenue growth, largely driven by expected increases in wireless data revenues. The company is also aiming to reduce its cost structure, as seen by the October 2013 $4.9B cell-tower deal with Crown Castle International Corp (NYSE:CCI). AT&T's Project VIP is also expected to ramp up this year, which will result in higher capex requirements to the tune of $21B.
Conclusion
Overall, it appears as if AT&T had a good quarter. EPS, when adjusted for items, improved sharply while revenues were up modestly.
However, the increased capex requirements in 2014 will greatly impact FCF. As a result, I expect AT&T to slow down its share buyback program this year. The company has noted that it does not want to increase its leverage. Therefore, given that over 85% of cash is being spent on the dividend, there is little left over for the buyback program.
Disclaimer: The opinions in this article are for informational purposes only and should not be construed as a recommendation to buy or sell the stocks mentioned. Please do your own due diligence before making any investment decision.
Disclosure: I have no positions in any stocks mentioned, and no plans to initiate any positions within the next 72 hours. I wrote this article myself, and it expresses my own opinions. I am not receiving compensation for it (other than from Seeking Alpha). I have no business relationship with any company whose stock is mentioned in this article.